The next 65 years: what Russia can learn from India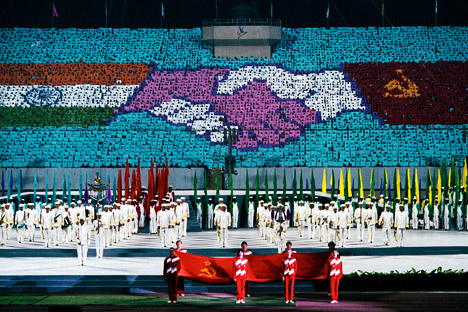 Grand opening of the USSR festival in New Delhi, 1987. Source: Vitaly Arutyunov/RIA Novosti
As the two countries mark the 65th anniversary of the establishment of diplomatic relations, in this 2-part series, Ajay Kamalakaran looks at how Russia and India can benefit from each other's experiences.
Russians hold a variety of views when it comes to India. For some it's the land of beautiful women in saris, dancing in the monsoon rains, some have images of desolate poverty, maharajas and elephants etched on their minds, others see a rising power, but most Russians would define India with one word: exotic. Even the most misinformed of the lot have a good deal of warmth towards exotic India. Watch any Russian documentary on India's ancient monuments and you are likely to see a focus on the monuments themselves and their history and features, rather than a condescending commentary on the poverty in the vicinity, which is usually the hallmark of a production from the West. The non-Goa crowd in Russia has little idea how much India has changed since the early 1990s and how much Russia can learn from India.
What Russia can learn from India
1. Being tourist-friendly: Russia is one of the most under-rated tourist destinations in the world. Very few countries offer the variety in landscapes, history, nature and cuisine that Russia does, but there is still an old-guard obsessed with secrecy and security. There's still a red-tape with visa and a whole set of rules that no one is completely sure of. Russian cities also offer little in terms of budget accommodation and the larger hotels are too expensive for backpackers.
Despite tighter visa regulations introduced over the last few years, it's still relatively easy to get an Indian visa and travel around the country (if frustrating at times) is cheap. There's no reason, why more private airlines can't be encouraged in Russia, to increase completion and reduce prices. Air ticket prices are too high for a country that is one of the largest exporters of oil and gas. If Russia wants to attract more tourists, the country needs to encourage entrepreneurs to enter the hospitality industry and cater to younger tourists. With the Sochi Winter Olympics and the 2018 Football World Cup, Russia can become a leading tourist destination. Aggressive tourist campaigns would also help Russia's cause. Can we find a Russian equivalent of 'Incredible India?'
2. Information Technology: Despite being fluent in Russian and three Indian languages, there is one language spoken in India and Russia that I can't understand: "Geek Talk from Techies." The computer geeks in Skolkovo and Bangalore understand each other very well. Russia has, for years, had the potential to become an Information Technology (IT) powerhouse but has so far missed the bus. Given the abundance of talent in this industry in the country, Russia remains an underperformer.
Success in the IT industry has managed to transform the image, working conditions and landscape of some cities in southern India. Since Russia is looking to encourage start-ups, the country needs to look no further than Bangalore to see how a policy can be implemented that promotes the growth of innovative ideas and the IT industry.
3. Films: There has been a tradition of wonderful films that have been produced in Russia over the last six decades. Quite a few Russian films have won international acclaim, like 'Faust' and 'Moscow does not believe in tears,' but the film industry is struggling in the country. Russian audiences tend to identify with a run-of-the mill Hollywood flick more than they do with Russian masterpieces that win awards at European Film Festivals.
Russia can learn from Bollywood when it comes to reaching out to the masses. Some of Bollywood's 'masala' films are well received at the box office, because they reflect popular Indian culture. A vibrant Russian film industry involved in the production of various genres of films would be a great generator of employment. The soft power of the Russian language would also help the industry penetrate into the large market that is the Commonwealth of Independent States, where Bollywood still has a huge following. Surely, the Bollywood fraternity would have some ideas to prop up the Russian film industry.
4. Brand Building: Somewhere along the way, Russia lost the public relations battles. Some would argue that this is the result of constant propaganda from the West, while others blame myopic Russian policies. For a sworn-Russophile like me, it is painful to see Russia being associated with the mafia, shady arms dealers and spies, when the country has so much to offer the world.
India on the other-hand (despite over-exposure of its poverty) actually has a global "good guy" brand. Reality may be a bit different from how India's spin-doctors showcase the country at important international events like the World Economic Forum, but the country has a good Brand Equity, built on yoga, Indian cuisine and even Bollywood. Better public relations and Russia can be known for being the country of Dostoyevsky and Tolstoy, of Tchaikovsky and Shostakovich, with two of the greatest cities in the world, great nature and of course, beautiful women and a unique culture that has a foot each in Europe and Asia.
5. Service Culture: The situation in Russia has allegedly changed over the last couple of years, but old habits die hard. Russia is one of the few countries, where the service taker tends to be scared of the service giver! That's definitely not capitalism. Whether it's a bank, airline ticket office or even a restaurant, service tends to be suspect. While this can be expected of the public sector anywhere in the world, there is no excuse for private enterprises to have similar attitudes.
The service culture in India has improved by leaps and bounds over the last 2 decades. Coincidentally, partial abandonment of socialism in India has done wonders for the service culture. In fact, in India, the efficiency of private sector competition has even removed the arrogance and complacency of certain organisations that are government-owned. Russians are as resistant to change as Indians, which makes India the perfect case study in improving the customer service culture in Russia. I won't wait with baited breath to get some service with a smile in Russia, but it would be nice to feel that the person at the corner shop on Lenin Street or Mira Avenue does not want to kill me.
All rights reserved by Rossiyskaya Gazeta.