Russian AA, ABM systems - alternative for India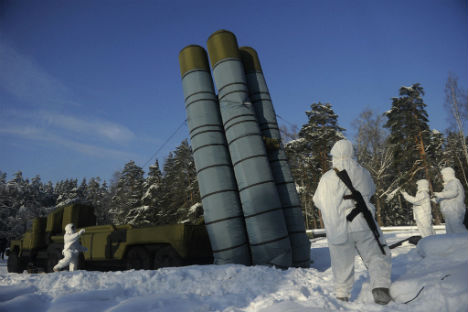 S-300 tests at military exercises of guards engineer brigade and engineer camouflage regiment of Russian army. Source: ru.wikipedia.org
India's army chief General Vijay Kumar Singh said in March that the Indian army had been rendered inefficient. This case may help Russia to get its foot in the door of the secluded Indian anti-missile market.
The recent letter by Gen. VK Singh to the Indian Prime Minister, leaked by Daily News & Analysis, didn't focus on the Indian anti-missile defenses alone. The army chief criticized most of India's armed forces for their lack of fighting capacity and stigmatized the country's military procurement system as highly corrupt.
According to General Singh, most of the Indian armed forces are underequipped with cutting-edge weapons and ammo. The air defense, with 97% of its hardware being obsolete, has revealed the biggest holes.
Russia dominates Indian military imports, supplying armored vehicles, aircraft carriers, nuclear submarines, multi-purpose fighters and helicopters. For more than four decades, India has been leading the pack of Soviet and Russian weapon buyers.
Still, Russian anti-aircraft manufacturers haven't been able to tap into any major Indian air defense deals for several years now, being figuratively 'locked out' of the Indian medium and long range air defense market.
"Russia has offered India a number of modern anti-aircraft systems,"Said Aminov, editor-in-chief with the VestnikPVO military news site, told The Voice of Russia. "It was actively offering India its S-300 and the "Buk" missile system, also known as Gang. But India showed no interest in them. As a result, its air defense is currently outfitted with the "not so cutting-edge" 2K22 "Tunguska" system, as well as with "Shtil" and "Shtil-1" naval anti-missile systems, supplied by Russia since the Soviet collapse," the military maven said.
The reason the Indians are shunning Russian modern air defense hardware, says Said Aminov, lies in Israel's influence and in India's reliance on its own powers. "Israel has already supplied them with its "Spyder" and "Barak" systems. The Israelis have also talked the Indian military into developing a joint "Barak-8" missile system, which covers a range of up to 85 km. Moreover, India is now developing its own medium-range "Akash" anti-missile complex, based on the 1960s "Kvadrat" of the Soviet origin. But the system has been under development way too long and already became morally obsolete."
Experts believe that modern India possesses no air defense capable of protecting it from Pakistani (or Chinese) medium-range ballistic missiles (MRBM). It's striving to build an interceptor missile based on its own research, which will take them a while. The Israeli "Arrow" system isn't likely to secure the Indian skies either, since it was built with a considerable help from the US, which doesn't tolerate such military secrets being passed on to non-satellite states. In 2002, America has already blocked a similar deal, which left India with nothing but a "Green Pine" radar complex instead of the whole "Arrow."
The Pakistani missile threat is meanwhile too high for India to ignore. That's why India has no other alternative today than the Russian Antei-2500 or S-300VMD, the export variant of the S-300V system.
Taking into account India's course towards localization of foreign military research, it may be interested in diversifying its air defense with imported Russian systems (the S-300VMD, for one) and a joint anti-missile system deal, which it could then export to third countries.
The Indian Defense Ministry story is only gaining pace but it has not yet affected the Russian military industry. With the right approach, Russian weapon-makers could get a firm foothold in the Indian market. The only question is whether they are ready for a long and hard talk.
First published in The Voice of Russia
All rights reserved by Rossiyskaya Gazeta.