Plans to set the Thames on fire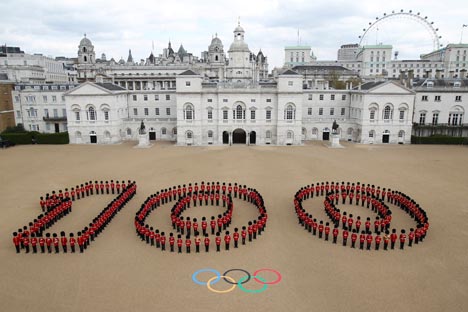 Celebrations took place across the UK to mark 100 days to go to the London 2012 Olympic Games – including at Horse Guards Parade in central London. Source: Reuters/Vostok-Photo
Russia hopes of bringing home gold at the 2012 Summer Olympics.
In Russia, it's easy to forget about the 2012 London Olympic Games. All Olympic discussion in the country is focused, as could be expected, on Sochi 2014.
Russian sport has had a difficult few years. Unlike in the past when Russian or Soviet teams dominated in the final Olympic medal count, at the 2010 Vancouver Games, Russia ranked 11th.
But perhaps this was the shock to the system Russian sport needed. Today, in spite of the financial crisis, money is being funneled into training. Russia's Olympic hopefuls are provided with practically anything they want. Track-and-field athletes are training at camps near Sochi and in Portugal. Wrestlers have spent a lot of time at a camp in Sochi named after three-time Olympic champion Alexander Karelin where the accommodations rival those of a five-star hotel. Gymnasts have chosen a base near Lake Krugloye outside Moscow. Athletes who do not want to participate in group training are provided personal coaches.
Successful businessmen are also investing heavily in their favorite sports. In women's wrestling, a benefactor has offered the first Russian to win a gold medal $500,000. The newly founded National Academy of Summer Olympic Sports is headed and bankrolled by billionaire Vladimir Lisin.
Russia's track and field athletes won nine gold medals at the 2011 world championship in Daegu, South Korea – the best result in the history of Russia and the Soviet Union. These results can be partially attributed to the work of Elena Isinbayeva in pole vaulting and Ivan Ukhov in the high jump along with the women's 4x400metres relay team.
In addition to track-and-field, there are some events in which Russia is still expected to do well in London – gymnastics, rhythmic gymnastics, sychronized swimming. And others, such as boxing and freestyle wrestling, in which the Russian team has a good chance of medaling. Fencing, shooting, weightlifting and diving are other events in which Russian athletes are at the top of their game.
Unfortunately, there are sports in which Russia has little chance of ascending to the medal podium. Swimming, which has more opportunities for medals than any other Olympic event besides track-and-field – will unlikely result in many for Russia. Rowing and cycling also give no cause for optimism. In many team sports, including soccer and men's water polo, Russian teams did not even qualify for London. Even women's tennis, which Russian women have dominated in the past, is a wild card for Russia this year -- especially given that the tennis matches will be played on Wimbledon's grass courts.
When Baron Pierre de Coubertin revived the Olympics, nobody initially thought about the team medal tally, even if unofficial. Today, the unofficial count haunts many countries. A medal won at Olympic Games is a measure of how competitive and advanced a country is. If it wins many medals, a country considers itself to be a big power not only in sport.
Vitaly Mutko, Russia's minister of sports, tourism and youth policy, is sure that, if Russia's Olympic squad comes in third in London in the unofficial team medals count, this would be a success. But the heads of all the Russian sports federations want to aim higher.
Is this just optimism, without which nothing can be achieved in any field of human endeavour? Or is it a sober assessment – or reassessment – of Russia's strength? We will see in London.
All rights reserved by Rossiyskaya Gazeta.