Women's issues, especially perspectives on "the Body" portrayed by Russian and Marathi women writers are the subject of recent study by Dr. Megha Pansare, Associate Professor, Shivaji University, Kolhapur, Maharashtra, India.
Dr. Megha Pansare, a professor of Russian language and women's rights activist, welds her dual expertise to analyze women's experiences depicted by some female authors from Russia and her native land Maharashtra. She has to her credit a number of Marathi translations of Russian literature. She has been associated with National Federation of Indian Women and has also studied the status of Russian woman through political changes.
In her current research Pansare assesses various socio-political and economic aspects of Russian and Marathi societies through the theme of women's issues. She traces the origins of contemporary "women-centered" literature to 1988. Staying clear of the label "feminist," she quotes Elizabeth Grosz, renowned feminist academic—"feminist texts are those which self-consciously challenge the methods, objects, goals, or principles of mainstream patriarchal canons." She impresses upon the observation by Nadezhda Azhgikhina, Executive Secretary at Russian Union of Journalists, that, "in contrast to most male-authored fiction, women are the 'subjects,' not the 'objects' of woman-centered literature."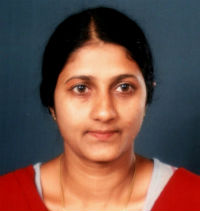 Dr. Megha Pansare, Associate Professor, Shivaji University, Kolhapur, Maharashtra, India
"We see a variety of women's prose and poetry published during the post-soviet era: Ne pomniashchaia zla (She Who Does Not Remember Evil, 1990), Novye Amazonki (The New Amazons, 1991), Chego khochet zhenshchina… (What Women Want…, 1993), Bryzgi shampanskogo (Splashes of Champagne, 2002), Sovremennaya zhenskaya proza (The Contemporary Women's Prose, 2004), and the feminist literary journal Preobrazhenie, published during 1993-1998," Pansare enumerates.
Pansare adduces origins of women-centred works in Marathi to its oral literary roots – "The written tradition began in 13th century. Women saints such as Bahinabai, were the first voices against patriarchy. Yamunaparyatan (1857) by Baba Padmanji, considered the first realistic novel written in Marathi, exposed miserable condition of Hindu widows. This was followed by a trend of social realism. Tarabai Shinde (1850-1910), the first Indian feminist literary critic, heralded a movement of newly educated middle class women authors, while post-1967 literature saw the emergence of dalit (untouchable) women." Pansare goes on to quote contemporary authors such as Priya Tendulkar and Urmila Pawar.
Women's Issues
Contemporary Russian writers provide a realistic portrayal of women's lives in Russia, observes Pansare- "they explore emotional and physical aspects of being a woman, including everything that was previously considered marginal, even taboo, to the main stream literature. In contrast to morally strong women of classical literature or healthy heroines of socialist realism, they portray different, 'real,' women. Besides the emotional and social themes, they also cover physical experiences of menstruation, pregnancy, abortion, childbirth, and menopause; describe sexual experiences such as masturbation, promiscuity, and rape; and even explore lesbianism and prostitution." Pansare singles out Maria Arbatova, feminist writer and political activist, who has created awareness about fundamental women's rights issues through her writings, especially her autobiographical works Mne sorok let (I am Forty, 1998) and Menya zovut zhenshchina (My Name is Woman, 1997.)
Pansare cites a number of revolutionary Marathi authors over the centuries – "Bahinabai's (1628-1700) devotional verses reflect her insistent refusal to abandon her aspiration for the truth -
The Vedas cry aloud, the Puranas shout,
"No good may come to a woman."
I was born with a woman's body
How am I to attain Truth?
Muktabai (b. 1841) wrote about sufferings of untouchable women during childbirth. Tarabai Shinde questioned the religious authorities for partiality against women in her essay 'Stree-Purush Tulana' (A Comparison of Women and Men, 1882.) The first book of short stories written by a woman in Marathi appeared in 1915 - Sadyasthiti (The Current Situation) by Laxmitanaya – there have been many bold authors ever since, Gita Sane, Kamal Desai, and Meghana Pethe to name a few." Pansare observes that, "the recent authors have begun to articulate not only women's concerns but also those specific to their caste or class. They are more concerned with their social than the personal body."
Abortion as a Theme
A prime point of comparison between Russian and Marathi women writers in Dr. Pansare's research is their portrayal of abortion. "Arbatova vividly describes her painful experiences of a maternity hospital during the 1970s," Pansare quotes the opening lines of Arbatova's I am called a Woman - Memories of my childhood are full of chilling stories about the witch BabaYaga, while my youth was petrified by the mere utterance of the word – gynaecologist.
"Arbatova's aim was to raise public awareness about the horrific abortion clinics and to ultimately attempt to change the situation," explains Pansare. She moves on to quoting a number of other works on the subject. "Marina Palei's short story Otdelenie propashchikh (The Bloody Women's Ward, 1988) depicts how some women are fiercely determined to stop a pregnancy. In Shamara (1990) by Svetlana Vasilenko, Shamara applies a horrible method to get rid of an illegitimate child. Natalya Baranskaya's novella Nedelya kak Nedelya (A Week Like Any Other, 1969) describes how the expression edu v komandirovku (I am going on a business trip) is often used as a euphemism for having an abortion."
Pansare makes some interesting observations from these works, "No story touches upon the emotional or psychological aspects of an abortion. They don't portray any moral or religious debate over abortion. Another significant feature is that most of the writers don't confront patriarchy directly." She moves on to the depiction of this subject by Marathi authors, "Hamsa Wadkar, a celebrated actress, reveals in her autobiography that she didn't have control over her own body and had to go through several abortions as per her husband's wish. There are many texts in Marathi which have themes of unplanned pregnancy, abortion, childbirth, and menopause, but very few address the physical aspect of such experiences. It reflects our general aversion to talking about such topics. In general the authors' concerns are ethical and social instead of physical."
The story Pahuna (A Guest, 1988) by Padmaja Phatak is an exception, Pansare describes - "a rational married woman goes through an abortion. She wants to recover and start her routine life, but her body fails to co-operate. She discovers, exactly what is happening inside her body -
Being excited from all sides through various hormones, it [her body] started doing its reproductive work vigorously for so many weeks, accelerated its creation and all of a sudden without any prior instruction it was deprived of its half done work by giving anaesthesia. Now every time it found there a pit, a vacuum. With its blind hands it kept searching for something that was lost, just like a blind person groping for a stick on the street. It did not understand why and how this new situation has arisen. That is the reason why it became so extremely restless.
Dr. Pansare concludes her study of women's issues raised by Russian and Marathi authors with pointers to the role of state and society in addressing these concerns.
All rights reserved by Rossiyskaya Gazeta.