Keshavan aims to shine at the Russian Winter Olympics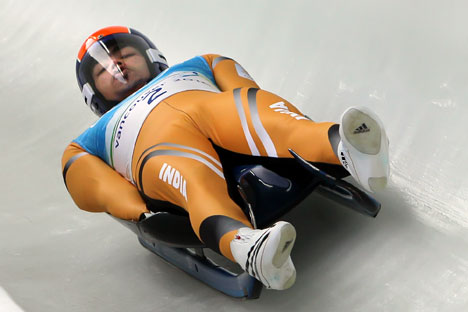 Shiva Keshavan. Source: AP
Indian luge athlete and current Asian champion Shiva Keshavan sets his hopes high for the 2014 Winter Olympics in Russia. The sportsman's aiming for a first Olympic medal for his country in winter sports.
Shiva Keshavan has already qualified for the next Winter Olympics, to be held from February 7-14, 2014, in Sochi, Russia, due to his status of the reigning Asian champion in his discipline.
Keshavan won the luge gold at the 2011 Asia Cup in Nagano, Japan. Now with his participation at the Sochi Games guaranteed, Keshavan is determined to set new records at the Olympics.


The luge athlete has already represented the country at four Olympics and is bracing himself for the new fight.
"The season starts in September but I will go to Europe in July-August for some pre-season training and equipment testing,' Shiva Keshavan said in his interview to the Daily Mail."
"I will be at Albertville, France, to prepare for the 10 World Cups to be held between September and February," Keshavan describes his plans for the nearest time.
Now with Olympic Gold Quest taking him under their wing, Keshavan is hopeful that he will get the necessary support to be a force to reckon with in Sochi.
"I look forward to some financial support for training and medical back-up. The equipment required for luge is all made in Europe and is pretty expensive," Keshavan says. "I already have a physical trainer who also works with the Swiss biathlon coach," he adds.
Meanwhile, the sportsman doesn't feel nervous preparing for the Games even though winter sports don't have much of a tradition in India. Keshavan has made his mind to scale new peaks at the Russian Winter Olympics and is aiming for a first Olympic medal for the country in winter sport.
All rights reserved by Rossiyskaya Gazeta.