A class act when it comes to good causes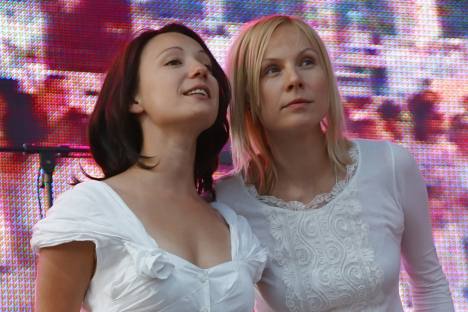 Angels of mercy: Korzun, right, and Khamatova, left. Source: RIA Novosti / Ekaterina Chesnokova
Two Russian actresses will soon have their outstanding fund-raising work for sick children recognised on the international stage.
Actresses Chulpan Khamatova and Dina Korzun are about to be nominated for the Nobel Peace Prize by former Soviet leader Mikhail Gorbachev. As co-founders of the charity The Gift of Life in 2006, the pair help raise funds for life-saving treatments for children with life-threatening conditions.
The foundation's website points out that a large proportion of the cost of these treatments – as much as 66 percent – must be paid for by families, many of whom live below the poverty line. The charity is one of Russia's most successful fund-raising operations, raising money through concerts, exhibitions and other events.
Dmitry Muratov, Novaya Gazeta editor and instigator of the nomination, said the actresses' "selfless saving of thousands of children's lives" made them worthy of the prize in a LiveJournal blog. Nominations for the Nobel Prize can be made only by members of the Nobel Prize Committee, members of national assemblies and governments, university rectors and professors, and several other select people, such as those who have received the prize in the past themselves – which is why Gorbachev was approached.
"We will talk with people in parliament and government representatives who can also give official support for nominating candidates for the Nobel Prize," Muratov said.
Reacting to the news, Ms Khamatova thanked Novaya Gazeta for its co-operation with the charity in the past. "The newspaper has always helped draw public attention to the most painful problems of pediatric oncology," she wrote in her blog on network site Ekho Moskvy.
Both actresses are well known in Russia: Khamatova has starred in a number of German-language films, such as Goodbye Lenin! as well as in numerous Russian feature films and TV serials with Korzun – who made her screen debut in Country of the Deaf .
Among the 231 nominations received so far for the Nobel Peace Prize are former Ukrainian prime minister Yulia Tymoshenko, Russian human rights activists Lyudmila Alekseeva and Svetlana Gannushkina, Microsoft chief Bill Gates and former US President Bill Clinton.
Chulpan Khamatova and Andrei Merkuriev will be performing "Poor Liza" in New York City on June 15 and 16. For tickets and more information visit www.maestroartist.com
All rights reserved by Rossiyskaya Gazeta.