India-China relations on a higher keel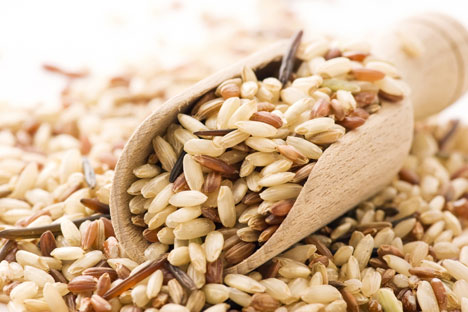 China allowing the entry of Indian basmati rice to its market will positively impact relations between the two countries. Source: PhotoXpress
Entering Pakistan and Thailand dominated basmati rice market in China may be a challenging venture for India. Yet this is one of the steps to cut India's bilateral trade deficit with China and boost economic diplomacy between the countries.
The recent announcement by China allowing the entry of Indian basmati rice to its market will positively impact relations between the two countries. First, it will help shed trust deficit between the two countries despite the Chinese government taking about six years (India has officially requested for it in 2006) to finally allow the import of famous Indian basmati rice to its country. Second, it will also bridge the bilateral trade asymmetry, thus bringing the two powerful neighbours on a level playing field. Hence, while some analysts may be prone to see negativities in relations and refer to India's recent Agni-V missile test, these two mature neighbours surge ahead by addressing each other's concerns, and aiming to reach the target of $100 billion by the year 2015. However, they will likely reach the target before the deadline as the recent pace of economic relations indicates, as the bilateral trade last year stood at $74 billion.
China is the biggest market of rice eaters, with having population of about 1.3 billion. However, despite India's burgeoning trade partnership with China, discrepancies existed in the relations. The basmati rice market in China is mainly dominated by Pakistan. In the world basmati rice market, India meets about 60 per cent of the demand, while Pakistan almost meets the remaining 40 per cent. There were various factors behind the Chinese hesitation to allow Indian basmati rice to its market. Pakistan factor too played a key role in determining the Chinese policy in this context. Pakistan-China friendly relations and their close strategic ties in the South Asian region as well as defence relations led to the Chinese dithering approach to allow the Indian rice. India had requested for the approval in 2006, the year Chinese President, Hu Jintao visited India. It may not be a strange coincidence that in this year after a gap of six years, in 2012 when Hu Jintao again visited India to attend the BRICS summit that China allowed the entry of the Indian rice.
In the past six years much changed in the politics of the region as well as of the world. From a political point of view, both India and China have emerged from the old straight jacket mentality and adopted a flexible approach while keeping in view their national interests. The emerging framework seems to be that of a cooperation-competition. Both have adopted pragmatic approaches in appreciating each other's positions in the changing world order. Hence, while China is interested to develop the Karakoram highway and provide arms to Pakistan, at the same time it may not be interested to jeopardize its interests in the context of India. Similarly, while India is interested in oil exploration in South China Sea and adopt a nuanced approach to the Tibetan issue, at the same it may not be interested to jeopardize its interests in the context of China.
The leadership of both the countries appreciate the imperatives of the emerging pluralistic world order in which both the countries can cooperate in a mutual beneficial framework. The joint statement during the visit of Chinese Prime Minister Wen Jiabao to India in December 2010 reflected this sentiment. It read, "There is enough space in the world for the development of both India and China and indeed, enough areas for India and China to cooperate." In fact, since Hu Jintao came to power in China in 2002, there seems to be a perceptible, though slow and gradual, change in China's approach towards India. Despite the differences and rivalries, both the countries have expressed bilateral resolve to settle issues including boundary dispute through peaceful means and through dialogue. Regarding the issues of terrorism, both the countries also have similar interests. In the context of the attack on Mumbai in 2008, China minced no words in criticizing the terrorist act and its perpetrators. In the case of its troubled region of Xinjiang, China too has sought cooperation from India. Both the countries realize that in the emerging world in which economic diplomacy overshadows other forms of diplomacy, both the countries can work in tandem not only to boost economic relations, but also to work together in the fields of terrorism and fundamentalism, to promote multipolarism and strengthen frameworks like RIC and BRICS. It is in this background that both India and China have refashioned their foreign policy to suit the imperatives of the global order. Hence, it is no surprise that China is India's first trading partner.
The symbolic value of this Chinese policy too will be immense. It will help minimize the trust deficit between the two countries. This development may also lead to further widening the trade basket between the two countries and allow Indian items such as fruits and vegetables to the Chinese market. This policy will to a significant extent help salvage India's bilateral trade deficit with China, which was $27 billion last year. India's Ambassador to China S. Jaishankar hailed the Chinese move and said, "It is a very positive move by China." Though initially it may be difficult for India to enter the market dominated by Pakistan and Thailand (even Indian hotels have to order basmati rice from places like Hong Kong), Indian policy makers and strategists are devising mechanisms to attract the Chinese consumers. China is witnessing rapid industrialization and modernization, and in this rapid surge there will likely be more demand for the rice. India is also widening its investment net in China, and in this process it may gradually establish its basmati brand in China. Another issue raised by some experts is that Chinese are adept at eating glutinous rice (which basmati is not) hence it may take some time to introduce this brand of rice and making it acceptable to the Chinese people.
There are bad moments in bilateral relations, and pessimists might mark them as dark phases in relations, but it will be more appropriate to call them phases in the continuous evolution of relations. The relations have witnessed so much turmoil and animosity in the past, every small and positive step to boost relations must be welcomed. The December 2011 incident in which two Indian businessmen were detained in Yiwu trade hub in China, and also the detaining of Chinese workers in India might have created irritations in relations but these developments should not dampen the positive aspect of relations. India and China have come to such a stage that they have to see the developments not from a narrow perspective, but from a perspective which in its ambit includes reconciliation, harmony as well as development. Neither of them are unstable, fragile nation-states; in fact they are the rising nations of the world. And the current history and future is on their side.
On an ambitious scale, it may not be unjust to think in terms of a development of trade zone between India, China and Pakistan. It may appear farfetched, but not a daydream keeping in view some recent developments. Pakistan has granted most favoured nation status to India recently, and has expressed interest to develop closer trade relations with India. India, China and Pakistan too are linked with ancient silk route trade, further extended to Central Asian region and beyond. There are also prospects of reviving north south corridor linking India towards Russia. It may not be a too distant dream when the whole Eurasian region will have free trade without present barriers.
Dr Debidatta Aurobinda Mahapatra is associated with Centre for South and Central Asian Studies, Central University of Punjab, India.
All rights reserved by Rossiyskaya Gazeta.