BRICS ambassadors meet in the Diplomatic Club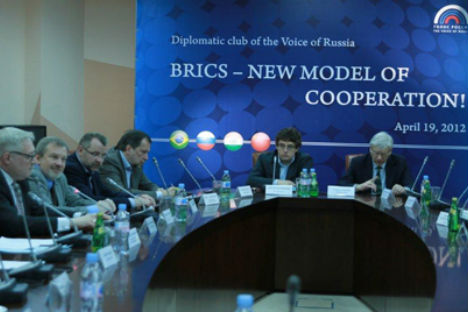 BRICS – a new model of cooperation – was the major theme of the discussion. Source: The Voice of Russia
The Voice of Russia Diplomatic Club has held a session on the prospects of development for the BRICS countries.
The event was attended by diplomats representing the member – states: Brazil, India, China, Russia and South Africa, and Russia's Deputy Foreign Minister Sergei Ryabkov. BRICS – a new model of cooperation – was the major theme of the discussion put forward by Sergei Ryabkov:
"BRICS is a structure that in no way tries to represent a force that tries to be in contradiction with other major players in international arena. We are open, transparent and this is how it should be. The Russian side has very consistently tried to show BRICS stability not only to be assertive internationally on a number of issues but very much so to insure that impulses and ideas that come from outside are being absorbed, transformed, worked through and then presented again on behalf of this BRICS community for further consideration and hopefully for possible action together with others."
Ambassador Extraordinary and Plenipotentiary of South Africa to Russia Mandisi Bongani Mabuto Mpahlwa spoke about unique features of each BRICS member – country:
"Each of these countries that are part of BRICS is regionally significant where it is located. And other very important to know aspect of BRICS: each of these countries has got significant capacities – economically, technologically, financially and otherwise. This really creates a lot of room for inside BRICS cooperation through sectoral technical cooperation and also pulling off capacities of the different countries on a bilateral basis or on a BRICS wide basis."
BRICS is increasing its role on the global arena but it's underrepresented in the international institutions, believes Ambassador-at-Large, and Russia's Foreign Ministry Coordinator on BRICS Vadim Lukov:
"We are an alliance of reformers in the financial and economic system and this is the most profound strategic interest that unites us. In the last 10 years BRICS grew economically speaking by 420 percent to compare with only 6 to 7 percent of the financial G7. This year BRICS will contribute 56 percent of the growth of the GDP globally but on the other hand we are still grossly underrepresented in the global structures of economic governments."
Ambassador Extraordinary and Plenipotentiary of Brazil to Russia Carlos Antonio da Rocha Paranhos in his speech mentioned that BRICS is open for dialogue with other countries and organizations:
"The BRICS is not a closed group or has a sort of closed mentality. We think that it's important to consolidate the group as it is now, its present configuration. What we are opened to outreach exercises for dialogue with other countries or groups of countries in order to inform about our activities, about our decisions."
"The first BRICS summit (featuring South Africa) took place in mid April 2011 in China and the group has moved forward a lot since that time," believes Sergei Ryabkov
The term BRIC, that is four rapidly developing powers, was coined in 2011 by a Goldman Sachs economist Jim O'Neill. In 2011, the organization was joined by South Africa and became BRICS. Experts estimate the BRICS collective economies to exceed those of the G7 by 2050.
All rights reserved by Rossiyskaya Gazeta.