RBTH Multimedia Recognized
Russia Beyond the Headlines is recognized for its multiplatform approach to content. Publisher Eugene Abov believes this is the challenge facing the entire industry.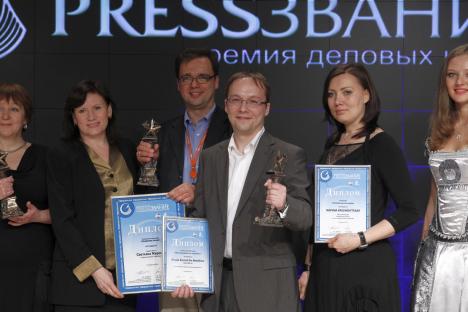 Russia Beyond the Headlines was awarded a 1st place prize in the field of multimedia journalism at the 7th annual PressZvanie competition in Moscow on April 10. The multimedia prize differs from others awarded by the jury in that it is granted to an entire media project, not a particular article or journalist. Second and third places were taken by the radio stations Echo Moscow and Dozhd, respectively.
"This year, RBTH got the sympathy of experts who recognized its success expanding into new realms of media," said Nadezhda Yavdolyuk, Executive Director of the PressZvanie competition. The jury noted RBTH's expansion into new platforms, specifically – the RBTH for iPad™ app, which was launched late last year. "[RBTH] offers a unique product with interesting multimedia content aimed at an international audience," explained Vitaly Rasnitsyn, Chairman of the Association of the Media Industry.
"Russia Beyond the Headlines' advantage is in a successful combination of a variety of media formats and the interests of audiences in different countries," commented Boris Eremin, President of the Russian wing of the International Advertisers' Association.
Eugene Abov, publisher of RBTH, said "Nowadays a successful media outlet must be engaged in 360-degree publishing, which means channeling its content simultaneously across all available platforms 24 hours a day to reach the reader in a format and at a time convenient to him. This is the challenge faced by everyone in print media – publishers, editors and journalists."
All rights reserved by Rossiyskaya Gazeta.