Round-the-world trip to mark Russia's 1150th anniversary by Marina Darmaros
On May 20 May, the ship Sedov will set out on a 14-month circumnavigation from St. Petersburg. The ship is entered into the Guinness Book of World Records as the world's biggest sailing vessel. Built in Germany in 1921, the legendary Sedov is taking this latest voyage to celebrate Russia's 1150th anniversary. The first tribal union under the Rurik dynasty is believed to have emerged in 862 in the north of Russia. The ship will cross three oceans and visit 21 countries.
There will be 200 people on board, half of whom will be cadets from the Murmansk State Technical University, who will work on shifts during the voyage. The cadet groups, which are made up entirely of second year students will change twice: in Casablanca, Morocco, and in Vladivostok, in Russia's Far East.
"To tell the truth, I've never been abroad. This will be a huge experience for me, as well as a great opportunity to see the world," said Dmitry Stolpovsky, an 18-year-old cadet.
Stolpovsky, who will join the project in Casablanca and stay on board as far as Vladivostok, says his parents are very proud he was picked for the project. Yet the desire to see the world is not the only reason motivating Stolpovsky: His favorite rock band Mumiy Troll will also be on board.
"The main idea of this voyage is to show the flag. Russia is the world's biggest naval power, and we must show to the world that we are open to everyone and pursue peaceful goals," said Alexander Savelov, spokesman for Russia's Federal Agency for Fishery. The Sedov, which is owned by the agency, will be its first circumnavigating the globe for the first time.
"I am a fan of Mumiy Troll. It's great they will be with us. They are real stars and, I hope they will remain on board until the end," Stolpovsky said.
The members of Mumiy Troll, which was formed in Vladivostok in 1983, promise to fulfill the cadet's dream. "The idea of recording an album during a sea voyage goes back to my childhood. It began to take real shape more than a year ago, during our Navy Tour voyage, when we staged concerts on Russian warships," said the band's lead singer Ilya Lagutenko
Mumiy Troll is extremely popular in Russia and many of its songs are about the sea. They hope that through the voyage they will attract more fans around the world.
At the 30 ports where the Sedov will drop anchor, the sailors will welcome locals on board. "In cooperation with Russia's Ministry of Foreign Affairs, embassies, consulates and other representatives of Russia, various cultural and entertainment events will be staged on the ship," Savelov said.
Round the world in figures
The voyage will last 14 months, during which time the ship will cover about 45,000 nautical miles, dropping anchor in 21 countries and 30 ports. The 58-year-old captain will be circumnavigating the globe for the fourth time.
Lagutenko said that the events could be used to show locals a new side of Russia: "The ship's arrival in any country shows not just our flag but also our friendliness."
It will be the fourth round-the-world tour for the Sedov's captain, Nikolai Zorchenk, yet he says the journey never gets old. "Brazil, Chile, Peru – these are all new, exotic places for me, and I very much want to visit them," Zorchenko said. The countries the Sedov will visit include Germany, Sweden, Norway, France, Morocco, the United States, South Korea, Japan, China, Singapore, Mauritius, South Africa, Senegal, Spain, Brazil, Uruguay, Argentina, Chile and Peru.
"It was not very difficult to organize the trip, only it isn't so cheap. The project will be bankrolled by the state budget and private companies, including [Russia's second-largets natural gas producer] Novatek," said Savelov
Captain of the Sedov Nikolai Zorchenko's interview with RIR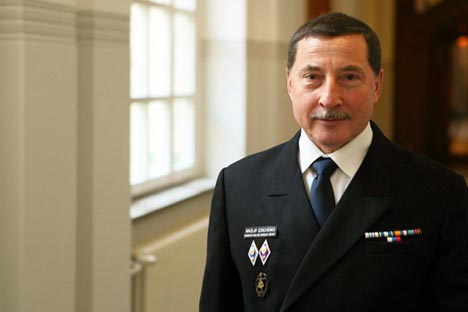 Nikolai Zorchenko, the captain of the Sedov. Source: Christian Hueller
Russia & India Report: Have you already sailed around the world?
Nikolai Zorchenko: Yes, for me it's a "normal" job. This will be my fourth circumnavigation.
RIR: What do you anticipate from this voyage?
N.Z.: The fourth circumnavigation will be my longest: 14 months, whereas the earlier ones were only 10 to 11 months long. We're going to go around South America and South Africa – that is, all those points that sailing ships passed when there were no Panama and Suez Canals. We find ourselves right back in the 18th century.
RIR: Is it difficult to travel with young cadets?
N.Z.: Young people have a good attitude. All rush to the sea and want to sail, like James Cook, or Ivan Krusenstern, or the Lisyanskys, father and son, or like Fyodor Litke and modern navigators. But after two or three months they get tired and homesick. This is the most difficult thing --- getting used to living away from Russia, from relatives, and from friends. Circumnavigations are organized especially to acclimate young sailors to long-distance and drawn-out sea voyages.
RIR: Do you think that the presence of the Mumiy Troll rock group will help the kids?
N.Z.: Yes, I am putting a lot of faith in them. This group has been very popular already for the last 20 years, and the fact that they will be with us will make the voyage easier.
RIR: What will be your first ports of call?
N.Z.: Montevideo (Uruguay), Valparaiso (Chile), Ushuaia (Argentina). Yes, this is South America, which I haven't visited much: Brazil, Chile and Peru, these are all new exotic places to me, and I really want to go.
RIR: Will you participate in activities during stops?
N.Z.: Yes, the captain is the official representative of the ship, and he should sit in the front row at all events that have a more-or-less public character. We will welcome guests.
RIR: Is this the Sedov's first circumnavigation?
N.Z.: Yes, the ship is 91 years old. The first 15 years of its life, from 1921 to 1936, the ship went to Australia and back. However, it did not make any circumnavigations. But we do not foresee any difficulties. All routes have been studied. First we will pass through European ports, and then we will cross the Atlantic from top to bottom. We will go around South America, and then go up to North America. I do not think that there will be anything unforeseen.
But in general it is very nice that many of the inhabitants of Europe and America are interested in journeys. There is a lot of excitement about our sailing. I wish the reader all the best, and possibly we will meet on the shore!
Russian rock musician Ilya Lagutenko's interview with RIR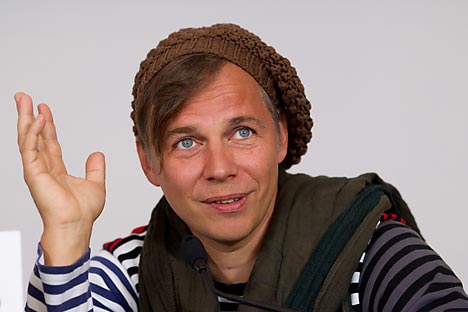 Russia's musician Ilya Lagutenko. Source: ITAR-TASS
Russia & India Report: How is it that Mumiy Troll has decided to participate in the sailing?
Ilya Lagutenko: Already as a child, I had the idea of recording an album during a sea expedition, and it began to be realized over a year ago, during our tour, "Rock nautically," when we gave concerts on Russian naval ships. And now, when it came time to record a new album, we received support from the Federal Fishery Agency and were invited to participate in the circumnavigation of the Sedov.
RIR: Why did the group agree to participate? Or was this your own desire?
I.L.: I am very pleased that much of what I put in song, even in my dreams about songs, that world that I thought up on the stage, may finally materialize on this journey, and this is something that I have always had in mind when responding to questions about the meaning of our songs. Arriving on a sailing ship in any country is largely a demonstration of not only the flag of the country and the navy, but of friendly intentions. The sailing ship Sedov's round-the-world trip is dedicated to the 1150th anniversary of the birth of Russian statehood. And we will be especially pleased to represent Russia in this journey with our music. In addition, during the journey we will record our new album.
RIR: How will the group occupy its time on board? Will they use this time to write new songs?
I.L.: The trip has been preceded by numerous thoughts and conversations about what exactly we will do there, because we do not want to be like tourists on vacation. As a band, we immediately realized our mission was to act as a popular cultural center, and during ports of call, we will be right there on board to greet visitors with Russian musical culture. But we would like to not bring along our own baggage, so to speak, and we hope to get some new baggage out of this trip, namely a new album. I have already been on sea voyages, I have sailed before, and I have even belonged to international yachting organizations, so I think I will be able to navigate.
I think that we will have plenty of time for swabbing the deck, and if they trust us, then maybe for something more serious, if, of course, we are qualified, which has yet to be seen. And in our spare time we are just going to record an album, and the crew will be the first to hear the new material. And all the emotions that are experienced along the way, which await us during the trip, are, simply put, the goal and outcome of our journey, and they will be reflected in our new album.
RIR: How long will you be on board? Until the very end of the voyage?
I.L.: I hope so. We will give concerts in a many different cities and countries. We will start with Hamina in Finland, and then it's onto Germany --- Kiel and Bremerhaven. In France, we will take part in celebrating the Day of Russian Culture, and then we will go around Cape Horn after giving a concert in the southern-most city on Earth – Ushuaia. I dream of performing in Cape Town.
All rights reserved by Rossiyskaya Gazeta.