Forbes Russia talked to founders Oleg Kostour, Anton Krutiansky and Michael Petrov about plans for the service and what the site tells them about how men and women behave.
When did you decide to make Pair?
Oleg Kostour: It all started when we moved from Canada to California to participate in [start-up incubator] Y Combinator. After about a month of being there, we decided to radically change the idea. We hadn't seen our girlfriends for a long time and at some point realized that we actually don't have a single convenient way to communicate with them using all modern options. We set about finding a proper solution to this problem.
Have your girlfriends liked Pair?
Anton Krutiansky: This was the main criterion. It's true I used the app to communicate with my sister, but nonetheless. Girls criticized absolutely everything—the functionality and the design. Overall, it was they who explained to us how to do it right.
O.K.: For a long time we were trying to determine at what point it was best to release the app. We were thinking about Valentine's Day, but at Y Combinator they told us: guys, wait until your girls cannot live without this app.
A.K.: And at some point something went wrong, the app stopped working. And then the girls started calling us, "Hey, what happened? Fix it immediately!" At that point we realized that this works, that we had done something right.
Who most often initiates the use of Pair: men or women?
A.K.: We don't know yet, but we really want to find out. We're analyzing statistics, looking for specific patterns in them, but so far we haven't understood it.
Michael Petrov: But usually women send us letters. There's tremendous feedback from girls and it's very positive: "How cool is this!" And all that. But some guys say, "Yeah. Thanks so much. Now she communicates with me every minute."
Who came up with ThumbKiss? (This is a built-in function: when two people simultaneously touch their fingers to the same location on their screens, the smartphone begins to light up and vibrate.)
O.K.: It was Anton. We were very far away from our girlfriends and hadn't seen them for several months. So we wanted to invent some way…
A.K.: Let me tell it. The idea was: we wanted to simulate some kind of really intimate mechanism using a smartphone. It's cool when a guy and a girl are doing something in sync, even though they are not together. Like, you know, you're far away from each other and say, "Hey, I'm looking at the moon." And she's like, "Yeah, me too!" And then we thought that when you touch the screen at the same time and your smartphone vibrates—that's what you need.
Pair right now looks very innocent. Are there plans to make it a little more naughty?
A.K.: I don't think we should provide some kind of special functionality for this. If users want smut, they can already easily do sexting.
Right now, a huge variety of micro-social networks for smartphones has emerged, each of which is positioning itself as a kind of personal and intimate space. There's also Path or FamilyLeaf. Where did this trend start?
O.K.: I don't know about you, but my friends on Facebook include a ton of people I don't really know—friends of friends, and so forth.
A.K.: You simply can no longer be yourself on Facebook. You think twice before posting any status update. You're constantly trying to maintain a certain image.
O.K.: Exactly. Therefore, when there's a convenient way to limit the number of people with whom you're sharing different content, you can be yourself to a much greater extent. Even on Path you're not always completely candid.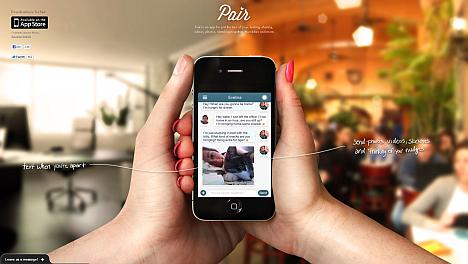 Image from trypair.com
Well, Facebook and Google+ have an option for putting friends into groups and only sharing with a specific circle. Why isn't this popular?
A.K.: Maybe because people still perceive Facebook and Google+ as some kind of giant platform? I don't know.
There are now a huge variety of mobile social networks. Is there a certain limit on how many you can use at once?
A.K.: People are obsessed with the phrase "social networks." You hear, "social networks, social networks." But this isn't social networking—it's just an application, a communication tool. As long as they're still needed, there's no limit.
M.P.: I do think there really are a lot. Social networks for photos, social networks for video… but Pair is a little bit of a different story. This is just a platform for exchanging messages between the two closest people: it's super SMS for couples. So at one extreme would be Pair and at the other would be Facebook. But the real war will unfold for the space in between.
O.K.: I'd also add that, in any case, there's always one person with whom you communicate more than anyone else. This is natural, and it's what allows you to use Pair.
How is the app's adaptation going? You said that in the first week of Pair's release in late March, over 100,000 people downloaded the application.
O.K.: So far we're keeping the information to ourselves, but we can say that we are absolutely satisfied with users' engagement. Many people use the app every day.
Right now Pair is only available for the iPhone. Are you working on an Android version?
O.K.: Yes, absolutely. We will release it in the next two to three weeks. It's almost ready.
How do you plan to monetize it?
O.K.: I have an idea about a few premium items that you can buy for two. These could be gifts or games. I think that if we can come up with some options for people for joint pastimes, we will be able to take money for it. But the application itself, of course, remains free.
Maybe you should sell a version of Pair for guys with multiple wives?
A.K.: That's already been suggested to us, yes. Call it "Polygamy" and we'll sell it for $99. This is a joke, of course. But even if you have a few girlfriends, you can create multiple accounts and constantly change between them. However, we don't want people cheating on each other.
It was reported that in the near future you will raise about $1.5 million from investors, and all of Pair will be priced at $10 million. According to Forbes, among the Silicon Valley venture capitalists, one of the stakeholders could be Yuri Milner. Is this true?
O.K.: We cannot comment on information about the latest round of financing right now. As soon as we can talk about this, we will let you know.
All rights reserved by Rossiyskaya Gazeta.