Russia celebrates Labor Day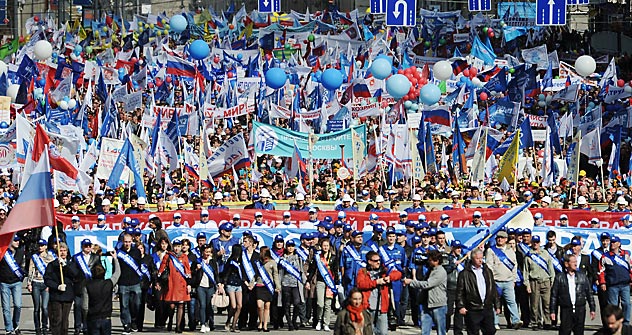 Russia celebrating the Labor Day. Source: RIA Novosti
Russia celebrates a national holiday, the Day of Spring and Labor, on May 1, with trade unions and political parties set to hold rallies across the country.
During the Soviet era, May 1 was celebrated in Russia as International Workers' Day with massive Communist Party rallies. In 1992, the name was changed to the Day of Spring and Labor but it still remains a national holiday.
Russia's ruling duo, President Dmitry Medvedev and Prime Minister Vladimir Putin made a rare joint appearance at a May Day rally in downtown Moscow.
They led the Russian Workers' Union Federation march for part of the way and spoke to a number of demonstrators.
The pair later went to drink beer in a bar just off Novy Arbat, a major thoroughfare that is part of the route used by official motorcades to whisk VIPs to and from the Kremlin.
The demonstrators at the "Holiday of Spring and Labor" rally - including senior figures from the ruling United Russia party and pro-Kremlin youth groups - marched through Tverskaya street, Moscow's main shopping artery, to Manezh Square just by the Kremlin walls.
They chanted slogans demanding better protection of workers' rights and criticizing government plans to make changes to the pension system.
Around 120,000 people turned out, police said.
The rally also targeted Russia's opposition movement, which called off its planned May 1 demonstration in order to focus on a March of Millions protest planned for May 6 in Moscow.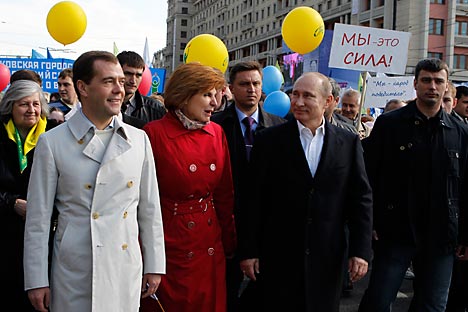 President Dmitry Medvedev and Prime Minister Vladimir Putin celebrating the Labor Day together with ordinary Russians in central Moscow. Source: ITAR-TASS
In Manezh Square, top United Russia official Andrei Isayev called for a stop to be put to "the liberal revanche" as the demonstrators held banners reading "Spring has come, the swamp has dried up," a reference to Bolotnaya Square (Swamp Square) - the venue of a series of mass anti-Putin protests which shook Russia this winter.
A number of other rallies took place elsewhere in the Russian capital.
Arrests were made both in Moscow and St. Petersburg, where police detained about 17 gay rights activists at an opposition rally, according to the activist group Coming Out.
The May 1 festivities come a week before Putin's inauguration as president for a third term on May 7. Putin won a landslide victory in a presidential poll in March which was marred by allegations of electoral violations.

First published in RIA Novosti.
All rights reserved by Rossiyskaya Gazeta.