India Open Super Series badminton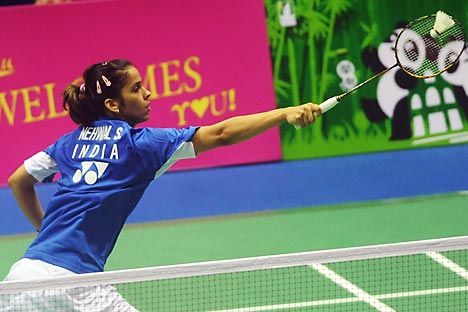 Saina Nehwal. Source: Imago/Legion-Media
Following the Russian and Indian shuttlers at the BWF India Open Super Series
The 2012 India Open Super Series was played amidst a packed house at the Siri Fort Indoor Stadium in New Delhi. Players from over 30 countries participated in the USD 200,000 event which was the last qualifying tournament for the London Olympics. Russian shuttlers made a modest yet worthy debut in India's premier tournament, signaling the growing impetus on badminton in Russia. Indian contingent had a mixed event. World fifth ranked Saina Nehwal suffered an early exit, while five Indians, the maximum till date, acquired Olympic berths.
Men's Singles
Vladimir Ivanov cruised through the qualifying rounds, defeating India's Akshay Mahajan in straight sets, followed by a strong contest against India's Sameer Verma and then another straight sets victory against Singapore's Chen Yong Zhao Ashton. However Ivanov was denied a place in quarters by Chinese Taipei's Jen Hao Hsu in a close match. The other two Russian men's singles players, Ivan Sozonov and Vladimir Malkov, couldn't get past first round of qualifiers against Indians Sameer Verma and Rohit Yadav.
India's Ajay Jayaram and P Kashyap had been contending for the lone singles spot for Olympics. Jayaram had to confront the defending champion Lee Chong Wei in pre-quarters itself and succumbed. While Kashyap's Olympic entry was eased by a walkover in quarters. Kashyap went down fighting against the in-form Shon Wan Ho of South Korea who later defeated Lee Chong Wei to win the singles title.
Men's Doubles
Russia's top duo of Vladimir Ivanov and Ivan Sozonov who had won Finnish Open, Polish International and Swedish International titles earlier this year were ousted by Malaysia's Goh Wei Shem and Lim Khim Wah in quarter finals. India's Rupesh Kumar and Sanave Thomas also bowed out in quarters losing to Thailand's Bodin Issara and Maneepong Jongjit, the duo who clenched the doubles title.
Women's Singles
Third seed Saina Nehwal, the local favourite and the one who has been able to break Chinese dominance in the past, crashed out of pre-quarters losing to an unseeded Bae Youn Joo of South Korea. P. V. Sindhu kept India's hopes alive till quarters where she lost to fourth seed Yanjiao Jiang of China in a tight contest. Russian women singles players didn't participate in the event.
Women's Doubles
India's Olympic contenders and Commonwealth Games gold medallists, Jwala Gutta and Ashwini Ponnappa, conceded to Japan's Miyuki Maeda and Satoko Suetsuna in quarters. While Russia's Valeri Sorokina and Nina Vislova, who had earlier made it to the semi-finals of European Championship, didn't seem to stand a chance against Malaysians Eei Hui Chin and Pei Tty Wong in the first round.
Mixed Doubles
India's top mixed doubles players and Olympic candidates, V. Diju and Jwala Gutta had a shocking exit in the first round, losing to China's Tao Jiaming and Xia Huan in straight sets. Russia's Alexandr Nikolaenko & Valeri Sorokina faced a similar fate against China's Hanbin He and Yixin Bao.
All rights reserved by Rossiyskaya Gazeta.