It's time for India, Russia to map a global design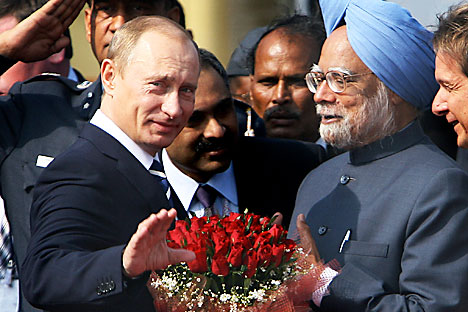 India's Prime Minister Manmohan Singh (R) with Russia's Prime Minister Vladimir Putin during a joint news conference in New Delhi March 12, 2010. Source: AFP/EastNews
As Vladimir Putin begins the third presidential term, it's time for India and Russia to transform their sturdy bilateral ties into a vibrant global partnership through closer coordination in international fora, says Jagannath P. Panda.
It's Vladimir Putin again in Russia. Despite massive political protests from the opposition, Putin has again scored an impressive victory, will be inaugurated as president and will settle down to rule Russia for the next few years to come. Debates continue about the means adopted for his victory, but there is an acknowledgment, too, that Putin at the helm is good for Russia. Known as a 'reformist' among his supporters, Putin will yet again shepherd Russia's vanguard at a time when it is on the threshold of many global programmes, and aims to improve both its domestic and global dealings.
Putin has mastered the art of political survival; and if he is reelected in 2018, he will almost reach Stalin's record as a ruler. Russia's domestic recovery, both in politics where restoring democracy will be the main challenge, and economically generating employment and tackling poverty, will depend a lot upon Putin's initiatives and leadership charisma. The immediate challenge is how to reform the energy-dependent economy.
At the regional and global level, Putin's return is an opportunity for friendly nations like India. While continuity is expected in Russia's foreign policy, there is still scope for new creative initiatives to broaden and intensify relationships both at the global and bilateral level. This is against the background that Russia sturdily believes in a 'multipolar' world order; and favoring this outlook, BRICS has become a beacon story of global politics and Russia has almost made it to the WTO.
Russia's current foreign policy is at its best. A lot of credit for this goes to Putin. In his initial years in power from 2000 to 2008, he promoted multilateralism and projected multipolar world politics. The immediate impact of his return will be in Russia's continued pursuit of multilateral politics and savvy foreign policy practice. Russia would like to maximise its multilateral networks across Asia and the globe, without unduly compromising its bilateral relationships. This has been the thrust and target of Putin's foreign policy strategy throughout.
Regionally, Russia is strongly connected with two rising Asian powers, India and China. Both are also, along with Russia, part of the BRICS, and connected in Russia-India-China (RIC) triangular politics. Putin's return indicates that Russia would like to firm up BRICS and keep up the momentum of Russia's association with developing economies. The RIC formulation is also likely to be boosted, as Russia shares a sound understanding with both India and China. Most likely, all three powers will be engaged multilaterally, regardless of their bilateral differences.
Putin's return will also further empower the Shanghai Cooperation Organisation (SCO), which has moved successfully to its second decade of existence, growing in vibrancy. Now the debate focuses on expanding its mandate and its membership. Many would argue that the SCO has served the Chinese interests more than anybody else's. Even so, it is Russia's tandem bicycling with Beijing that has pushed the SCO to its current vigorous stage, where the world is talking about the SCO as a quasi-pan-Asian organisation.
The India-Russia relations have strong bilateral foundations that were firmed up during the Soviet era. Now the time has come to shape and push the relationship to the global level. The urgent challenge would be how to prioritise this bilateral partnership without affecting their relationship discourses with third countries. India is a "dear partner" for Russia in Asian and global affairs: that is as far as rhetoric goes. But at the practical level, China has greater importance in Russia's foreign policy discourse. Despite its distaste for "China's rise", Russia is still engaged massively with China at multiple levels, and notably in Asian and global multilateralism. China-Russia engagement in the SCO, regular bilateral military exercises, strong trade and economic relations, and combined veto over the Syrian issue in the UN Security Council bespeak this phenomenon.
Adding to the complexity of current developments, despite being suspicious of the ideas and idioms of the American world, India's relations with the US have seen a distinct surge in the last few years. Even more conspicuously, India is being considered as a vital partner in America's Asia vis-à-vis Asia-Pacific strategy. New Delhi has managed to do the tightrope walk of giving adequate preference to the US, while keeping the vitality of its relations with Russia and other major countries in Asia and the world unaffected. Putin's return gives an opportunity for the two countries to sit together and work out a "win-win" resolution about further promoting the vitality of their bilateral relationship against the background of a rapid shift in American and Chinese foreign policies.
China's foreign policy is in transition. a new leadership will take over command in Beijing in 2012-13. The real test for the India-Russia ties will be to gauge and compute the strength of the Chinese foreign policy posture towards them in Asia. Both Vladimir Putin and Manmohan Singh are quite familiar with the Hu Jintao-Wen Jiabao politics. China's new leadership would remain a conundrum for them until it makes its positions clear through policy pronouncements and in bilateral interactions. It will be a challenge for both Russia and India to accommodate China in the regional stratagem.
At the same time, Russia also has to exert additional efforts to get a seat for India in the SCO: the new Chinese leadership may not necessarily be forthcoming on this issue. India's prospect for the SCO membership has been mostly based on strong Russian support. It is in Russia's favour if the SCO gets expanded and India becomes its member. The expansion of the SCO mandate also must propel the India-Russia ties to grow further. This is imperative especially at a time when the Western troops are likely to be withdrawn from Afghanistan and the powers around the world are on the verge of attaching in some ways with the Afghanistan government. Given the trust and harmony in the India-Russia ties, there is scope for the two countries to take a lead for the reconstruction of Afghanistan along with China and SCO members, after expanding the SCO's membership. This will add value when the SCO has already decided to engage in Afghanistan and in its reconstruction process, especially when Afghanistan is on the verge of getting observer status in the SCO.
Putin's return implies a vital aspect for India's global profile as well. To date, Russia still remains the most trusted ally on many fronts in India's strategic calculus. India still purchases the largest quantum of its military hardware and equipment from Russia. During Indian Defence Minister A.K. Antony's last tour to Russia, both countries discussed pushing and maximising security and military relations further. Even more than bilateral issues, it is the array of regional and global issues that merit attention in the current India-Russia bonding. India needs robust and open support from Russia for its quest for the UNSC permanent membership. Russia has of course traditionally been a strong supporter for India's UNSC bid: but much more needs to be done in terms of international campaigning and network building.
It is for India to urge Russia to take the lead in this campaign. In return, India must advocate clearly that Russia still remains the "first preference" in its foreign policy stratagem. New Delhi must direct its thrust and focus not only in BRICS, SCO and the RIC, but also match and converge with the Russian arrangement in global platforms like the WTO and G-20 where Russia is set to play a bigger role. The strength of India-Russia ties has been the bilateral linkages so far. The time has come to push the envelope and imbue this time-tested relationship with a global thrust under Putin's new presidential tenure.
Dr. Jagannath Panda is Research Fellow at IDSA in New Delhi, and Carole Weinstein Fellow at University of Richmond in Virginia.
All rights reserved by Rossiyskaya Gazeta.