May Day celebrants take part in monstrations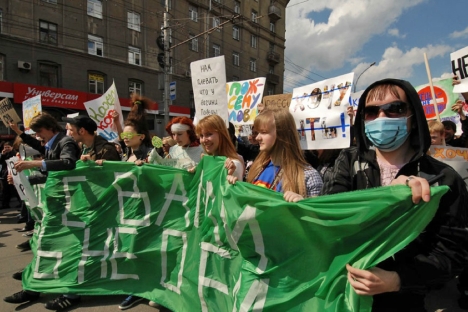 The satirical "Monstration" May Day demonstartions brought together Russians across the country Source: Andrey Shapran
The satirical "Monstration" May Day rallies continues to attract more participants across the country
The satirical "Monstration" May Day demonstartions brought together Russians across the country Source: Andrey Shapran
May Day in Russia has always been a day for marches and demonstrations – traditionally in support of workers, and now mostly for support of the Communist Party. But for those who want to take advantage of the spring weather to get outside but aren't really into the solidarity of the proletariat, there are monstrations. Monstrations are May Day rallies that consist of processions of people carrying paradoxical slogans, that participants claim "make sense of reality through artistic methods." Monstration participants do not make any political demands; each participant expresses an opinion using his or her own artistic method.
Monstrations have taken place on May 1 of each year since 2004, when 600 participants "infiltrated" the usual May Day demonstration in the Siberian city of Novosibirsk by carrying absurd placards in front of them. These actions follow no script; only a place and time are announced. The rest is simply the improvisation and self-expression of participants.
In 2010, the Novosibirsk Monstration suddenly became a mass phenomenon, most likely because Artem Loskutov, one of the organizers of the rally, was fined for drug possession and was sentenced to a month in jail on charges of insulting a police officer.
Artem Loskutov, one of the organizers of the annual Monstration march in Novosibirsk, is a Russian artist and a member of the Grandma After the Funeral artistic group. Before joining this group, he was a participant in the CAT (Contemporary Art Terrorism) artistic union. Loskutov became widely known after his arrest on charges of marijuana possession and insulting a police officer. Opponents of his art consider some of his works, such as "Novosibirsk without drug therapists" and "Wet priests," to promote drugs and insult religious feelings, which is a violation of the Criminal Code of the Russian Federation.
In preparing the 2010 Monstration, organizers encouraged people to create art projects at the rally, including musical performances. They also urged participants to come up with slogans that made sense. As a result, the 2010 Monstration manifested itself both as an Internet meme and in recent developments of social and cultural life, such as the blue bucket campaign against the abuse of government privileges. In 2010, such rallies were held for the first time in other cities, including Moscow, St. Petersburg, Perm, Riga, Krasnoyarsk, Omsk, and Vladivostok. The Novosibirsk Monstration received the "Innovation" State Award in the "Regional Project" category.
According to the Novosibirsk mayor's office, the 2011 Monstration was attended by about 3,500 people. This year, organizers have filed an application with the Novosibirsk Administration to allow 6,666 people to participate.
All rights reserved by Rossiyskaya Gazeta.