Avito.ru secures $75 million from Accel Partners and Baring Vostok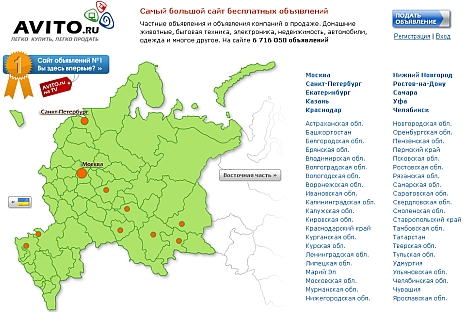 Avito.ru, Russia's leading classifieds website announced that it received $75 million in new funding from investors. Source: Avito.ru
Avito.ru, Russia's leading classifieds site by brand awareness and number of users, announced yesterday that it received $75 million in new funding from Baring Vostok Private Equity Fund IV and Accel Partners as well as from existing investors Kinnevik and Northzone.
The valuation has not been disclosed, but Avito's press service told East-West Digital News that it was "considerably higher" than the $158.73 million figure of last year, which was revealed in the latest annual report of Vostok Nafta, another shareholder of Avito.
The new funds will be used to further fuel the company's growth throughout Russia with a focus on offers from small and medium sized businesses. "Over 2,500 entrepreneurs are already paying clients of Avito.ru and we are adding hundreds every month. The businesses featured on Avito are traditional retailers as well as real estate agencies and automobile dealerships," said Filip Engelbert, Avito's executive director and co-founder.
Citing data from TNS Index, Avito claims to reach each month 40% of Russia's Internet users. These 30 million unique users browse a total of more than 2 billion pages and spend on average one hour a month on the site. "The cumulative value of items traded on the site this year is expected to top 3% of the Russian GDP," Avito's press release reads. According to Vostok Nafta's report, Avito's revenues amounted to $8.5 million in 2011 – as against some $1 million in 2010 – including "substantial" user generated revenues in the form of value added services.
But Avito is still loss making, Avito's Executive Director Filip Engelbert admitted earlier this year in an interview with Russian business daily Kommersant. Among Avito's competitors are Slando, the leading player in Ukraine and the second most popular in Russia – backed by Naspers, – Irr.ru, the online arm of "Iz Ruk V Ruki," the leading classifieds print publication, and Delovoy Mir.
Baring Vostok Private Equity Funds and Accel aren't newcomers on the Russian venture scene. Baring Vostok has led investments in some of the leading Russian companies, including Ozon, Yandex, CTC Media, Golden Telecom, 1C and CFT. Accel Partners, which has stakes in global Internet leaders like Facebook, Groupon and Spotify, also has invested in Kupivip.ru and Ostrovok.ru in Russia.
First published in East-West Digital News.
All rights reserved by Rossiyskaya Gazeta.