To buy Iran's oil, or not to buy, that's the question…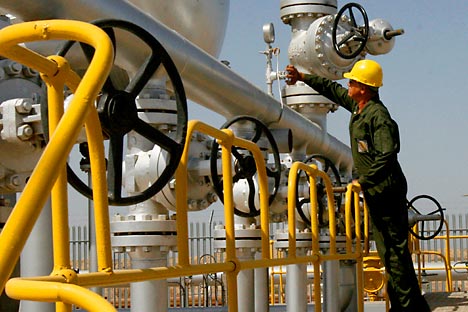 Iranian oil technician Majid Afshari checks the oil separator facilities in Azadegan oil field, near Ahvaz, Iran. Source: AP
The Iranian oil import to India has again become a hot topic. M K Bhadrakumar examines details of the subject.
India's oil imports from Iran are back in the headlines. The Wall Street Journal reports that "New Delhi is playing ball with Washington's efforts to shut down Iran oil trade" despite the public affirmations to the contrary by Indian officials. According to WSJ, instructions have gone from India's petroleum ministry to the refineries to cut back oil imports from Iran by 15 percent.
Dow Jones echoes the factual content of the WSJ report, but based on the same two unattributed sources, who claim to have "direct knowledge of the matter." Who these "two people" could be is anybody's guess. They could even be the CIA chaps in New Delhi. The Indian petroleum ministry is of course unavailable for comment.
WSJ cites Indian officials speaking in different voices, including such top officials who should know what they are talking about. Maybe the Indian government policy is to dissimulate so that, the Americans are thrown off the trail. The US Secretary of State Hillary Clinton who chairs the 'strategic dialogue' forum with India will for sure broach the subject with External Affairs Minister S. M. Krishna when they sit across the table next month in Washington.
Meanwhile, Iran is adding to the confusion by dispatching a large trade delegation to India just at the present delicate juncture. And, to cap it all, Indian government has agreed to give limited insurance cover to local ships for carrying Iranian oil. The cover is, admittedly, only up to 50 million dollars but it is the spirit behind it that matters.
Could it be that India is trying to hunt with the hound and run with the hare? Dangerous game, indeed, this whole business of oil trade. But India isn't alone in flirting with danger.
China is also in Act III Scene 2 of a shadow play on the Iran oil issue. The official stance is that Beijing cares two hoots for the US' oil sanctions against Iran. But the government-owned China Daily reports that China has slashed oil imports from Iran by 50 percent or more in March and is diversifying its purchases and expanding its oil reserves to "offset its declining purchases of Iranian oil."
Ain't I having a whale of a time today? I just read Tehran Times (which also reflects official Iran viewpoint) that Iran's exports to China "have not decreased at all." Maybe China Daily knows far too much. By the way, Clinton just arrived in Beijing to co-chair the next session of the 'strategic dialogue' forum with China.
What choice is the US giving to China and India but to grovel on the ground and then cheat in the dark on Uncle Sam, when it comes to their oil woes? Things are only going to get more complicated if there is a breakthrough at the talks between P5+1 and Iran at Baghdad. China and India just learnt that Iran has discovered one of the biggest natural fields in the Middle East in southwestern Khuzestan province at a deposit that is already known to contain oil. Over now to WSJ and Dow Jones for more stories from the underground. But before that, read the Xinhua dispatch here.

All rights reserved by Rossiyskaya Gazeta.