China to cooperate with US in Afghanistan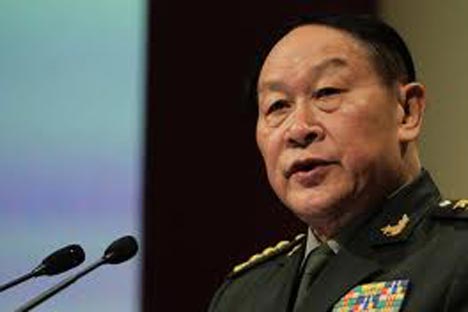 Any shift in Beijing's opposition to long-term US military presence will profoundly impact the geopolitics of Central Asia
The government newspaper China Daily has billed the current visit by China's Defence Minister Liang Guanglie to the United States starting Monday as a "landmark visit…[that] will help defuse the tense situation in the South China Sea." Guanglie is due to meet US Defence Secretary Leon Panetta today.
This is the first visit by a Chinese defence minister to the US in 9 years. In a sign of intensifying exchanges and mutual interest in keeping their momentum, a return visit by Panetta is already being scheduled later this year despite the political transition in China and the US.
But a significant detail should not go unnoticed – Guanglie's entourage includes the army commanders of the Shenyang and Xinjiang Military Regions. China Daily commented, "This might reflect a greater willingness for military cooperation as these are near Northeast and Central Asia where the US has a military presence."
Indeed, the US has been pressing China to provide transit routes to Afghanistan via Wakhan Corridor and to participate in the ISAF operations in Afghanistan. But so far China refused.
Pentagon's latest biannual report on Afghanistan submitted to the US Congress recently as in April – Report on Progress Toward Security and Stability in Afghanistan – had this to say about China's role in Afghanistan:
"The People's Republic of China (PRC) has two primary interests in Afghanistan: security and trade. It continues to seek improved relations with, and stability for, Afghanistan, while it devotes diplomatic effort to develop an economic relationship focused primarily on future raw material access and extraction. Beijing has given no indication of it plans to commit security personnel to Afghanistan.
"Since 2002, China has committed more than $180M in aid to the Afghan government, and in 2009, China announced it would provide an additional $75M over the next five years. Further, PRC companies will likely continue to invest in Afghanistan, most notably in the development of Afghanistan's mines and infrastructure. The China National Petroleum Corporation was awarded the rights to a section of the Amu Darya oil basin during the reporting period, and China is currently conducting a feasibility study for a rail system to support extraction efforts at the Aynak copper mine. However, China continues to have security concerns including issues such as external support to Uighur separatists, the safety of PRC workers in Afghanistan, and narcotics trafficking into western China which can inhibit progress on projects such as the Aynak copper mine while impeding other investments. China and Afghanistan exchange regular political visits and seek cooperative bilateral efforts on counterterrorism and counternarcotics issues Beijing has also voiced its support for reconciliation efforts between the Afghan government and the Taliban.
"Although China maintains a strict policy of non-involvement with ISAF security operations, it has provided ANSF personnel a variety of non-lethal, China-based training to bolster Afghanistan's security and stability since 2006. Training for the ANP conducted at People's Armed Police municipal training facilities has covered policing skills, crowd and riot control, criminal investigations, and internal security duties. China has also offered basic, advanced, and senior military courses for ANSF officers at PRC People's Liberation Army military training colleges and universities.
"Beijing continues to support regional diplomacy, most notably by including President Karzai in annual Shanghai Cooperation Organization (SCO) summits and forming an SCO-Afghanistan Contact Group. Afghanistan is currently under consideration for observer status at the SCO. China attended the Istanbul Conference on regional support for Afghanistan in November 2011, and is an active participant to the ongoing Istanbul process, which is planning another regional ministerial conference in June 2012."
The report estimates China as a benign partner. Significantly, China refrained from criticizing the US-Afghan strategic pact signed in Kabul on May 1. A commentary by China Daily even offered constructive advice about how the US should go about meeting the challenges of the transition through 2013-14. It noted, "The strategic partnership pact… is widely perceived as beginning a new chapter in US-Afghan relations and paving the way for a continued US military presence in central Asia after NATO forces withdraw in 2014… The signing of the strategic partnership with Afghanistan is just the first step in next stage of the US' strategy for the region."
Any shift in Beijing's opposition to long-term US military presence will profoundly impact the geopolitics of Central Asia. The fact is that Beijing is willing to discuss cooperation with the Pentagon at the highest level regarding US military presence in Central Asia marks a shift. Beijing would hope, as China Daily put it, "Improved military relations will benefit Sino-US relations as a whole."
All rights reserved by Rossiyskaya Gazeta.