Retired soldier builds life-size models of World War II tanks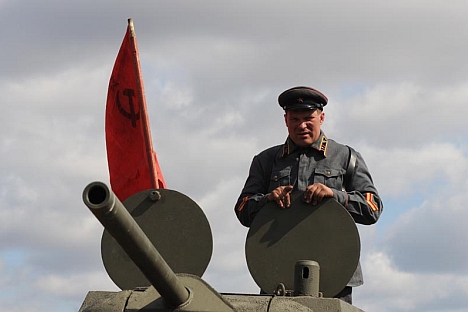 A military pensioner in the village of Bolshoi Oyesh has set up a workshop that builds life-size moving models of World War II tanks and armoured vehicles. Source: Andrey Shapran
A retired military man in the Siberian village of Bolshoi Oyesh has set up a workshop that builds life-size moving models of World War II-era tanks and armored vehicles.
Like many remnants of the Soviet system, the state-owned farm in the village of Bolshoi Oyesh – not far from the Siberian city of Novosibirsk – had fallen to the ground. Practically all the residents had moved to the city in search of work. Only five households remained, one of Vyacheslav Veryovochkin's. In his workshop, Veryovochkin, a former designer of military equipment from Novosibirsk, has assembled about 40 World War II tanks and armored vehicles.
A dozen of these relics are currently sitting in the middle of a potato field outside his home, but in the fall, Veryovochkin plans to sell some of them. He also plans to donate a Katyusha and a T-34 tank to the Zayeltsovsky District of Novosibirsk in time for Victory Day on May 9.
During the first 30 years of his military career, Veryovochkin was chief technical officer with an armored brigade. During these years, he would, in his words, "take apart and reassemble anything in the army that moves." But he especially liked military equipment from World War II.
After retiring from military service, Vyacheslav lived in Moscow for five years. He then moved to Novosibirsk before finally settling with his wife in the village of Bolshoi Oyesh. Veryovochkin is the main source of employment for all of the five remaining families in the village. "We can assemble a tank in three months of intensive work," Veryovochkin said. He built his first machines himself by cannibalizing abandoned harvester combines and tractors. The former governor of the area then gave him a plot of land near the village as a place to test his tanks. Veryovochkin is now planning to open a museum of military hardware.
Veryovochkin's is a unique case in Russia. His "vintage" machines cannot only stand on pediments, they can actually move. His models can be used to study old technologies because all the machines are life-sized and fully match the industrial standards of the Second World War.
Veryovochkin has been very busy recently. One of his tanks was used in the second part of Nikita Mikhalkov's World War II saga, Burnt by the Sun 2. Since then Mosfilm studios have been ordering authentic period military hardware for its films.
Veryovochkin's tanks have appeared in more than 10 Russian films.
All rights reserved by Rossiyskaya Gazeta.