Russia's innovative future becoming the present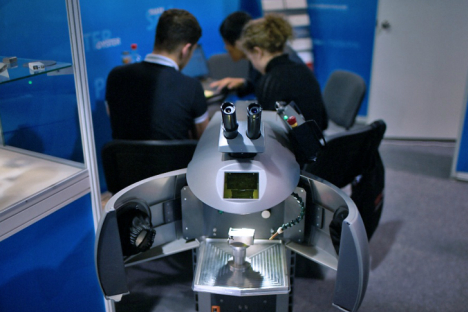 Innovative Russia Week 2012. Source: Elena Pochetova
Innovative Russia Week 2012 displayed technological novelties that hope to change people's everyday lives.
The last four years of Russia's economic life have been marked by innovation and an expansion of the nanotech and high-tech industries. The results of that four-year period were summarized by the Innovative Russia Week 2012 forum, held in Moscow in mid-April. The event hosted eight roundtable conferences and exhibitions, yet these were not enough to consider all innovative industries in detail. The forum focused on navigation solutions, medical IT, optics and lasers, quality control systems, municipal smart systems, smart systems for commercial and private property, education and personnel management. More than a thousand companies – half of them Russian – took part.


According to the organizers, the forum had two objectives. The first was to enable smaller high-tech enterprises to showcase their products, as few of them can afford to take part in big international exhibitions. Second, the forum was designed as a platform for foreign companies eyeing the Russian market and looking for local partners. There is demand for their products in Russia and most of them are genuinely interested in the country, as was proved by numerous ads such as "Looking to hire a regional director."


In the showrooms, giant laser installations were joined by microscopic video cameras; high-precision digital microscopes stood side-by-side with facilities for compositional analysis of construction materials and smart hospital management systems were placed next to navigation devices.


Most of the exhibits were incomprehensible to the average observer. The quality of factory floor ventilation systems, industrial lasers or laboratory equipment can only be appreciated by professionals. Nevertheless, even non-professionals found something interesting, such as spy cameras that cannot be seen with the naked eye; a laser unit to replace a traditional dental drill or a public transport tracking system enabling anyone to find out when the next bus will arrive. Some of the exhibits were real eye-catchers – industrial lasers, artificial high endurance composites that looked like geology museum showpieces and microscopes with a resolution down to a few nanometres.


There were also exhibits capable of changing everyday life. For example, the developers of the Intellectual Transport System claim they will resolve virtually all transport problems in big cities. "One of the key trends on the market for transport telematics is development of information services in the public transport system. This technology holds much promise, as users of public transport will very soon be able not only to manage their time more effectively, but also gain access to much-needed information services tagged to a specific location," said M2M Telematics Marketing Director Svetlana Khadonova.


Innovative Russia Week 2012. Source: Elena Pochetova
The system works like this: It receives information from a satellite, analyzes it and performs certain actions, such as changing traffic light operation algorithms. The developers believe the solution will help significantly reduce traffic jams because traffic lights currently do not adjust their work to traffic flows. At best, their algorithms are adjusted manually by traffic police. There is also good news for non-motorists. The Intellectual Municipal System will use satellites to track buses, trams and trolleybuses. The information about the location of public transport vehicles will be displayed on panels installed at stops. As a result, passengers will always know when to expect the bus.


Another innovation targeting the general audience is a laser unit with a high precision microscope for processing materials. This solution is applied in many industries. The exhibit presented at the forum was designed for dental services. "There is nothing revolutionary in this machine. Essentially, the only new things are the price and packaging. So far, Russia has not produced such devices; we have had to import them, in the result being higher prices," said the developer. Another advantage of the machine is that, unlike many analogues, it is a decent-looking device. "You can install it in any public place, including a dentist's office, while many of its counterparts are ugly metal cubes that you would not display in public," the producer added. All the materials for making the device are procured in Russia, except for the plastic.


The development of innovative products was a pet project for former President Dmitry Medvedev, but it is unclear whether anything significant in this field was accomplished during his time in office. While Medvedev's supporters cite the number of projects launched, grants issued and scientists engaged, adding that it is impossible to show any specific results in the sphere of innovation over a short span of only a few years, their opponents claim that the attempts to revive Russian applied science are pointless, because the money allocated will be stolen, and the projects already launched will not show any results.


The Innovative Russia Week 2012 forum proved that the innovative future of the country that has been broadly advertised has begun turning into an innovative present.
All rights reserved by Rossiyskaya Gazeta.