Is Russia's capital flight problem all that bad?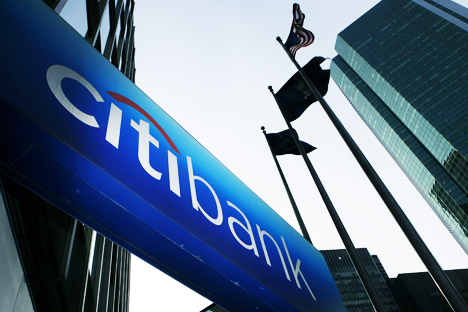 Half of last year's outflows — $40 billion — was due to Russian subsidiaries lending to their Western parents. Pictured: Citibank, a major international bank, based in New York. Source: ITAR-TASS
Over the last year, money has been flowing out of Russia for the first time since the chaos of the 1990s. In 2011, a total of $80 billion left the country with another $35.1 billion departing in the first quarter of 2012.
Commentators have blamed the reappearance of capital flight on fear, assuming that oligarchs, terrified of political uncertainty associated with the demonstrations that began last December, are moving their money to safer havens in Swiss bank accounts, or buying ex­pensive property in London or New York.
There is a little bit of truth to this — but not much. The irony is that the capital flight is more a function of Russia's booming economy than fear.
The biggest culprit was not the oligarchs, but foreign banks with branches in Russia. Half of last year's outflows — some $40 billion — was due to Russian subsidiaries lending to their Western parents, according to Prosperity Capital Management's chief economist, Liam Halligan. The sums became so big that the Central Bank of Russia called in the heads of foreign banks and told them to tone the lending down or else it might impose restrictions.
A second big source of outflows has been wrought by the economic changes the crisis has created. Before the crisis, it was cheaper and easier to borrow abroad, but post-crisis both interest rates and inflation have fallen to 20-year lows; many Russian companies have been swapping their now expensive foreign currency–denominated debt for cheaper credits from Russian banks. For once, Russia's financial system is looking a lot more stable than that of Western Europe.
Finally, Russian companies are starting to hit their stride and are increasingly investing abroad. Unknown to most people, Russia has always been a net exporter of capital: Russian companies routinely invest more in other countries than Russia attracts as foreign investment. The difference now is that in the past they invested in places such as Kazakhstan and Ukraine, but today they are big enough to move into developed markets: oil company TNK-BP spent $772 million on a Brazilian oil and gas stake; Sberbank bought Austria's Volksbank for $585 million; and tech company Digital Sky Technologies spent $563 million for a 10 percent stake in Twitter in 2011. These three deals alone are worth another $2 billion.
In general, Russian companies with branches abroad are reinvesting their earnings locally, which the Central Bank also counts as capital flight, when actually this outflow is simply a function of success.
All rights reserved by Rossiyskaya Gazeta.