India wades into the South China sea dispute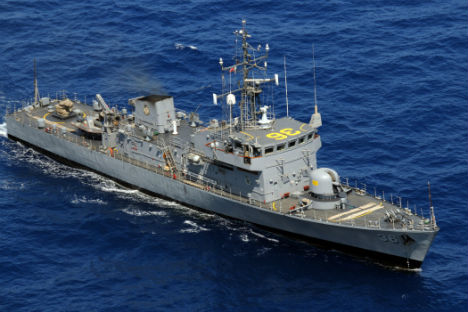 South China Sea. Source: www.navy.mil
China needs the Indian Navy's commanding presence in the Indian Ocean region, at the same time the influential Chinese "Global Times" newspaper dismisses Indo-Vietnam joint work as India's wish "to fish in the troubled waters of the South China Sea".
In a significant and deft move, India recently dispatched a naval contingent on a goodwill visit to Southeast Asia and East Asia. This contingent will make port calls in the Southeast Asian countries of Malaysia, the Philippines, Singapore and then move on to Japan and China. This move by India comes at a time when tensions have risen in the South China Sea, especially between countries like the Philippines and China. However, the inclusion of China in the itinerary shows the intention of India's strategic planners to keep channels of communication open with China and not to send wrong signals to China, despite differences in many areas.
In October 2011, India's state-owned oil behemoth Oil and Natural Gas Corporation (ONGC) signed an agreement with PetroVietnam to "jointly explore upstream and down-stream opportunities in India, Vietnam and other countries". ONGC's foreign arm, the ONGC Videsh Limited (OVL) has already been involved in exploring energy resources in Vietnam. However, on this occasion many sections in China went hammer and tongs at India and the influential Global Times newspaper in China in an article (published a few days after this agreement was signed) titled "India-Vietnam joint work must be halted" warned that "India is willing to fish in the troubled waters of the South China Sea so as to accumulate bargaining chips on other issues with China". It went on to say, "China should denounce this agreement as illegal. Once India and Vietnam initiate their exploration, China can send non-military forces to disturb their work, and cause dispute or friction to halt the two countries' exploration." India chose not to heed the "warning" and moved ahead with the exploration.
India, of course, is at a disadvantage vis-à-vis China when it comes to naval strength in the South China Sea, but has been stitching up close naval ties with a series of countries in Southeast Asia and East Asia, all of whom would like to see the South China Sea continue to be an international waterway. India has been conducting the "Milan" multinational exercises since 1991 with Southeast Asian navies and including those from Australia and New Zealand. With Thailand, India has been conducting India - Thailand Coordinated Patrol (INDO-THAI CORPAT) to counter terrorism, piracy and arms smuggling since 2006. Meanwhile, India and Singapore have been conducting the annual naval SIMBEX (the Singapore-Indian Maritime Bilateral Exercises) since 1994. India will be holding its first-ever bilateral naval exercise with Japan later this year. Last year, Japan pulled out of the trilateral Malabar naval exercise alongside India and the US because of the Great East Japan earthquake. Prior to that in 2009, the three countries had held trilateral naval exercises. China had allegedly built a listening post in Myanmar's Coco Islands, very close to India's strategically important Andaman and Nicobar chain of islands. However, with Myanmar taking baby steps to democracy, China may no longer have such a leeway with the government in Naypyitaw.
What are India's interests in the South China Sea?
India does not have any territorial interests in the South China Sea, but it has huge economic interests. ONGC Videsh Limited (OVL) has already pumped in around US$225 million into Vietnam. It is also important to note that India's trade with Japan and South Korea has been growing and hence it is crucial that freedom of navigation is maintained in the South China Sea through which the trading routes between India and these East Asian countries pass. Meanwhile, India-ASEAN trade has reached US$ 57.89 billion in 2010-11. Any major conflict in the South China Sea region is bound to impact Indian economic interests.
India is poised to play a greater role in the region, thanks to the growing strength of its Navy. It is expected to take delivery of the refitted aircraft carrier, the Admiral Gorshkov by next year from Russia while work goes on apace on the indigenous Air Defence Ship (scheduled for completion by 2015.) Meanwhile, India has started the construction of its first indigenous nuclear submarine in 2009 and has plans to induct a third aircraft carrier by 2017. Last month, the Indian Navy inducted into service the nuclear-powered attack submarine INS Chakra, brought on a 10-year lease from Russia.
However, India would be well-advised not to wade into the territorial disputes between China, the Philippines, Brunei, Malaysia, Vietnam and Taiwan in the South China Sea region. At the same time, India has to be prepared to deal with a potential skirmish with China in the South China Sea region, taking a cue from what has happened between China and some other countries. What if a Chinese fishing trawler rams into Indian Navy vessels in the South China Sea? Such scenarios should be thought-out in advance to prevent knee-jerk reactions. At the same time it must be said that there is very less likelihood of any skirmish between India and China going out of control. There are enough avenues for cooperation between India and China in the maritime arena. Interestingly, in March this year, India and China agreed to undertake joint anti-piracy operations and share technological knowledge on seabed research. This in many ways shows the way out for China and India in managing their conflicting interests in the South China Sea region. China needs the Indian Navy's commanding presence in the Indian Ocean region to keep its critical sea lanes of communication operational. At the same time, any conflict with India would also internationalise the South China Sea dispute, something which China desperately wants to avoid. This is something Indian strategic planners would do well to keep in mind.
Dr Rupakjyoti Borah is an Assistant Professor of International Relations at Pandit Deendayal Petroleum University, Gujarat, India. He has been a Visiting Fellow at the Centre of International Studies, University of Cambridge, U.K. in 2009. The views expressed are personal.
All rights reserved by Rossiyskaya Gazeta.