FGFA: facing delay but worth waiting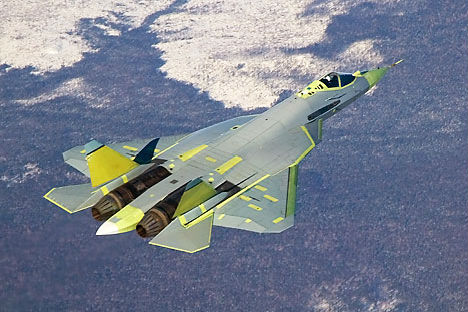 FGFA fighter promises to be a big step forward for Indian Air Force. Source: sukhoi.org
The Ministry of Defence has announced a two-year delay in the joint Indo-Russian project, Fifth Generation Fighter Aircraft (FGFA). But Indian designers are upbeat hailing the project as an "invaluable experience in testing and certifying a heavy fighter jet."
Seven years before its scheduled completion, the Ministry of Defence (MoD) has already announced a two-year delay in the Fifth Generation Fighter Aircraft (FGFA), the flagship of the Indo-Russian aviation partnership, Ajai Shukla writes in his "Business Standard" article.
According to "Business Standard", Defence Minister A K Antony has been saying the FGFA would join the Indian Air Force by 2017. On Monday, his deputy, M M Pallam Raju, told Parliament, "The fifth generation aircraft is scheduled to be certified by 2019, following which the series production will start."
India and Russia lay much hope on the FGFA project. Yet, according to Indian designers who have overseen the project, there are still some concerns. Firstly, it's the two-year delay. One more issue is the FGFA's supposed exceeding its current $6 million budget. The Russian and Indian air forces each plan to build about 250 FGFAs, at an estimated cost of $100 million per fighter. That adds up to $25 billion each, in addition to the development cost.
But still Indian designers remain optimistic saying that the FGFA project would provide invaluable experience in testing and certifying a heavy fighter aircraft that is bigger and more complex than the Tejas light combat aircraft (LCA), India's foundational aerospace achievement.
The FGFA's precursor has already flown. In January 2010, Russian company Sukhoi test-flew a prototype called the PAK-FA, the acronym for Perspektivnyi Aviatsionnyi Kompleks Frontovoi Aviatsy (literally prospective aircraft complex of frontline aviation). Now, Hindustan Aeronautics Limited (HAL) will partner Sukhoi to transform the bare-bones PAK-FA into an FGFA that meets the Indian Air Force (IAF)'s requirements of stealth (near-invisibility to radar), super-cruise (supersonic cruising speed), networking (real-time digital links with other battlefield systems) and world-beating airborne radar that outranges enemy fighters.
The IAF clearly wants a top-of-the-line FGFA. According to Ashok Nayak, who spoke to Business Standard as HAL's chairman before retiring last October, the IAF has specified 40-45 improvements that must be made to the PAK-FA. These have been formalised into an agreed list between Russia and India, the Tactical Technical Assignment.
There are certain requirements the contingent that is to work on the FGFA has to follow.
"Our boys will learn the Russian language, their way of working, their design rules and their design norms. We are left-hand drive, while they are right-hand drive. The Russians say they would part with all these things," says Nayak.
But the most valuable learning, say HAL executives, would take place during the FGFA's flight-testing. "Unlike the basic design phase which we missed out on, we will actually gain experience during flight testing. This phase throws up dozens of problems, and we will participate in Resolving these, including through design changes," says says N.C. Agarwal, HAL's design chief.
Despite the continuing imponderables, HAL believes the FGFA project provides genuine technological skills, far more useful than licensed manufacture. Agarwal says, "We will pay some $6-7 billion to France for the licence to build the Rafale in HAL. In the FGFA project, a similar sum would bring in genuine design knowledge that will help us in the future."
Full text is published in Business Standart
All rights reserved by Rossiyskaya Gazeta.