Giant Buddha planned for Tuva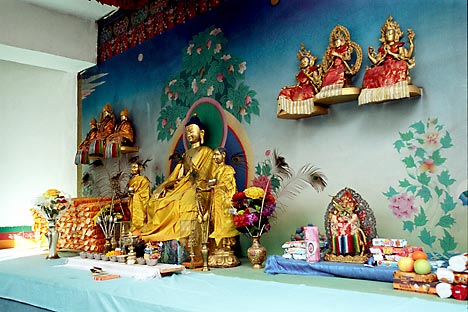 Golden statues of Buddha. Tsechenling Buddhist Temple. Kyzyl Tyva Russia. Source: Alamy/Legion-Media
A Tibet enterprise has been given the go ahead to build a 15-meter-high Buddha statue, to be placed atop a mountain outside the Tuvan capital of Kyzyl.
The statue was originally planned to be constructed in Volgodonsk in the Rostov region, where previously a 10-meter-high Buddha was built for Elista, capital of Kalmykia. Interfax reported. However, the Volgodonsk Buddha sculptors' quote for the religious monument exceeded the budget for the entire project. Meanwhile, Tibet made an offer that would allow for the project's costs to be cut in half. The figure is to be constructed from fiberglass, which is both light and resilient.
Planned since 2008
Tuvan Buddhists originally announced plans for the statue in 2008. The project has been approved by the Tuvan authorities and the republic's head, Sholban Kara-ool. The 14th Dalai Lama has also supported its creation. Sholban Kara-ool has asked for donations for its construction and has personally donated 3 million rubles to the project, Interfax reported on Thursday. The total cost is estimated at 13 million rubles.
Top of the mountain
The big Buddha is planned to crown Mount Dogee, a sacred mountain for Tuva's Buddhists. It will sit atop a 6-meter-high pedestal, meditating in the lotus position. The project originally called for a 40-meter-high monument, but given Tuva's seismic instability, designers have chosen to reduce its height to a more earthquake-resistant 15 meters. Nonetheless, it will still be Russia's tallest Buddha statue.
At an altitude of 2,000 meters, the statue will be visible from every point in the capital. The statue's pedestal, or throne, has already been completed and plans call for the remainder of the statue to be finished this year,
According to sociologists, 52% of Tuva's 312,000 people count themselves as Buddhists.
All rights reserved by Rossiyskaya Gazeta.