Rafal Milach: You can't fit all of Russia into photographs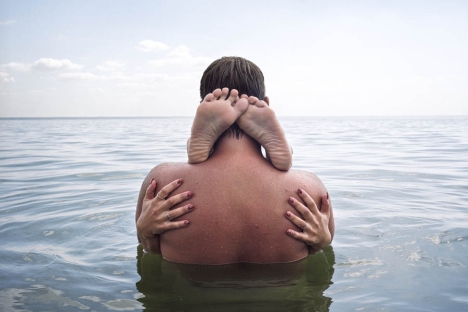 A photo by Polish photographer Rafal Milach presented at his exhibition in Moscow. Source: Rafal Milach
Polish photographer Rafal Milach opens a new exhibit in Moscow.
Rafal Milach is a Polish photographer of Russian origin. In 2011, his book "7 Rooms" – a result of several years' work in Russia – was published in Russian. On May 6, the exhibition of "7 Rooms" opened in Moscow. Sofia Raevskaya of Russia Beyond the Headlines spoke with the photographer about his work and the exhibit itself.
Russia Beyond the Headlines : How did you get the idea of a project connected with Russia?
Rafal Milach: In 2004, my grandfather showed me my family tree and I found out I had Russian origins and relatives in Russia. It was a good reason to visit Russia. The first trip lasted three-and-a-half months. First, I had no plans for the "7 Rooms" project; I just wanted to take pictures in Russia. But, three years later, I understood that it was impossible to fit the entire country into my lens. So I decided to focus on the people I spend time with, communicate with and get back to. It just happened that I came to them and took pictures. That's how this project evolved.
These people were born in the Soviet Union; they are 20 to 30 years of age. I was born in one Poland and now live in a different one, so I can relate to this. I believe that an artist's story can only be honest if you have personally experienced the things you're trying to convey. Nearly all the "7 Rooms" pictures could have been taken in Poland or Eastern Europe. Most of the photos are "anyplace." Quite few of them make it clear that they were shot in Russia. This is not a story about a country; this is a story about people. Each room is connected with the space in which they live with their families or by themselves.
RBTH: What impressions did you mean to create?
R.M.: Photography is an art of manipulation. There is no objective reality. Every artist produces his own impression. He is attracted by some specific part of the world, something that captures his attention. I was involved in another project – "Black Sea of Concrete" – and took pictures of people living on the Black Sea shore in Ukraine. These are beautiful places and the sea is majestic and unrenderable. I understood then that photography lies. I realized that, in the Black Sea series, I had selected the shots that were the closest to my own world perception, my understanding of that place. The pictures are nostalgic and melancholic. That was my viewpoint, very subjective. That was my perspective of the world; I was shooting what I was feeling. There is some sadness in me and it is incorporated into the photos. I want to give people a choice; it is up to them how to look at it.
RBTH: How did you select the characters for the "7 Rooms" project?
R.M.: Originally there were more characters, and it was a hard choice. But there were some to whom I returned during those six years and I understood that they would remain. The idea of the exhibition is that you come to get first emotions and impressions. But some questions must remain unanswered, for you to come back and learn more about its heroes. This is what the "7 Rooms" book is for. It contains short texts that are not explanatory, but supplementary. The story becomes individualized. We learn about the characters from themselves. This is a complex thing that requires working together. The exhibition itself is not complete. We should add the media and text. I employ them in other projects – I work with archives, music and video. A picture cannot convey reality. For instance, the project "Disappearing Circus" is based on media solutions and contains my photos, video interviews and tunes. This produces an in-depth story.
RBTH: Tell us a bit more about your characters
R.M.: We only see six rooms in the photos. The seventh one is represented by the text in the book. It is about the people who chose to commit suicide after the Soviet Union collapsed – they had lived most of their lives in that country. It was important to insert these stories in the historical context.
The key thing is that all of the characters go through a transformation. They were born in one country and continued living in a different one. When the Soviet Union disintegrated, my characters were 6 to 13 years old. The change took place when they were kids. Each character tells the story of his/her life. Take Lena – she has a special horoscope written for her. Stas is a historian and we talked a lot – he gave me the picture of Russia drawn by the crises. Vasya is a very interesting person. I had to think twice about including him – the characters in the book are regular people, like myself, while Vasya is a transvestite show star from Ekaterinburg. I was more interested in another side of him – his routine, day life, his family life.
RBTH: Do you have your favorite places in Russia?
R.M.: These are not places, but people. I have made friends with all of my characters. They received me very well. There are three cities in the project – Moscow, Ekaterinburg and Krasnoyarsk. I had to choose between so many cities but the choice came somewhat easily and naturally. I was just getting back to those cities.
All rights reserved by Rossiyskaya Gazeta.