A tough call: How to create specialists and nurture careers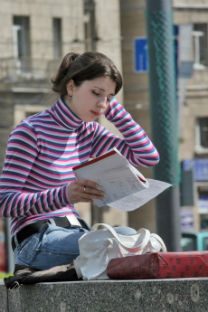 Corporations are not only teaching students, but are also helping to design career-oreinted courses. Source: ITAR-TASS
Russia's higher education system is navigating tough choices to create specialists who thrive in the globally competitive business world.
The Russian higher education system is at the crossroads, navigating its way through changes and new trends. According to the Russian Ministry of Education, Russia is the eighth largest exporter of students in the world, after the US, the UK, Germany, France, Austria, Spain and Canada.
Russia's 2003 accession to the Bologna Process, intended to standardise requirements for education worldwide, still doesn't find unanimous support. Compared to the Soviet-based system, in which students are granted the degree of "specialist" after the five-year-long university education, the Bologna System gives students more choice allowing them to choose between finishing their education with a bachelor's degree after four-year-long studies or pursuing master's degree for two years. "I think that the Bologna System is better than Russia's traditional one because it offers more options: you can study less, and then find a job. If you want to be more educated, you are free to get the master's degree. Personally, I can't imagine studying five years in a university like it was before," said Bogdina Buvaeva, a student studying International law at the Moscow Institute of International Relations (MGIMO).


Airat Bagautdinov, a student at the Higher School of Economics, has a slightly different take: "I think that joining the Bologna System is an attempt to catch up with the West. But in reality, it doesn't root out the problem of the quality of Russia's education." "Yet, I believe that the Bologna system has some advantages in comparison with Russia's traditional one. For example, after getting a bachelor's degree, you can change your major and study new subjects," he explains. But there are reasons why Russians find the requirements of the new system problematic. "The fact that a B.A. is one year shorter than a specialist means the average university loses 20 percent of its income. And only 20-30% choose to pursue a master's degree," says Irina Abakina, director of the Institute for Educational Studies at the Higher School of Economics, Russia.


One of the reasons for introducing the Bologna System in Russia was to attract more foreign students by making Russian diplomas equivalent to university certificates in other countries. And indeed, the ministry reports that the number of international students in Russia has increased in recent years. Around 70,000 foreigners came to study in Russia in 2008, and there are currently about 90,000 international students in the country. But according to Irina Abakina, Russia hasn't seen a rise in foreign students seeking bachelor degrees – this bunch stands to benefit most from the Bologna Process changes. "Primarily, only those students aiming to earn the Master's degree go to study in Russia because they are mature and know what they want," says Abakina. She added that some regions like Russia's Far East are seeing a steady growth in foreign students studying for the bachelor's; these are students from China and Southeast Asia who are seeking degrees in science and technical majors such as economy and engineering.


Another issue with higher education in Russia today is facilitating employment for young graduates. Many corporations, dissatisfied with the content and quality of higher education, have begun intervening in universities to ensure that the human resources they need are properly trained. For example, Kirill Voronov, a fourth-year undergraduate student at the Higher School of Economics (HSE), has no reason whatsoever to worry about finding a job when he finishes school: he is almost certain to be hired by PricewaterhouseCoopers, one of the big four accounting firms, where he is currently interning. The consulting giant has employees who teach at the HSE. Russian companies are not lagging behind in nurturing talent. Gazprombank project analyst Tatyana Sorokina also caught the eye of her future employer when she was a student: before graduating from the MGIMO, she first entered their corporate stipend programme, then was recruited for an internship, and finally, in 2009, she was hired fulltime.


Another factor driving employers to the universities is the shift of many education programmes to the double-degree, bachelor's-master's system under the Bologna System. "Someone with a BA should essentially be considered a specialist with a higher education, but that graduate has not actually acquired the specialisation he needs, and has patently inadequate knowledge and skills," says Vadim Saralidze. On the other hand, dividing the programme into two degrees gives employers room for maneuver.


Companies incur costs when they invest money in creating their own departments or corporate universities, or even just by assigning a highly paid specialist to assume teaching duties. Invested funds will be recouped through the students themselves by their signing pledges to work a fixed number of years at the company sponsoring them. "Institutions of higher education that lack serious joint projects with the business community should gradually merge into the larger universities on which the system is based," says Artyom Babenko, head of the Yandex School for Data Analysis group.
All rights reserved by Rossiyskaya Gazeta.