Russia's grannies take 2nd at Eurovision Final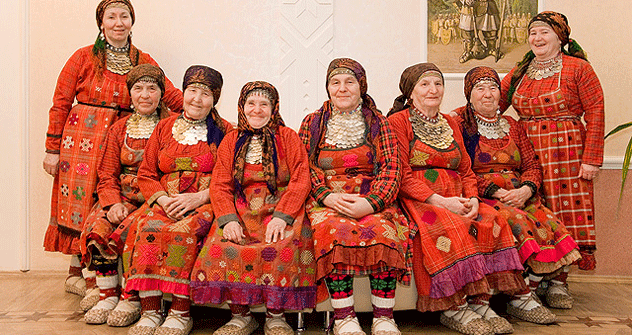 The endearing Buranovskiye Babushki held their own against the best musical acts of 42 countries in Baku, finishing second to Sweden's Loreen at the Eurovision contest final in Azerbaijan's capital.
The six-member group Buranovo Grannies, as they are known in English, won the crowd with a repeat performance Saturday night of their dance-inspiring tune "Party for Everybody," featuring choreographed baking and an upbeat rhythm, but Loreen's performance of "Euphoria" turned out to be the overall favorite.
The women wept after winning second place.
"Of course, these are tears of joy. The grannies are very happy with their success," the women's spokesperson Maria Tolstukhina said, Interfax reported.
Tolstukhina also said the grannies would give their prize money for building a church in their native village, Buranovo.
The winner of the contest is decided by points awarded from each of the participant countries, which cannot cast votes in favor of themselves. Russia's singers earned 259 points to Loreen's 372, still earning enough to come out above Serbia's Zeljko Jaskimovic, who took third with 214 points.
Azerbaijan, Albania, Estonia, Germany, Italy, Turkey and Spain rounded out the rest of the top ten.
From a little-known village in the Udmurtia republic, the group of women all above the age of 70 have charmed both Russia and now Europe since being announced as Russia's choice for the contest. Their music features a mix of traditional singing and international music hits sung in both Russian and their region's native Udmurt language.
The contest, which has been running since 1956, is the most widely viewed annual non-sports television event in the world, drawing about 125 million people worldwide each year.
Russia's entrant into the competition fared much better this year, as last year's entry Alexei Vorobyov finished 16th overall.
The Ell & Nikki duet from Azerbaijan won the contest last year.
The 2012 competition took place at Baku's new Crystal hall, a $134 million building constructed specifically for the Eurovision contest and erected in a speedy eight months.
The Eurovision contest did not finish without incident, however. A small protest flash mob by antigovernment activists that had gathered near the venue the day before the contest was broken up by police. Three demonstration participants were sentenced to jail terms of five and six days on Saturday, while 17 others were fined 20 to 25 manat ($25 to 32), AP reported.
All rights reserved by Rossiyskaya Gazeta.