Even during the 9:00 a.m. rush hour, it takes Muscovite Tatyana Gladysheva only five minutes to get to work. After hours, she goes for a stroll in the woods to get some fresh air. And this is even though Gladysheva's apartment is right in the city center.
It's easy to explain Gladysheva's convenient life: Although she is a Moscow native, she doesn't live in the capital. In 2009, Gladysheva's company, the Bolshevik Candy Factory, relocated from Moscow to the Vladimir Region, and she moved with it.
"I like the new location," said Gladysheva, a production manager at the Bolshevik Candy Factory. "The Klyazma River runs through Sobinka, and the countryside is a delight. Then, just imagine, you can go outside your house in summertime, and have grilled shashlyk and feast your eyes on your flowerbeds. In wintertime, the ski trail starts practically at your front door. And Vladimir has all the trappings of civilization: movie theaters, stage theaters, cafes, restaurants, and clubs."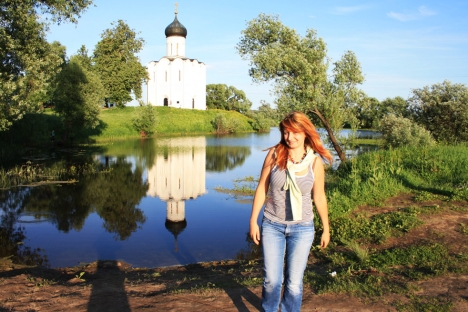 Tatyana Gladysheva. Source: Ogoniok
The entire candy factory made the move out of the capital: the company's owners took not only the production units, but also all the managerial staff. With Gladysheva's professional skills, she could have remained in Moscow and found work at another company, but she made the move for a new kind of life.
"And I don't regret it! Of course, senior management helped: they offered me an interesting position, plus they provided housing, plus travel expenses in case I want to visit Moscow," Gladysheva said. "But I was still nervous, naturally. It was scary: new challenges, a new place, and people I didn't know. Initially I planned to come only for one year. But then things got interesting: the factory is growing, we're making new products, and people are learning things. Finally I realized that I really like living here. Everything here is for people, unlike in Moscow. So I have settled down in Sobinka."
Gladysheva is no exception among managerial employees from the capital. Human resources analysts say that a new trend is taking shape: the flow of office employees beyond the Moscow Beltway. The traditional golden rule of white-collar employment, "the closer to Moscow, the better," is rapidly becoming obsolete. In 2006, according to surveys done by the recruiting portal Superjob.ru, only 15 percent of Muscovites would have been willing to move to a new city for a new job; but in May 2012, 24 percent of upper and middle management people wrote in their resumes that they would agree to move. This mobility at the level of supervisors is steadily growing each year.
"Many companies are leaving Moscow to save on administrative costs, and the employees are forced to migrate along with the business," said Natalya Grishakova, a department head at Malakut HR Research and Solutions.
It goes without saying that managerial personnel are not moving without infrastructure in place. The relocation of companies from the capital to the regions is the context in which executives are migrating out of Moscow.
"The process of industrial companies moving out of Moscow began a long time ago, and it makes sense to relocate the administrative divisions closer to the production units," said Yelena Chernenko, director of the Analysis and Consulting Center at the Real Estate Economics Department of the Russian Academy of the National Economy and State Service. "To achieve effective management in the regions, you need qualified managers, so Moscow's oversaturation with executive personnel is gradually declining."
Displaced persons
The movement out of the capital is happening in several ways. First of all, there are businesses that themselves move and bring their employees with them. Then there are some Moscow-based companies that relocate some of their divisions outside the city, and have new vacancies. Third, there is the reassignment of Moscow-based executives to regional subsidiaries of to boost performance and do onsite employee training.
The first category is best illustrated by the process of moving industrial enterprises out of Moscow, followed by their managerial staff.
"Companies benefit from moving their offices out of Moscow," said Yelena Chernenko. "That's because it's better to have management located nearby the production facilities, so that the supervisors have at least some understanding of what they are supervising: it's sufficient to leave just a showroom in the capital, a place where customers can see samples of the products, and that can be a staging ground for participating in the relevant industry shows."
Nearly all major and medium-sized Moscow companies have relocated some divisions outside the capital. In Tver alone, with a population of just over 400,000, 14 call centers of Moscow-based companies have been opened, each of which can employ over 1,000 people.
"This is one of the most widespread types of business migration to the regions," said Natalya Zubarevich, director of the regional studies program at the Independent Institute for Social Policy. "The process makes obvious sense: labor costs and office rentals are cheaper outside of Moscow. So everybody who is in a position to relocate right now is doing it. The result is that our call centers are in Tver and our 'offshore' programming is done in Nizhny Novgorod or Voronezh."
Executives are parachuted in from Moscow to set up the work process on site, but if the technologies involved are simple, as is the case at a call center, they are not needed for very long. Within a few months, local residents are answering the phone, keeping the books, and programming just as well as the trainers who were brought in.
It's altogether another matter when the task is to organize a complex production process on site from scratch. This kind of relocation to the regions requires that a company not only transfer its offices, but send Moscow-based managers to work for periods of time in the new place. Statistics from employment agencies indicate that the number of people prepared to work for extended periods in a regional location is also increasing rapidly.
Do as the Romans do
The relocation of companies from the capital to the regions also makes the regions more attractive. Tatyana Gladysheva recalls that when she arrived in Sobinka in 2009, there were almost no foreign-made cars on the streets or children on the playgrounds.
"That was the detail I remembered: the empty sandboxes, and very few people on the streets," she said. "But now I feel like the city is coming to life, and you have mothers out walking with kids in strollers. A lot of jobs have opened up, people are staying in their jobs, there are new prospects for career growth, and the communications and road infrastructure have improved."
There's another trump card that enhances the attractiveness of the Moscow suburbs: easier housing solutions.
"When we had our office in Moscow, a lot of our executives and managers were renting," said Oxana Rogova, an employee of the kitchen furnishings company Blum. "After 2007, when we moved to the Domodedovo district, they could buy their own apartments in the Moscow suburbs."
A shift for life?
For more and more Russians, living outside of Moscow seems like an idea whose time has come. The more difficult the infrastructure and social services situation becomes in the capital, the more advantageous life in the regions appears.
Pyotr R. has been working for several years in the Moscow office of Sibur-Neftekhim. He grew up and went to school in Moscow, but now he is seriously thinking about transferring to a regional division of his company.
"We are opening a new enterprise in Tobolsk, and the project needs to be staffed," said Pyotr. "This is the area I work in — human resources recruitment, and I want to go. First of all, my salary will be no lower, and possibly higher, but prices in Tobolsk are moderate. I'll be able to save money. Secondly, the company will find me a private house in a country setting: and that's really great, because I have a wife and small child, and in Moscow they have to drive 15 minutes to the nearest wooded area. Here it will be right next door. I think it's the perfect option!"
However, Pyotr is in no hurry to burn his bridges: he is signing only a two-year contract to work in Tobolsk, after which he might return to Moscow.
"Our people are used to living and working in one place, but seeing their suburban dacha, for example, as their real home; that's where the whole family gets together on weekends," said Mikhail Chernysh, head of the Social Mobility Department at the Russian Academy of Sciences Institute of Sociology. "So, without ceasing to be 'Muscovites,' they can move to another city or region for some period of time, in order to improve their financial situation and see something new. But money alone is not enough to get somebody to move: today's skilled workers also want to have interesting work and better living conditions."
Experts are certain that for major holding companies, investing in their own executives' mobility will pay off in spades.
"That's why white-collar employees from major companies are running around the country like gypsies," said Natalya Zubarevich. "They will be doing onsite personnel training as long as the regions still experience a shortage of skilled employees."
First published in the Ogoniok magazine.
All rights reserved by Rossiyskaya Gazeta.