Granya Ivanovna Baisarova
Birthday: June 2, 1949 (age 62)
Profession: plasterer, painter and tile layer; milkmaid
Family: six children, eight grandchildren and a great-granddaughter.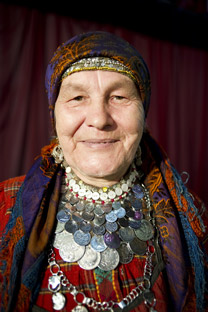 Source: AFP / East News
"We have always loved singing. When we worked as painters, we would sing so loud that the entire house would hear us!" Baisarova said "They don't sing like that anymore, I guess."
Baisarova came to Buranovo with her family in 1976 and worked as a milkmaid for 20 years. She took a long break from singing when her two sons were drafted and sent to serve in Chechnya. When they returned safely, she started singing again.
Baisarova enjoys handiwork. She knits, embroiders and weaves. She always has a ball of yarn and knitting needles with her and she has made colorful socks for the other Grannies to wear during performances.
---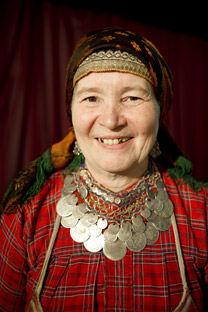 Source: AFP / East News
Alevtina Gennadyevna Begisheva
Birthday: March 3, 1958 (age 54)
Profession: Accountant, curator
Family: Three children
Begisheva worked all her life as an accountant at the Buranovo state farm. After retiring from the farm, she founded an unofficial history museum at the local House of Culture. "One boy brought an old flatiron and thought we would give him money for it," said Begisheva. "He was very upset when he learned that we do not pay for the exhibits, but did not take the flatiron back. One man brought a three-kilogram mammoth's tooth. It has nothing to do with old-time life, but I still put a number on it and show it to every visitor."
Begisheva's husband makes bast shoes for the band.
---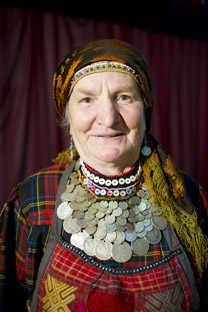 Source: AFP / East News
Zoya Sergeevna Dorodova
Birthday: April 15, 1940 (age 72)
Profession: baker, cook
Family: One daughter, two grandchildren
Dorodova worked as a baker at the Buranovo bakery until she got married and moved to the village of Babino. There she worked as a cook and head of a school cafeteria. After her husband died, she returned to Buranovo and worked as a cook in a geologists' cafeteria until her retirement.
Dorodova is the most staid and taciturn of all the Grannies. She cooks for the entire band on tour.
---
Galina Nikolaevna Koneva
Birthday: Oct. 15, 1938 (age 73)
Profession: Preschool teacher
Family: three children, eight grandchildren and two great-grandsons.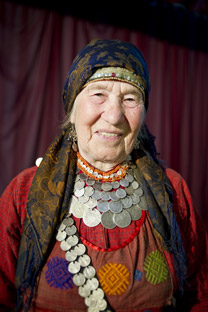 Source: AFP / East News
Koneva graduated from a preschool teacher training college in Sarapul and worked at an orphanage for a few years before returning to her native village. She worked at a kindergarten in Buranova until she retired at the age of 60. In addition to singing in the band, Koneva sews dresses for dolls and has assumed the role of the village elder. She was responsible for preventing a nightclub from opening in town a few years ago.
"I'd rather we build a church, which is more important for the younger generation. We don't need bars getting our people drunk. Young people should be praying instead," Koneva said.
---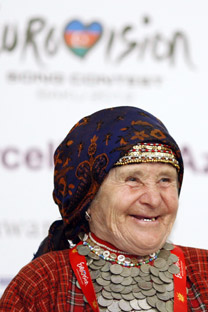 Source: ITAR-TASS
Natalya Yakovlevna Pugacheva
Birthday: Nov. 28, 1935 (age 76)
Profession: farm worker
Family: four children, three grandchildren and six great-grandchildren.
Pugacheva was getting ready to enter second grade when World War II erupted. She never resumed her studies and worked all her life at the Buranovo state farm. Pugacheva loves flowers and animals; she and her husband have a cow and breed fowls and pearl hens.
Pugacheva is famous for her pies and cookies, her fabulous sense of humor, smile and flexibility.
---
Yekaterina Semyonovna Shklyaeva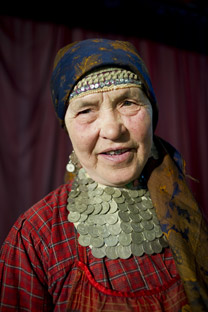 Source: AFP / East News
Birthday: Nov. 2, 1937 (age 74)
Profession: painter, plasterer
Family: three children, five grandchildren and one great-grandson.
Shklyaeva had to leave school after she finished fourth grade to support her brothers and sisters when her mother fell ill and her father was drafted.
After she married, Shklyaeva moved to the Perm Region, where she worked at the Izhevsk Mechanical Plant and as a painter and plasterer at a construction site. She returned to Buranovo after her husband died.
---
Valentina Semyonovna Pyatchenko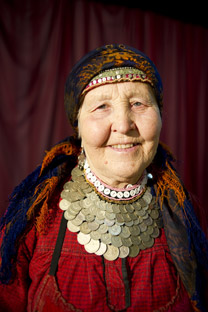 Source: AFP / East News
Birthday: Oct. 21, 1937 (age 74)
Profession: philologist
Family: two sons (one deceased), two grandchildren
When Pyatchenko completed school, she left for Sarapul to train as a seamstress. Later she went to college became a professional philologist. She moved to Krasnovodsk after she got married, but returned to Buranovo after her divorce.
Pyatchenko lost her right arm in an accident with a buzz saw. While she performs with a prosthesis, she does well with one arm, taking cared of her strawberries, making jam and using a sewing machine. She used to sew dresses for the entire band.
---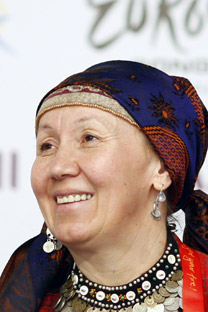 Source: ITAR-TASS
Olga Nikolaevna Tuktareva
Birthday: April 26, 1968 (age 44)
Profession: artistic director
Family: two children
Tuktareva is the artistic director of the Buranovo Grannies, director of the Buranovo House of Culture and a translator of songs into the Udmurt language. A native speaker of Udmurt, Tuktareva spoke little Russian when she applied to the Perm Institute of Culture and decided to train as a director without even knowing what the word meant.
"They offered three options – educator, librarian and director. I chose the last one – I liked the word," she said.
Her main hobbies, apart from the Buranovo Grannies, include a children's theater school that she organized at the local House of Culture.
All rights reserved by Rossiyskaya Gazeta.