The Confael company, the Russian specialty chocolatier. Source: PhotoXPress
Specialty food products are popular in theory in Russia, but creating a successful business on them is easier said than done.
Irina Eldarkhanova, founder of Russian specialty chocolatier Confael, says that her company has found success because it sells something special, something that cannot be found just anywhere. According to Eldarkhanova, Confael's 30 retail outlets account for 70 percent of the company's business, and draw loyal customers, some of whom have been buying Confael products for the eight years the company has been in business. Confael is only one of a growing number of Russian specialty food shops that are building their reputations on one or two product categories.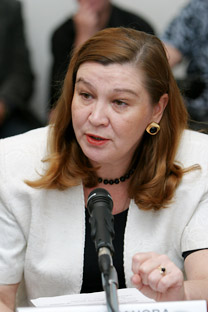 Irina Eldarkhanova, founder of Confael. Source: ITAR-TASS

Narrower segmentation of shops is one of 10 major global retail development trends, according to Dmitry Netkach, managing partner of Watcom Shop Mechanics, a firm that tracks shopping habits. But he has doubts about the success of this strategy in the Russian market. "The consumption culture in Russia is not mature enough," Netkach said. "Most buyers cannot buy quality products at niche shops."
The owners of many specialty stores agree that it is difficult for them to compete with supermarkets. For most Muscovites, being within walking distance of a store is more important than a fresh selection of products. "Even the fans of our dairy products admit that they do not really want to make the 3 km (1.5 miles) trip to our outlet to buy products," said Andrei Krivenko, owner of Izbyonka, which sells fresh dairy products from farmers. Krivenko started building his retail chain in 2009, opening special shelves in supermarkets, shopping malls and kiosks by the subway. Today, Izbyonka offers about 50 brands of dairy products, including yogurts, kefir, butter, ice cream, cheese and cream desserts.
However, Izbyonka has had to close down 50 of its 180 outlets because the locations were not successful. Five outlets have had some success offering bread baked by the monks of the Tolga monastery in Yaroslavl in addition to milk products. Through the experience, Krivenko learned that it is better to work within supermarkets by placing branded shelves in busy stores than to compete with them by establishing stand-alone shops. "People know us and it is quite easy to lease a place for the grocery shelves," Krivenko said.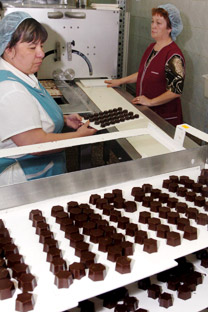 The chocolate production at the Confael factory. Source
: ITAR-TASS
Specialty cheesemaker Umalat does not plan to open its own cheese outlets at all. Umalat owner Alexei Martynenko said that such shops would hardly attract customers as long as most Russians are guided by the price rather than quality. So far, specialty shops must offer goods at non-competitive prices, which makes it difficult to pay rent on a leased property every month. Space in a location that will attract the kind of clientele inclined to spend money on high-quality products is also more expensive than shops in other parts of the city.
"In Moscow, people have to stay at work for a long time. Usually, they buy products either at the weekend or at convenience stores," said a baker who recently had to close her specialty shop. "I have trained myself for quite some time to eat the bread I bake. But after long working hours, I just can't go to the bakery, so I go to the nearest shop and buy products there."
First published in Vedomosti.ru.
All rights reserved by Rossiyskaya Gazeta.