Total Recall: A theater catharsis for young Russian-Jewish immigrants in New York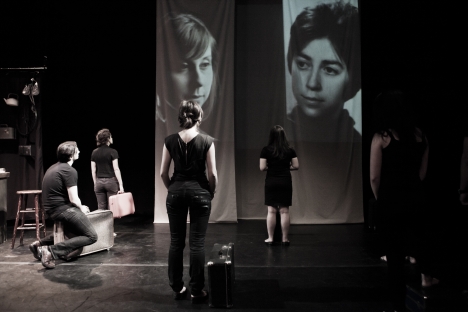 "Doroga" is narrated as a series of emotional sketches of Russian-Jewish immigrants, going back and forth between present and past. Source: Anya Roz / White Crow Pictures
The poignant play "Doroga" which mean journey, explores untold stories of young immigrants from the Soviet Union. The work is on a limited run in New York from May 29 to June 3.
"Doroga" is narrated as a series of emotional sketches of Russian-Jewish immigrants, going back and forth between present and past. Source: Anya Roz / White Crow Pictures
Produced by a group of young Russian-Jewish Americans from the Lost&Found Project, "Doroga" is narrated as a series of emotional sketches, going back and forth between present and past. This genre allows the actors, who are also co-creators of the project, to work through fascinating and often painful memories of leaving their country of birth in the 1980s and 1990s. The play is also suffused with the hope of easing the emotional burden of both the artists and audience.
The theater group was conceived in 2011 by actor Anna Zicer, who immigrated from Russia to Israel at the age of two, and moved to New York five years ago. The idea of "Doroga" came naturally and was a huge source of inspiration for Zicer and the other young actors she is now sharing the stage with. "I saw that we are very much stuck in the present, not really focusing on or investigating where we came from, and how we got to the point of where we are today," said Zicer, a big-eyed, petite redhead.
"I decided to look for people who would be interested in the same investigation, who are not necessarily actors, but would be committed to this idea of investigating the past and finding their meaning through it."
It took months of intensive improvisation and days of trainings and workshops before the team was ready and their stories known. As one member of the cast Sergey Nagorny put it, "we came together, ten strangers of the same background, meaning we all immigrated at one point in our lives and all were born to Russian-Jewish parents. But we didn't know each other; we were ten people that had different energies. So the whole deal was to build that into one, to create an ensemble."
In this small intimate laboratory, the most precious family tales were shared. Some were cut and some were combined for the sake of narrative, with the goal of having a powerful, touching and relevant story. The ensemble shared the feeling that no professional scriptwriter would understand their family dramas better, so they each wrote his or her own part of the script. When it was ready, they were "already a well-oiled machine, able to move forward," Nagorny recalled.
The personal memories include rude custom officials in blue shirts yelling at parents; indistinct announcements in Russian and Ukrainian in the thick air of Kiev airport; grandma's cherished silver spoons staying behind; being forced to say "good bye" to your first love – these and other tightly recalled memories knit the thread of a narrative.
These stories create an epic picture of an era of immigration and hundreds of families who endured similar events.
Director Ben Sargent was born in Philadelphia, studied in Canada and Moscow, and considers himself a metaphorical immigrant from Moscow's theater community. He wanted his actors "to understand the mental proccess that was going through the head of their mother or father...to really step into that situation."
The play was performed this spring, and it seemed that no one was left untouched, the actors said. "Some people said what we showed was too much, others said, in reality it was much harsher," Zicer recalled. "It was really interesting to see how our plays aroused something in them."
The "Doroga" project. Source: Anya Roz / White Crow Pictures
The young actors' biggest fears did not materialize. They said they were afraid they would not be taken seriously. "What we were afraid of was that they [parents and audience] would say "Nice try guys, but, really, you were kids at that time, so you don't know," Nagorny added. "And in fact, they said «you guys nailed it, indeed, it's surprising how much your generation knows."
---
The upcoming run at the Gene Franklin Theatre is just 6 days, 8 p.m. on weekdays and Saturday and Sunday matinee. (The spring premiere at the JCC in Manhattan was sold out, as was the first week of the Lost&Found Project performance at Gene Franklin Theatre in SoHo. The play has been invited to the annual Russian Heritage Festival.)
All rights reserved by Rossiyskaya Gazeta.