Straddling the line between culture and politics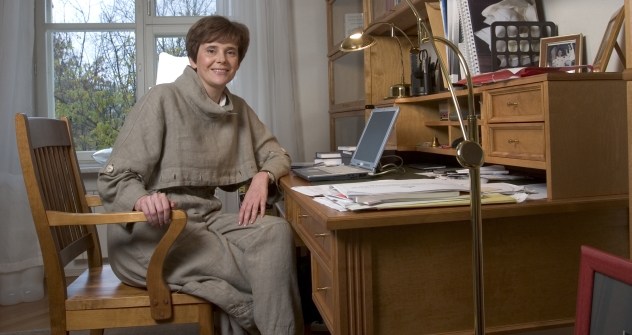 "The deep trauma of artificial cultural isolation inspired my decision to become a publisher," said Irina Prokhorova, the sister of Russia's billionaire and former presidential candidate Milkhail Prokhorov. Source: ITAR-TASS
Irina Prokhorova provided the sense and sensibility behind her brother's presidential campaign. Politicos have encouraged her to run for office, but she insists she prefers her life as a publisher and cultural critic.
The Russian billionaire Mikhail Prokhorov may have failed to win the Russian presidential election earlier this year, but he did manage to help build a political profile—his sister's.
Irina Prokhorova has managed her brother's charitable foundation for years and directed a publishing house, the New Literary Review. However during her brother's presidential campaign, she also emerged as a compelling and forceful advocate for liberal ideas. Prokhorova's passion and eloquence have prompted some political observers to suggest that she run for office herself.
Opposition activists, such as Boris Nemtsov, admired her performance as her brother's surrogate in some debates. She became famous for bringing film director Nikita Mikhalkov, a fierce debater and longtime Putin supporter, to a kind of shocked silence. Some analysts ventured that voters would prefer her to Prokhorov, since he is better known outside of Russia as the playboy of the western world who owns the New Jersey Nets.
But Prokhorova stresses that she sees her future role as a cultural figure – not a politician. That said, she is no admirer of President Vladimir Putin, and believes his years in power have pushed "Russian culture to the verge of crises." In the future, she said she would measure Russia's greatness not by the size of its military budget but by its cultural growth.
The House on Arbat
Irina Prokhorova and her brother Mikhail grew up in a home of intellectuals. Irina's eyes sparkle when she talks about the atmosphere of "joy and freedom" that permeated her parents' home. She remembers the dance parties in their gracious apartment on the Arbat, one of the most famous, and at times poetic, streets in Moscow. (It is now often packed with shoppers and tourists.)
"My family taught me to respect the individual – that is why I will never find peace in our society which totally lacks that respect," she said with obvious emotion. "The fear of Stalin's repressions haunted our parents till the end of their lives. That kind of trauma cannot be lived out in one generation; we are still haunted by the ghosts of that epoch."
While Prokhorova's 47-year-old brother is worth more than $13 billion and has at times scandalized Russia with his style of partying, Irina, the older sibling at 56, is a conservatively dressed family woman.
Prokhorova said she has done her best to bring up her daughter in a modest way, as an ordinary kid and not a spoiled new Russian. And the family library, stocked with well-thumbed volumes of Jack London, Ivan Turgenev, Guy de Maupassant and Anton Chekhov, is among Prokhorova's most treasured possessions. "To get some of these books, my parents stood in queues outside books stores for long nights," she said.
Prokhorova received her degree from Moscow State University and her final thesis, on the fantasies of J. R. Tolkien, raised some eyebrows at the end of the Soviet era. "There was scandal in the air, but I overcame my fear and sang like a nightingale about Tolkien being a pure realist writer, who in allegorical form called for the triumph of social fairness," she recalled.
Prokhorova got her diploma, but she continued to try to open minds about what literary criticism could be acceptable in Soviet academia. "Most themes I proposed inevitably turned out to be banned," she recalled. "To write a dissertation we had to cope with a huge number of secret zones." Yet perestroika ushered in a new atmosphere. Prokhorova and some of her contemporaries in college became well-known critics steeped in their own history as the last Soviet generation. "I think the deep trauma of artificial cultural isolation inspired my decision to become a publisher," Prokhorova said.
After the rush of opposition politics, she has returned to her cultural work. Prokhorova's foundation is cultivating young theater and film directors, writers and designers in the provinces. Prokhorova makes no apologies for her work and believes it has an impact. The New Literary Review, which she founded in 1992, has developed into a laboratory designed to research intellectual trends. It has given birth to dozens of book series, new periodicals, and annual literature conferences.
Prokhorova's research is focused on the transformation of post-Soviet society, and its cultural development. She has published the "Culture of Every Day Life" book series and "Theory of Fashion: Clothes, Body and Culture." "Our super goal is to try and create an 'alternative' history," she said.
Anna Nemtsova is Moscow correspondent for Newsweek and The Daily Beast.
All rights reserved by Rossiyskaya Gazeta.