One of the main questions that aviation specialists have been asking themselves is how the plane, stuffed with state-of-the-art electronics and guided by the best test pilots, could have not seen a mountain right in front of it.
The Sukhoi Superjet 100 incorporates all the global security innovations, primarily the traffic collision avoidance system (TCAS) and the terrain awareness and warning system (TAWS).
"Third and fourth generation alert systems are installed in all modern planes, including the Superjet", says president of Flight Security partnership Rafail Aptukov. "They are much more precise and better protected from interference; they include unique logical combinations calculated for various in-flight emergencies. They are designed to alert the pilot of a potential collision in good time, so he can avoid it."
Aviation specialists also wonder whether the local controllers did their best – some pilots claim that both in Indonesia and the Philippines controllers say "Approved" in response to almost any call from the crew.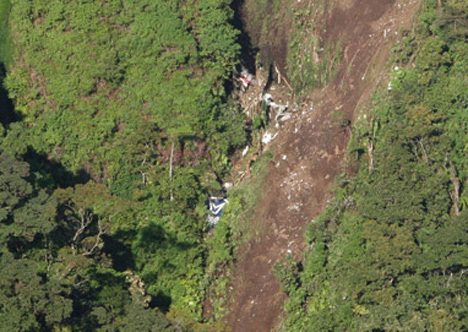 "I am also concerned that there have been seven plane crashes near Jakarta during the last decade", Rafail Aptukov says.
So far, specialists have produced only unofficial versions; the official one will appear after the Indonesian authorities, Russian Industry and Trade Ministry (supported by the Foreign Ministry), Investigation Committee specialists and experts of the Interstate Aviation Committee (MAC) complete their investigation. Yet it appears that it might go on indefinitely, as Indonesian salvage teams immediately said it was barely possible to access the crash site because of the local terrain. This means that it will be very hard to recover large pieces of debris and smaller parts of the plane, a source in the MAC told Itogi, and without them it will be impossible to gain a complete picture of the tragedy. The official version will not be ready for several months at best and the worst-case scenario is that we may never learn what really happened to the plane.
Business laws
The market for medium-haul aircraft is the most competitive one. What economic consequences should Russia expect? How can its rivals profit from the accident?
The investigation had hardly begun when Indonesia's Kartika Airlines, specialising in domestic air service, said it might postpone indefinitely fulfilment of its order for 30 Sukhoi aircraft. It was Kartika Airlines that, in July 2010, contracted purchases of $951 million worth of Sukhoi planes, becoming the first country in South-East Asia to place an order for the Sukhoi Superjet 100. The first deliveries were expected in September 2012.
Another Indonesian air carrier that had reached an agreement to buy 12 Sukhoi Superjet 100 planes is Sky Aviation, which was supposed to receive the jets in 2012-2015 for $380 million. Sky Aviation has not yet commented but experts are certain its response will be identical to that of Kartika Airlines. As of today, "hard contracts" (meaning buyers have made down payments) have been concluded for delivery of 168 jets to Russian and foreign air carriers, according to some reports. Furthermore, there are preliminary contracts and agreements of intent to buy about 130 Sukhoi Superjet 100 planes with foreign carriers, including from Spain, the United States and Thailand. Will they change their mind now? The experts questioned by Itogi have doubts that any of them will step back; they will most likely resort to different market strategies instead.
"The declaration of the Indonesian company about suspension of deliveries perfectly illustrates the popular slogan 'nothing personal, just business'", says Ruslan Syroedov, who works for a company specialising in lease operations. "You involuntarily pay attention to the possible causes of the crash that were mentioned after the accident – engine failure, faults in the navigation and control systems, while nothing was said about mistakes by the pilots or controllers. This is a clear signal that they will be seeking new discounts and concessions from the supplier. This is a normal situation for the market, especially the Asian market, where you should benefit from your business partner's mistakes."
"However, longer-term business projects are little affected by such incidents", says Boris Bychkov, General Director of Airclaims CIS, which provides loss adjustment consultancy, advisory services and analysis in the world of aviation. "The crash will not become a decisive factor for the buyers to terminate contracts. An accident during test flights is no reason to bury the plane. Public opinion may produce an impact, though, especially if we are talking about a company enjoying state support, as political motives can interfere. But I can't rule out that customers might want additional discounts."
Air carriers are normally very pragmatic. If an airplane has a type certificate, then there is sufficient proof that it meets all security standards. In February 2012, the Sukhoi Superjet 100 received the Type Certificate from the European Aviation Safety Agency (EASA), meaning that it complies with the standards that all alternative producers have to meet.
Contracts will hardly be terminated also because Sukhoi currently supplies the most competitive planes to the global market, especially when it comes to medium-range aircraft for domestic operations. It is for good reason that Secretary General of the Indonesia National Air Carrier Association (INACA) Tengku Burhanuddin has already stated that the crash would not affect the demand for this model. "We need such planes to connect our cities", he said.
Sukhoi's competitors in this market segment are well-known – Brazil's Embraer E-Jets (priced at $28.5-40 million), Canada's Bombardier CSeries ($58.28-66.57 million), China's ARJ21 (price not disclosed yet), Russia's An-148 ($24-25 million), Tu-334 and Japan's Mitsubishi Regional Jet.
The Sukhoi Superjet 100 is available at an average price of $35.4-36.2 million – cheaper than some competitors' models, because the plane uses many western components.
Yet the Sukhoi Superjet 100 has an important competitive edge. "It was the first plane to start flying, and it is already in commercial service", says Boris Bychkov. "For all I know, the Chinese have had few orders so far, and the Bombardier and Mitsubishi models are not flying yet – they have just started making the planes and have a few years of tests ahead."
Its performance characteristics attributable to the specific nature of the country of origin also count in favour of the Superjet. Small as it might be, the plane has an impressive range. It just falls out of the regional class, with a capacity of up to 100 passengers and range of 4,500 kilometres. This is why ZAO Sukhoi Civil Aircraft believes that most of the demand for its jets will come from South-East Asia. Distances are huge between islands in Oceania, which means that the Russian Superjet will be a welcome option for local carriers.
Bets have been placed
The crash has produced an adverse impact on the image of the brand; yet many specialists argue that accidents of this kind have happened to many international producers, which managed to deal with the trouble with their heads held high and pride intact.
"Airbus also had problems during trial flights", Boris Bychkov says. "The A320 had a crash, and there were troubles with the A380. Boeing had a fire on board a Boeing-787 during trials, before the plane was supplied to Japan. The contracts remained in place."
Even so, the consequences of such accidents may be ambivalent for the new jets. "There used to be crashes that effectively put an end to new projects", says editor-in-chief of Avia.ru portal Ruslan Gusarov. "Take the Tu-144 crash in Le Bourget. The plane never regained the trust of foreign buyers. So the accident in Indonesia might tarnish the image not only of the machine, but also the entire aviation industry in the country."
Sukhoi Civil Aircraft will be doing its best to deliver the contracted planes. "The Sukhoi brand is famous not only for its civil aircraft, but also military products", says Olga Kayukova, head of the OAO United Aircraft Corporation press-service. "It is backed by a 70-year reputation. As for the Sukhoi Superjet 100 brand, it has excellent prospects and will be able to find a firm footing in the market."
At the same time, some experts see alarming symptoms in the Indonesian crash: "We placed all our bets on a single plane during the last decade, and all our hopes rest with the Superjet now", Ruslan Gusarov says. "We put all our eggs in one basket and may be left with nothing. This policy is fraught with risks for the development of Russia's entire civil aviation industry."
All rights reserved by Rossiyskaya Gazeta.