Joking everywhere and about everything works now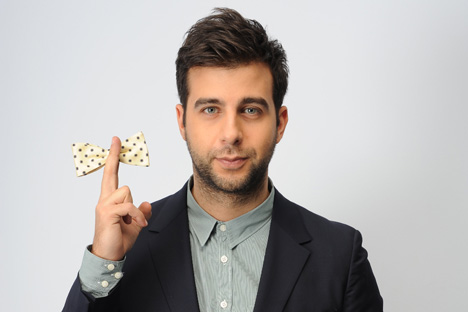 Ivan Urgant. Source: Press Photo
One of Russia's most popular TV hosts, Ivan Urgant recently launched a new show in the style of a traditional American late-night program – a first for Russia.
Ivan Urgant is already a recognizable brand in Russia. He hosts four prime time shows on Russia's Channel One. On "Relish," he juggles frying pans and groceries while cooking and joking with guests. On "Big Difference," he watches parodies of Russian showbiz stars and discusses them with his co-host Alexander Tsekalo and the stars themselves. On the satirical "ProjectParisHilton," Urgant, along with Tsekalo and two other co-hosts, fills viewers in on the hottest news of the week and makes fun of new laws, mass media and anything else he can find to joke about.
Ivan Urgant's profile:
Born: April 16, 1978.
Graduated from St. Petersburg Theatre Arts Academy. Before joining the Channel One team, Urgant hosted various shows on radio stations (Russkoye Radio, Hit-FM) and on television (Channel Five, MTV, Rossiya). In 2005, Urgant came to Channel One as a host of the "Big Premiere" show, and subsequently other television projects. Urgant has also appeared in 20 films.
"You really can joke about everything and everyone," Urgant said. "Presidents, too. Of course, jokes about foreign presidents are more hilarious since you have nuclear weapon protection against them, but nothing can save you from your own president."
According to Urgant, "Russia's laughter industry dates some seven to eight years back, when it first became clear that laughter could bring not only pleasure, but also money. It reached its peak two years ago when because of their great number, shows became too much alike. At that time, the word 'comedian,' so common in western culture, became part of the everyday Russian lexicon."
His newest show, "Tonight with Urgant," launched on April 16, and is a brand new format for Russia. It features just a host and a guest. "This is actually classic American late night television: a talk show with a guest, a discussion of the day's events, short jokes, and a multi-million contract for the host," Urgant said, describing the show. "As a matter of fact, I'm a bad interviewer, so I'm learning, I'm trying hard."
In the two months since the show launched, Urgant has hosted French soccer player Zinedine Zidane, president of the Russian Ice Hockey Federation Vladislav Tretyak, and numerous other celebrities, both Russian and foreign. Not one of them left without a smile, although Formula 1 driver Nikolai Fomenko left without his car, the famous Marussia, which he gave to Urgant as a present.
"ProjectorParisHilton"
The "ProjectorParisHilton" TV show premiered on May 17, 2008. The title is a spoof on the Prozhektor Perestroiki (Projector of the Perestroika) TV program from the 1980s. Each week, the show's co-hosts, Ivan Urgant, Sergei Svetlakov, Garik Martirosyan and Alexander Tsekalo invite a VIP guest to their studio to humorously discuss the hottest topics of the week and comment on newspaper articles and statements made by political figures. Recent programs involved discussions of the Russian and French presidential campaigns, mass protests and police reform in Russia, the economic crisis in Greece, and the Strauss-Kahn case.
A few years ago Urgant joined acclaimed Russian TV journalist Vladimir Pozner to produce two documentaries about visits to the United States and France. "One-Story America" and "Tour de France" have both already aired on Russian television. The duo has also created a similar documentary about Italy, but as Urgant explained, "'Journey to Italy' will not be aired until Putin settles it with Berlusconi."
Urgant also has another persona, although it is one he prefers to deny. Musician Grisha Urgant, presented his debut album, "Estrada," on May 20 in Moscow's Gorky Park.
"My name is being used now. Some people even perform under it. I have nothing to do with it. I can only play short bits, country music," Ivan Urgant said. For his part, Grisha Urgant, when asked during a recent interview whether he would come on Tonight with Urgant as a guest, said: "You know, I have many relatives. As it happens, my surname seems to be quite common. In short, I have no intention of being a guest on any shows hosted by people with a surname similar to mine."
All rights reserved by Rossiyskaya Gazeta.