How to identify a Russian traveller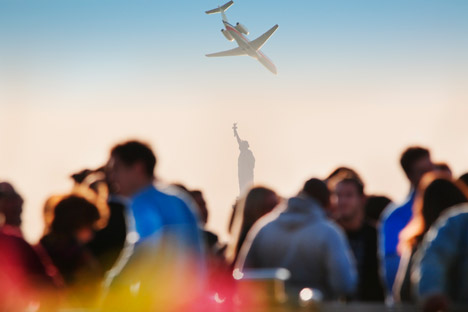 Russia has been unleashed – now that Russians have the freedom and finances to travel abroad , they are more than eager to experience the globe and spread the Russian spirit across borders.
What's the typical Russian traveler like? Would you recognize him in an overcrowded plane, on the beach in Egypt or maybe even at a diner in the U.S.? Let's share some stereotypical behavior of the typical "turisto ruso." Like all stereotypes of all travelers around the word, this is the traveler who sticks out, giving his fellow nationals a memorable reputation, that will 1) last like a stigma 2) be hard to reverse and 3) show up in movies. To try to fight this reputation, you must first identify it.
I've lived in Moscow some time now, so all my trips begin here…with the local crowd, dragged in their mystical world by my beloved Russian American-influenced "Muzh." Let's be honest. Unlike many of my fellow traveler, I do not wrap my luggage with neon colored foil, I do not stock up on little plastic 0,3L bottles of booze at duty free (and snatch them out of the sealed plastic bag after security check) and I still do not see a point in given the captain any applause for landing the plane safely (come on, it's his job!) but still, some way, some how, I am one of them. You better be one of them, because it's pointless to fight against the Russian bear. Not long ago, my boyfriend and I took a short trip to the U.S. – a 10-hour flight straight to New York. On board were not just usual Russian travelers, but a crowd in party mood. How do you pass the travel time? Our Russian co-travelers solved this problem by transforming the entire two rows behind us into the hottest party location that ever crossed the Atlantic Ocean. After emptying the onboard bar entirely, they started to tap their duty-free reserves, while the already resigned flight attendants ("when are you guys flying back? I want to make sure I don't work those days…") served them large amounts of chaser drinks and pretzels, trying to water down their alcohol level, having long given up on trying to enforce the U.S. law not to form crowds in the aisles. I'll admit that after hours observing this still-energetic party crowd, I started to feel old. And yet, 80 percent of the other passengers and the entire crew must have felt the same, based on their annoyed and embarrassed looks (among them the Russians you never notice because they are just decent).
A few hours later: our plane was ready for touchdown. The party was still going on, but was a little less active, given the increasing intoxication of its participants. As three of them decided to share two seats by the window to catch the first sights of New York and the flight attendant gave them a last instruction: "Hey, you've got to store your man-purse."
All my beloved Russian friends forgive me for my extreme stereotyping in this blog, but here are some general tips on how to spot a Russian traveler:
- Plastic-foil wrapped luggage-couture
- Mini plastic bottles from duty free (and trying to hide them from the strict eye of the flight attendants)
- Clapping during landing
- Ladies with large shopping bags flying back to Russia
- Highly intoxicated passenger
- A highly stylish man purse
Landing at JFK promised to bring us back to civilization, but unfortunately we still had to face the large lines and crowds at immigration, arbitrary crowd management and religious prayers over the loudspeakers before our holiday could begin. And even then, I experienced on this trip nuisances that I thought I had left behind in Russia. Such as: taking a cold shower (yes, in the states due to energy savings, the hot water can be calculated very precisely in some places); arbitrary bureaucracy (a barkeeper not serving me a long-desired margarita, unless I obtained a Ohio driver's license) and cops nearly refusing to allow our U.S.-based friend to board because they thought he was drunk.
All rights reserved by Rossiyskaya Gazeta.