India's gambit in the SCO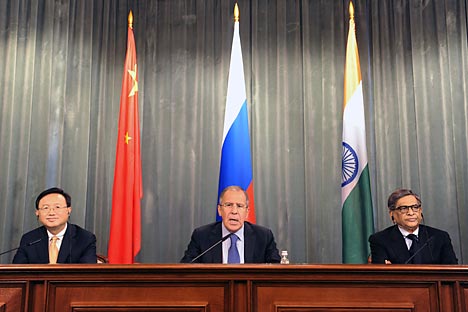 India needs to exert greater pressure in order to become a full-member of the SCO, so that it does not miss out on the chance to be a party to the unfolding developments in the Central Asian region and in Afghanistan.
The visit of the Indian External Affairs Minister, S M Krishna to China to attend the 12th Meeting of the Council of Heads of Member States of the Shanghai Cooperation Organization (SCO) in Beijing on June 6-7 is very significant in more ways than one. India enjoys observer status in the SCO, which has Russia, China, Kazakhstan, Kyrgyzstan, Uzbekistan and Tajikistan as full members. Set up in 2001, the SCO also has Pakistan, Iran and Mongolia as observers while Afghanistan has been invited to the SCO Beijing meeting as a guest.
First, this meeting comes in the backdrop of the Western forces' phased pull-out from Afghanistan. Indeed, the stability of Afghanistan is a key concern shared by all the member and observer states of the SCO, including India. The Beijing meet also comes at a time when US-Pakistan relations have plunged to a new low in the light of disputes over re-opening of NATO supply lines passing through Pakistan and Pakistan's objections to the use of increasing drone attacks by the US on Pakistani soil. Earlier this week, a US drone strike in Pakistan killed Abu Yahya al-Libi, widely regarded as Al-Qaeda's second-in-command after Ayman al-Zawahiri.
Second, the Indian External Affairs Minister is in China at a time when the US Defence Secretary Leon Panetta is in India, on his first visit to India as Defence Secretary and he has advocated a greater role for India in Afghanistan, something which is not going to go down too well with Pakistan. Defence Secretary Panetta had recently announced at a speech at the Shangri-La Dialogue in Singapore that by the year 2020, 60 per cent of U.S. warships would be deployed in the Asia-Pacific region as part of a US "rebalancing in Asia".
Third, during this visit, Mr Krishna would be meeting Chinese Vice Premier Li Keqiang, who has been anointed as the successor to current Chinese Premier Wen Jiabao. This will offer the Indian side an opportunity to size up the new Premier-designate.
Fourth, Mr Krishna would be pushing forth India's bid for full membership of the SCO. While Russia has unequivocally supported India's bid for full membership of India in the SCO, China has not seemed very enthusiastic. A full membership of the SCO will be highly beneficial for India, as it would give a fillip to India's influence in the energy-rich Central Asian region and in strategically-important Afghanistan. India's booming economy needs enormous amounts of energy and this is one of the main reasons why India is looking towards Central Asia. Besides, India has much to gain by participating in the SCO's counter-terror exercises, in the light of its own experience of deadly terrorist attacks.
Meanwhile, there is plenty of action lined up in the sidelines of the SCO meeting in Beijing. The maverick Iranian President Mahmoud Ahmadinejad is also in Beijing for the meeting and he is likely to use the same to continue his anti-West tirade. Incidentally, India and China are two countries which have held out against pressure from the Western countries not to import oil from Iran, though India has of late marginally cut down on the total amount of oil imported from Iran. Recently, India had hosted the Foreign Minister of Iran, a country which acts as India's gateway to Afghanistan since Pakistan refuses to grant India overland transit rights to Afghanistan.
Russian President Vladimir Putin arrived in China on June 5 on a state-visit and significantly China is one of the first nations that President Putin is visiting in his third term as President. One of the countries that is sure to be in focus at the SCO meeting is Syria, where Russia and China have been firm in opposing any foreign intervention.
A re-alignment of forces looms large on the horizon once the Western troops pull out of Afghanistan since there is bound to be a power vacuum in that country. India has a big stake in Afghanistan, having already pledged assistance worth nearly U.S. $2 billion to that country. China would be more than happy to move into this power vacuum and Indian policy makers need to factor in the same.
For India, the biggest fear in Afghanistan is that of the return of a Taliban-led dispensation in Kabul, after the withdrawal of the Western forces. This brings back memories of the infamous hijack of an Indian Airlines aircraft in December 1999 which was diverted to Kandahar in Afghanistan and India had to release three dreaded militants in exchange for the hostages.
India needs to exert greater pressure in order to become a full-member of the SCO, so that it does not miss out on the chance to be a party to the unfolding developments in the Central Asian region and in Afghanistan, instead of watching the same from the sidelines. India could also use the help of Iran to push its case, since India's support is crucial for Iran in order to escape the full brunt of crippling economic sanctions.
Dr Rupakjyoti Borah is an Assistant Professor of International Relations at Pandit Deendayal Petroleum University, Gujarat, India. He has been a Visiting Fellow at the Centre of International Studies, University of Cambridge, U.K. in 2009. The views expressed are personal. He can be contacted at Rupakjyoti.B@sls.pdpu.ac.in
All rights reserved by Rossiyskaya Gazeta.