Ray Bradbury: "Russians have an unparalleled capacity for love"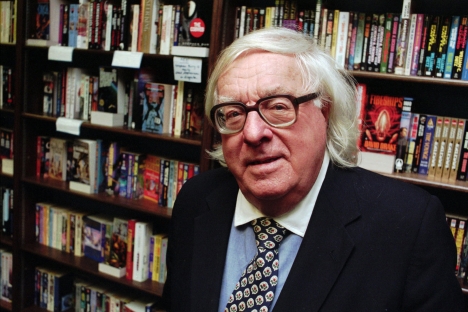 Ray Beadbury will remain one of the most popular writers in Russia. Source: AP
Award winning writer Ray Bradbury has died at the age of 91. In honor of his life, here are some excerpts from his first interview given to Russian media, conducted at his home in Los Angeles by Dmitry Dibrov on Oct. 4, 2005.
Dmitry Dibrov: When you hear the word "Russia," what is the first thing that comes into your mind?
Ray Bradbury: I think about a nation full of love and passion, the better days that are ahead of them. These days are not that far off and they didn't start that long ago. Sooner or later Russians will start to love themselves and trust themselves, they are in control of the future. And they will control it with love, and not with war or dictatorship.
There will be a time when, eventually, they'll come to know themselves and reveal that they have an unparalleled capacity for love. That's what I think, I've been convinced of this by Russian literature and films. Put simply, Russians have yet become free within, they haven't fully freed their energy, their passion. Therefore the forthcoming 100 years will show how the Russians free themselves from everything which internally bound them in the last 300. Russia will become a superpower only thanks to the Russians learning how to love themselves.
D.B.: What about thanks to our oil and gas?
R.B.: These things are important for survival, but they can't replace life itself.
Ray Bradbury counted the renowned Russian director Sergei Bondarchuk amongst his friends. Bondarchuk once described him to a group of film directors as "your greatest genius, your greatest writer!" He used to relate an anecdote about his friendship with the director:
Critically acclaimed American mystery writer Rad Bradbury died June 6 at the age of 91. Most famous for his dystopian novel Farenheit 451 and his collection of stories The Martian Chronicles, Bradbury explored themes such as censorship and the role of technology in modern life. Bradbury was an avowed Russophile. His novels first appeared in Russia in the 1960's and have remained popular since then, with the short stories Here be Tygers and There Will Come Soft Rains being adapted for animation.
"There was an awards ceremony and all the great contemporary Hollywood directors gathered together in order to meet Bondarchuk. Billy Wilder, William Wyler, John Wayne, John Ford and other famous directors were all there. They formed a long queue and as Bondarchuk was walking along it he recognized several people: "Oh Mr Ford, I like your film." He recognized the director Gretta Garbo, and someone else. I was standing at the very end of the queue and silently watched this. Bondarchuk shouted to me; "Ray Bradbury, is that you?" He rushed up to me, embraced me, dragged me inside, grabbed a bottle of Stolichnaya, sat down at his table where his closest friends were sitting. All the famous Hollywood directors in the queue were bewildered. They stared at me and asked each other "who is this Bradbury?" And, swearing, they left, leaving me alone with Bondarchuk…"
Ray Bradbury was philosophical about death, joking about the dangers of being fixated on it:
"[The person who is obsessed with death] will become Woody Allen because he always thinks about this topic [laughs]. This amuses me most of all."
Bradbury's belief that he would live on through his art is born out by the boxes of films and shelves of his books treasured by his international admirers.
All rights reserved by Rossiyskaya Gazeta.