This Is Only Warsaw (Day 1)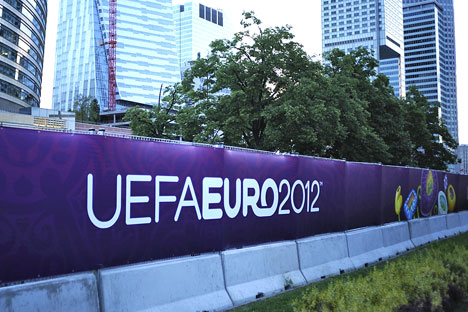 It is a totally false stereotype that the Poles hate the Russians. There must be some that feel this way, but I have never encountered them. Despite speaking much better English, some Poles try to speak Russian, and it is impossible to hide from this language in Poland.

People gathered near the Bristol Hotel to greet our national team. That morning I had tried to find out when the players would be coming, but the staff had been told not to give information to anyone and in the end our players were greeted by Warsaw's regular citizens. However, the fans would not have missed much as the players left the bus in under five minutes without saying a word. The bosses must have decided the team should be closed off from both reporters and fans. How they will fare is a debatable question since the team is staying in central Warsaw, on a square where there are quite often loud rallies.

There was a funny and symbolic episode five minutes before the team arrived. An EU and Polish flag were hanging side by side, and the staff replaced the EU flag with the Russian one. Are we really going to conquer Europe this time?
All rights reserved by Rossiyskaya Gazeta.