Don't overestimate my achievements – Dzagoev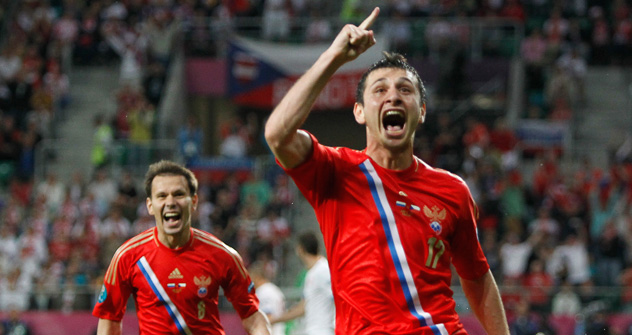 Alan Dzagoev, who was named 'The Man of the Match' by UEFA after scoring two goals in Russia's victorious match with the Czech Republic, is shy about his role in the game.
A modest hero. Alan Dzagoev, who helped Russia with two goals in their 4-1 thrashing of the Czech Republic in the Euro 2012 opener, doesn't think his contribution was vital in the win.
­
"I got lucky in many ways," Dzagoev, a European championships debutant, told Rossiya 2 channel. "The first goal was scored after the ball rebounded off the post, while the second came after a beautiful assist. So, one shouldn't exaggerate my achievements. Frankly, I wasn't aiming on either occasion. I just shot. Perhaps that's why I scored."
Russia got off to a great start in their Euro 2012 campaign, beating the Czech Republic 4-1 and grabbing the lead in the Group A standings as co-host Poland and Greece played a 1-1 draw.


"I'm very pleased with the way things turned out," the 21-year-old stressed. "The Czechs began the meeting very strong and we hardly saw the ball in the opening ten minutes. But then we seized the initiative, and after the first goal kept the game under our control. At the beginning of the second half it was hard for us again. The opponents scored a quick goal and were very active. But we were able to score more and avoid the nervous endings."
UEFA named Alan Dzagoev the Man of the Match, but he himself considers another man to be the key figure in the Russian squad on the night.


"I think the turning point was when Roman Pavlyuchenko entered the game as he first assisted for the goal and then beat [Czech keeper] Petr Cech himself," he said.
At the same time, his team's huge win came as no surprise for the Russian Wonderboy.


"To be honest, even before the game I thought we would win 3-0," the attacking midfielder confessed. "You may not believe me, but it's true. I don't know why, but I had no doubt in our success. But I was still nervous before the game. I couldn't even take a nap after lunch."
Dzagoev's season at CSKA Moscow was hampered by several injuries and he's really happy to be fit to play at his maiden Euros.

"Usually, it takes me a long time to regain form after injuries, but this time fortunately I recovered very quickly," he said.
Russia will play their next game at Euro 2012 on June 12 as they take on co-hosts Poland in Warsaw.
All rights reserved by Rossiyskaya Gazeta.