Creating new memories of Moscow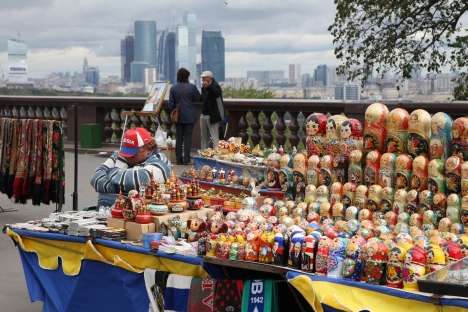 Typical Russian souvenirs include nesting dolls (matryoshki) and models of St. Basil's. Pictured: View Point at the Vorobyovy Gory (Sparrow Hills) in south-west Moscow. Source: RIA Novosti / Vladimir Fedorenko
Russia's capital has a reputation as a cold, unfriendly place, but the city's tourism committee and some local entrepreneurs are trying to change its image.
Nearly 75 percent of Russians are city dwellers, and more and more they are thinking about how to make their cities better. Creating a positive urban brand is essential in an increasingly globalized world where cities compete for residents, business people and companies. Cities that make a good first impression hold the advantage in this competition.
Russia has long had a reputation as a cold, unfriendly country and Moscow, as the capital, has absorbed this stereotype. Russian blogger Ilya Varlamov, known on the Internet under the handle "zyalt," recently proposed 10 measures that could help turn Moscow into a "city for people." Included in Varlamov's list are bike paths, more benches and a ban on vehicles into the city center. But steps like this will take time to implement; for the moment, Moscow city authorities have decided to take a more cosmetic approach.
In April, local authorities announced a tender to develop a new tourism brand for the city. Participants in the competition must submit an "original and organic logo to project Moscow as a global tourism center;" come up with a slogan in English and Russian; and present visuals, colors, videos and a brandbook that describes all the key elements.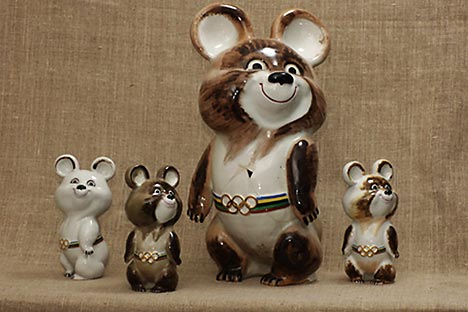 The bear created for the 1980 Olympic Games has become a popular symbol of Moscow. Source: Press Photo
"We understand that creating a recognizable brand is only a way to attract attention," said Georgy Mokhov, Deputy Chairman of the Moscow Tourism and Hotel Committee. "Our main goal is to create comfortable conditions for tourists to come and enjoy Moscow. We've taken a number of steps last year: set up a call center for tourists as well as a Web portal travel2moscow.com, added signs in English throughout the city and published guides in eight languages like 'Unusual Moscow Museums and Monuments' and 'Moscow's Metro.'"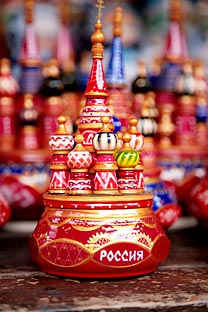 Models of St. Basil's Cathedral. Source: ITAR-TASS
The city's Committee on Tourism and several local entreprenuers have also decided that the souvenirs tourists take home from Moscow could also use some updating. The Russian capital is associated with the standard souvenirs that can be found anywhere in Russia: nesting dolls (matryoshki), scarves, samovars, painted tablewear and fur hats.
Alexander Elzesser, a young Muscovite, wants to prove to tourists and Russians alike that Moscow, indeed, has a heart. His company, Babushkov, is working to develop a brand it calls Heart of Moscow. Through a blog and the sale of a wide range of products, Babushkov is trying to make as many people as possible fall in love with the Russian capital.
Elzesser from the earliest years of his life lived in the center, by day suffocating in traffic jams and by night enjoying the tranquility and beauty of the city. "I know that Moscow has a lot of problems, but I love my city," Elzesser said. "And if everyone can come to consider it the best city on Earth, then everything will change very quickly."
The Heart of Moscow is a symbol in the shape of one of the domes of St. Basil's Cathedral, colored in with red and white stripes. Elzesser has put the symbol not only on items that are traditionally associated with Russia, such as winter socks and mittens, but on notebooks and covers for smartphones.
The Wow Moscow Web site also offers souvenirs that cannot be bought anywhere else. All the goods on the site feature the same symbol: a stylized smile.
"We feel that Moscow has a lot to offer that can pleasantly surprise, cause one to smile and make foreign guests say 'Wow!' This was all reflected in the project," said Alexander Sapov, one of the founders of the Capital City – International Cultural Center movement, which was involved in developing the brand.
The Moscow Committee on Tourism recently spent 5 million rubles ($160,000) to develop souvenirs that will appeal to the modern traveler. Their new items include U.S.B.-drives in the form of nesting dolls, mouse pads featuring a panorama of the city, and ballpoint pens mounted in wooden spoons. Currently, the committee is using the souvenirs as promotional items, giving them away at international tourism trade shows.
The goal of the city project, like that of Wow Moscow and Heart of Moscow, is to contradict the stereotype that Moscow is a city of stressed, frustrated, cold people. They all want to show the world that the Russian capital has heart, and a smile for visitors, too.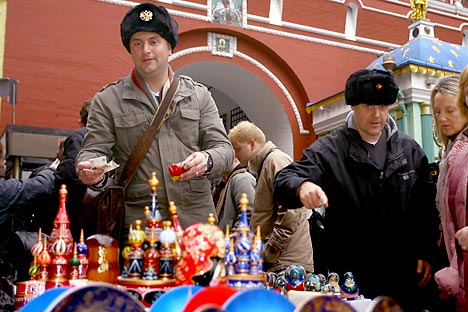 Tourists buying souvenirs in central Moscow. Source: ITAR-TASS
All rights reserved by Rossiyskaya Gazeta.