China, India challenge US monopoly on satellites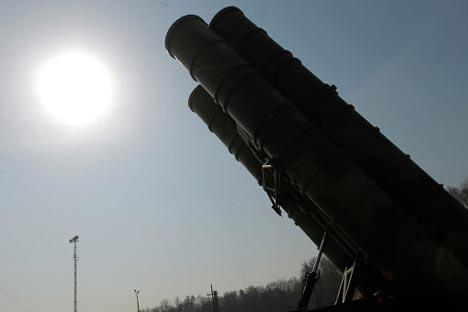 Development of antimissile and anti-satellite systems is not the prerogative of the United States or Russia. Many other countries, however, like China, Israel and India are developing such systems.
The creation of antimissile and anti-satellite systems, caused by nuclear proliferation, is becoming an integral factor in the military-industrial policy of leading Eurasian countries.
China studying possibilities
Serious talks about Chinese potential in this field started in January 2007. At that time a missile interceptor was launched from Chinese territory that destroyed the Chinese meteorological satellite Feng Yun-1C. The interception of a spacecraft at an altitude of 864 kilometers with a direct hit was weighty confirmation of China's abilities.
In order to appreciate the significance of this event, it must be noted that most military satellites use lower orbits. An attack against a satellite group can seriously undermine the abilities of a modern army, which cannot operate without its space component.
However, the case of China's development of missile defense systems is somewhat different. The interception of a satellite differs greatly from the interception of a ballistic missile. First of all, there is much less time for the system to detect the target, classify it, make a decision and launch a missile. Today China definitely does not possess the ability to deploy a full-fledged modern ABM system. As regards to surface-to-air missile systems adopted by the Chinese, the exported Russian S-300PMU/PMU2 is the most advanced among them – but all Beijing does is create a copy of it, which goes under the index HQ-9.
Thus, the missile defense of the People's Republic of China can be defined as rudimentary. Its most up-to-date surface-to-air missile systems are able to destroy planes and cruise missiles, but not ballistic missiles.
India searching for a way
Talks about possible development of anti-satellite systems in India kicked off when it started independent space launches. Yet it was only recently that they have evolved into a serious discussion. It came after the successful test-launch in April 2012 of an Agni-V missile, which has a flight range of more than 5,000 kilometers.
At the press conference dedicated to the missile launch, the head of the Indian Defense Research and Development Organization (DRDO) Vijay Kumar Saraswat said that "the Agni-V launch has opened a new era. In addition to new capabilities of our strategic defense, the missile opens up fascinating possibilities in the field of creating anti-satellite weapons and launching mini-satellites."
According to analysts, the Indian "satellite destroyer" will be based on a Soviet-era idea. An interceptor is placed into orbit, which then maneuvers into approaching an enemy spacecraft and destroys it point blank. The advantage of this method is a far greater reliability of interception; the disadvantage, though, is a significant expenditure of time.
However, satellite defense is not as important for India as missile defense. The long history of difficult relations with Pakistan and China with their huge arsenals of medium and short range missiles capable of hitting targets on the Indian territory, forces this country to watch closely the developments in the field of the ABM defense.
India has long been developing in this sphere, but has not been successful so far. The country's military is trying to use a medium-range ballistic missile as a basis for an interceptor missile. A serious problem for India is the lack of a modern radar system, which would be on the same level as the American Aegis radar system or the latest Russian radars, for example, as part of the С-400 system.
New Delhi is trying to make up for this by purchasing equipment abroad, which is why Israel – as a long-time and active partner of India in the military sphere – has a profound influence on the policy of this country. However, being a supplier of medium-range surface-to-air missile systems to India, Israel has not given it the Arrow system capable of intercepting ballistic targets. The reason for this is theposition of the United States: The Arrow was created with significant American participation, and the US is traditionally prejudiced against the transfer of such technologies to tertiary countries that are not their satellites. In 2002 the US already blocked such a transaction, and as a result – instead of the whole system – India received only two Green Pine radar stations.
In the foreseeable future there is only one realistic way for India to receive a functioning ABM system – to sign a contract on the delivery of the Russian S-400 or S-300VMD systems.
All rights reserved by Rossiyskaya Gazeta.