Disappointed Hopes (Day 15)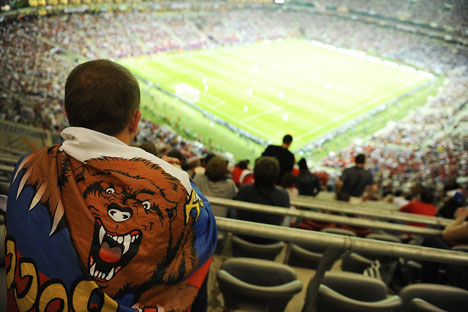 "Sasha, how could they do this to us?! This is Greece!", one drunken Russian fan enquired of his companion. He tells me that he had plans to go home for a few days and then get back to buy tickets for the quarterfinal game against Portugal for himself and his brother, who planned to celebrate his birthday in Poland. "I wanted to make a surprise present for him." But it was the Russian national team that had a surprise up its sleeve, when it contrived to not make it into the quarterfinal stage from the weakest Euro-2012 Group.

I had a premonition that morning. Someone was making bets on the Russia-Greece game, betting on Russia winning (from 2-1 to 4-1). I almost made a bet myself but then decided to bet later...fortunately.

Fans started gathering in the city centre in the afternoon. There were fewer Russians and they looked somehow less confident. The fights of 12 June must have cooled them off. The guys in the local bar had just arrived in Poland. They had planned to relax in Warsaw but then decided against beer, in order to stay sober, just in case, for anything might have happened that night. The police had learnt their lesson. The bridge leading to the stadium was blocked as early as 16:00 or 17:00 and policemen with helmets and riot shields stood in almost every shady spot.

They did not have much work that day. Russia was ingloriously defeated by Greece, which did not seem any stronger, just more eager to win. It is hard to refrain from obscenities when you write about the game, about Zhirkov failing yet again to score, about the odd substitutions made by Advocaat, about our team's we-couldn't-care-less attitude towards the fans (they left the field instantly, without so much as saying thanks to the fans who had come to support them).

After Poland and Russia synchronously ended their Euro-2012 campaigns, the city seemed to have lost heart. The gloomy red-white-blue crowd kept flowing from the stadium to the city centre in almost perfect silence. A flow of Polish fans who were watching the game in the fan zone was moving towards the Russians but no one felt like provoking or gloating. Some Pole kept chanting "Karagounis, Karagounis," but even other Poles looked at him as if we were cracked. The Polish fans started chanting "bialo-czerwoni" again, but those were mere convulsions.

Advocaat was right when he called the Russian team the outsider of the event at a pre-Euro-2012 press briefing. Our fans failed to resign themselves to this idea for two hours after the game finished – they kept walking around in circles asking themselves "Why? How can we do this?" They are packing bags and going back to Russia. We are packing bags, too, earlier than we originally planned.
All rights reserved by Rossiyskaya Gazeta.