RBTH introduced New Yorkers to modern Russian literature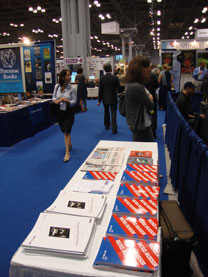 Russia Beyond the Headlines, an internationally recognized source of information on Russia, took participation in the Read Russia festival – an initiative celebrating contemporary Russian literature and book culture at the Jacob Javits Convention Center in New York City, June 2-7.

Some events were hold in conjunction with BookExpo America (BEA), where Russia was the 2012 guest of honor. Sponsored by Russia's Federal Agency for Press and Mass Communication, Read Russia has become by far the largest and most complete program on Russian literature and culture ever organized in the United States.

A series of late-night parties, music, and performances devoted to Russian literature called Read Russia Roof at the Dream Hotel took place during the festival. All events offered the visitors an opportunity to engage Russian writers and were free and open to the public.

A special RBTH magazine — Voices of Read Russia —was available during the event. This useful guide to contemporary Russian literature introduced readers to the likes of "Queen of Horror" Anna Starobinets and offered an opportunity to learn more about Gary Shteyngart, whose book Super Sad True Love Story appeared on the New York Times Best Seller list in 2011. The magazine also featured special content on Dmitry Bykov, a writer and columnist for various Russian periodicals who also authored the verses for "Citizen Poet," a year-long satirical project on Putin's Russia.

Each day during the festival, RBTH raffled off an album of travel photos, Russia through a train window, by photographer Anton Langue. The album is a travelogue of his multi-year journey across Russia.

The events at the Read Russia festival highlighted the best of current Russian literature and non-fiction works and introduce a new 100-volume Russian library of classics available English. Events included discussions on fiction, politics, and culture along with readings, workshops, and film screenings.

Additionally, Natalia Solzhenitsyn presented, for the first time in the U.S., the Alexander Solzhenitsyn Archive; and bestsellers Edward Radzinsky and Solomon Volkov announced new historical novels and cultural histories of Russia.

Voices of Read Russia free magazine for iPad™ can be downloaded here, for Android here.