A new culture of philanthropy found its way in UK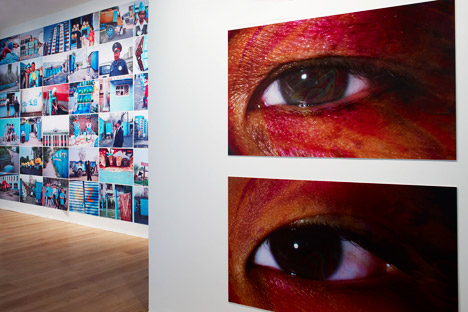 An exhibition by Calvert 22, a London-based foundation focused on showcasing and developing the work of contemporary artists from Russia, CIS and Eastern Europe, as well as helping UK audiences to discover modern Russia. Source: Press Photo
Russian art is finding new successes in London with the help of businesses and foundations.
Russian art is back in fashion in London; Sotheby's auction house sold $25 million of art over three days early in June. But it is not just the Russian artists of yesteryear who are finding new audiences overseas. Modern Russian artists are increasingly gaining a global reputation for their innovative and creative work.
The international community still does not view modern Russian art as a significant force in the global art market. The names of new Russian artists are virtually unknown, even though the world is keen to hear more about the new Russia.
It is unsurprising that Russian companies, therefore, clearly see the value of supporting Russian art and artists as they strive to become internationally recognized.
Philanthropy is a well-established business practice worldwide, and Russian business is no exception. Today, Russian firms are committed to helping the West discover, understand and appreciate Russian culture, but because they do not always know the best way to approach or work with artists, they sometimes partner with charitable organizations working in the art world.
One notable example is Calvert 22, a London-based foundation focused on showcasing and developing the work of contemporary artists from Russia, CIS and Eastern Europe, as well as helping UK audiences to discover modern Russia.
Founded in May 2009, Calvert 22 is the first and only charitable foundation in the UK that supports modern artists from the region. It shares the passion of Russian firms for promoting the talents and successes of contemporary Russia and Eastern Europe on an international stage, and this shared outlook has created a solid base for a partnership.
In addition to providing businesses a way to share their success with others, philanthropy is an important way to build cross-cultural relationships. Just as Russian businesses are further integrating into the global economy with the country's accession to the WTO and the development of Moscow as a global financial center, Russian art becoming better-known among global audiences.
Partnerships between business and foundations such as Calvert 22 have become a unique vehicle for bringing contemporary Russian art to the UK, giving local people an insight into the reality of Russia. It also helps strengthen ties between Russian and British business communities and develop relations between the two countries.
Russian art traditionally owes a great deal of its celebrated global reputation to the patrons who provided support for artists to pursue their talents. In the 19th century, they were backed by an emerging class of Russian entrepreneurs whose cultural and intellectual development matched that of the Russian nobility. For instance, the Tretyakov merchant family donated their private gallery to Moscow, making it the first public art gallery in Russia.
Patrons have also been central to the development of British art – Gerald Wellesley, 7th Duke of Wellington, gave the Apsley House (also known as Number One, London) and its magnificent collection of paintings to the nation, laying the foundation of what is now the Wellington Museum.
In a similar vein, business involvement and support is giving Russian art the freedom and space to develop its own style.
But everything new – including new art – has its own difficulties in becoming established because people are suspicious of the unfamiliar.
Nevertheless, it is possible to break away from stereotypes. Modern art is a significant part of that change. However, it needs a helping hand, which has led to the establishment of some of the best collections, which are now a source of pride for the world's greatest museums. A good investment, even a philanthropic one, is always an investment in the future.
These days, Russian artists are free to express themselves without fear of political persecution and, as a result, we are witnessing a flowering of new styles and traditions. Russia is thinking forward and thinking globally, both in culture and in business.
Olga Podoinitsyna is a member of the Board at VTB Capital.
All rights reserved by Rossiyskaya Gazeta.