Behind the wheel from the age of 10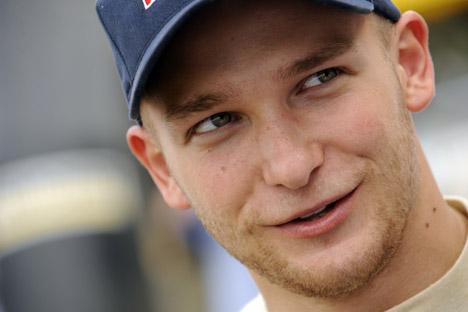 Evgeny Novikov, the youngest World Rally Championship prize-winner: My father put me behind the wheel when I was only 10, in 2000. Source: Getty Images / Fotobank
Evgeny Novikov made his World Rally Championship debut at the age of 19. He is the youngest driver in WRC history to show a top speed at one of the stages; he is also the youngest WRC prize-winner – he took 2nd at Rally Portugal in 2012.
Novikov's explosive style is admired by journalists and professionals alike, but many pros are afraid of joining him as co-drivers. In an exclusive interview with Timur Ganeyev and Edvard Serzhan of Russia Beyond the Headlines, Novikov speaks about his debut in motorsports, the top speed on public roads and the navigator's fears before the driver makes a new turn.
Russia Beyond the Headlines: Your father Maksim Novikov is a well-known driver. Have you followed in your father's footsteps since childhood?
Evgeny Novikov's biography
Born: Sept. 19, 1990 (21 years old)
Team: M-Sport Ford WRT
Novikov won his debut race, the Russian Rally Cup, in 2006. A special authorization from the Council of the Russian Automobile Federation was required to allow him to race – he was 15 at the time and had no regular driving license. Novikov had to switch seats with his navigator, Vladislav Strebkov, when taking to public roads in his Subaru Impreza.
Evgeny Novikov: It wasn't exactly my wish; it was my father that got me into motorsports. He started racing in 1999. I often rooted for him during races, visited test drives and practices. He put me behind the wheel when I was only 10, in 2000. I started with carting and sensed that I had some potential on the very first day. I easily beat other drivers and showed decent results. I was dreaming of rally racing then, but I was too young and had to drive a cart. When I turned 16, I immediately upgraded to rallying.
RBTH: What was the high point of your carting career?
E.N.: I got into the European Championships final, went through many qualifying rounds and was supposed to start from second spot. I was very nervous but, as soon as I was in the cart, all my nerves disappeared. Just a few seconds before the race, I found out that my cart wouldn't start. We had to retire then and I was frustrated and could not think about racing for a few days afterwards.
RBTH: How did you start racing in the WRC?
E.N.: In 2008, I raced in the Production World Rally Championship and my team had two options – either to keep to the budget and drive the same car for two more seasons or take a risk and invest in a new WRC car. We went all out and invested all we had in the WRC. We completed nine stages in 2009 and then the recession crushed the team. We had to take a pause for a year.
RBTH: Tell us about the Rally Portugal in 2012 – the first podium for Russia in the WRC history.
E.N.: I came in third, but Mikko Hirvonen, the winner, was disqualified, so I was second overall. It was very emotional. I had worked so hard to climb so high. I am happy for the team. We make a huge contribution to promoting motorsports in Russia. The number of Russian WRC fans is growing many times over every year. We may have new talents come to rally racing to take Russian motorsport to a whole new level.
RBTH: You have had many co-drivers during your career. You are racing with Denis Giraudet now, who is one of the most experienced navigators in the business. What's it like – working with a foreign co-driver?
E.N.: We had been looking for a Russian navigator, but there was no one suitable. We had tests, invited everyone interested. It was as simple as that: someone raced well in the Russian championship and immediately had a superiority complex. The Russian mindset does not let people develop, which is why we started looking at navigators with WRC experience. First we tested Australian Dale Moscatt. He's a real pro, but it seemed he had some fear, and if a navigator is always concerned, he loses rhythm. Denis Giraudet is 56, but he has no fear, which beats me. Also, he is experienced and can always find a way out fast in an emergency. He is good at reading off and writing pacenotes. Giraudet keeps the distance perfectly well, which is crucial in the WRC.
RBTH: What do you normally do in your spare time?
E.N.: I try to make it varied – I read a book, watch a film or try to get enough sleep when I have free time. I also like playing poker. I have jumped with a parachute a couple of times. But racing is my main hobby. I change cars quite often to see what various manufacturers have to offer. Many racers claim they drive compact cars in their everyday life but I can't live without speed. I sped up to 310 km/h in Kutuzovsky Avenue (Moscow) and 324 km/h on the Moscow Ring Road in my GT-R.
RBTH: Rally New Zealand gets underway on 22 June. Any special targets for the race?
E.N.: To finish in the top five and show the best result possible. Make no mistakes – that's what I want most.
All rights reserved by Rossiyskaya Gazeta.