Petr Lovigin: Cultural contrasts are Russia's competitive advantage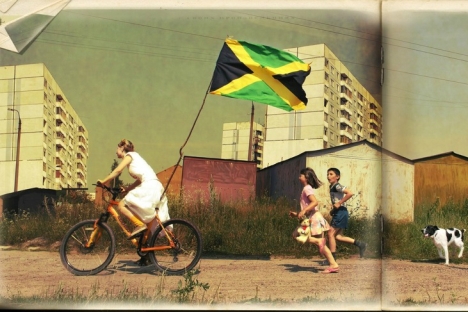 A picture made by Petr Lovigin, a photographer from Yaroslavl. Source: Petr Lovigin
Petr Lovigin, a photographer from Yaroslavl, accentuates the unique beauty of Russia through unexpected cultural contrasts. In his photos, a young Louis Armstrong might be playing jazz in a lush green field near Ryazan, giraffes may graze peacefully around the ancient Church of the Intercession on the Nerl River, or film director Takeshi Kitano may sit in a class in a school in a Russian province.
Pictures made by Petr Lovigin, a photographer from Yaroslavl. Source: Petr Lovigin
Lovigin spoke with Elena Potapova of Russia Beyond the Headline about his ideas, the exceptional, multifaceted beauty of Russia and how the country should be is perceived abroad.
Russia Beyond the Headlines: How would you describe your work style?
Petr Lovigin: I have a special term for it – "soul kitchen." It's "soul" because I put my soul into every one of my pictures. And it's "kitchen" because, despite the sacral origin of the art, there is a general pattern for choosing and layering characters for the picture.
I often do photomontage. For instance, to bring real giraffes to the Church of Intercession on the Nerl I would have to squander my entire savings. It's even technically impossible to combine certain things that are in my pictures. But if the imagination is well ahead of your possibilities, why not go with technology?
RBTH: What makes you mix into your photos things that are often incompatible in reality?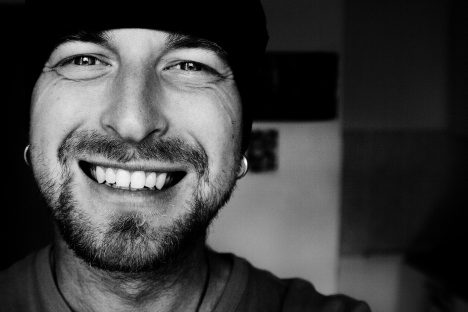 Petr Lovigin. Source: Press Photo
P.L.: It is primarily the aesthetics of contrast. The more aggressively incongruous the things I combine, the more interesting is the resulting picture. A Caucasian choir and an Orthodox church; exotic animals and nature around Yaroslavl – If they are arranged into a Tibetan mandala, the result is really fascinating. In addition, the main characters are either iconic figures or totally unknown people, without any reference to any cultural heritage. When I create such mixes in my kitchen, I can see that dissimilar things go together harmoniously, and sometimes even look better together than individually.
RBTH: How was the idea for the Takeshi Kitano and Other Icons photo series born?
P.L.: I had 100 masks of my favorite filmmaker Takeshi Kitano printed at my own risk. I wondered what it would look like if the image were duplicated many times over. I came to my old school in Yaroslavl and they let me have 15 minutes in a class. I gave the masks to the children. They put them on and I took pictures. The masks were 30 by 40 cm – it's the standard size of a human head, and they looked grotesque on the kids.
RBTH: In your photo pictures, does Russia always appear a bright and positive place?
P.L.: As you go deeper into the country, there's a lot that can catch the photographer's eye in Russia. In my photos of Russia, my native country, I have sunshine, and air, and water, and not a trace of Russian depression or the universal innate hangover. We have enough photographers these days drawing attention to 'social plagues.' We certainly do have to cover these problems in photography. But we certainly don't have to limit Russia's image to that.
RBTH: What do you think is the best way to describe Russia to the West?
P.L.: Russia is evidently a place where different cultures meet. Today, the Russian traditional culture has already been intermingled with a lot of Caucasian and Asian elements. Russia is hardly likely to become a purely European country, and that's a good thing. It's great when a nation can retain its unique character even if it also absorbs features of various other cultures. I like such countries very much. Such countries as Georgia, India, and Russia have really preserved their own face, full of contrasts. They are dramatically different from their neighbors; they outshine them with their diversity.
How do we speak about our national qualities? Without fear! It is what it is. It's our combination of the barbarism that can even make us ashamed with the kindness and subtlety that many countries lack. It's our take on safety mingled with reckless romanticism. A mixture of glitz and glamour with provincialism in a typical Russian village. We have to stick by these contrasts. They are our competitive advantage. Why is it that many foreigners enjoy living in Russia? It's because it's always throbbing with life here. Yes, we have poverty here and there, and yes, it's not always safe here, but nor is it ever boring!
All rights reserved by Rossiyskaya Gazeta.