The number of summer festivals in Russia has exploded in recent years, and it is possible to plan a travel itinerary around them. Such a vacation can include music festivals, picnics, raves, forums and festivals that seem to exist just to give people a place to hang out, all of which primarily feature local talent.
White Nights in Perm (June 1-24, Perm)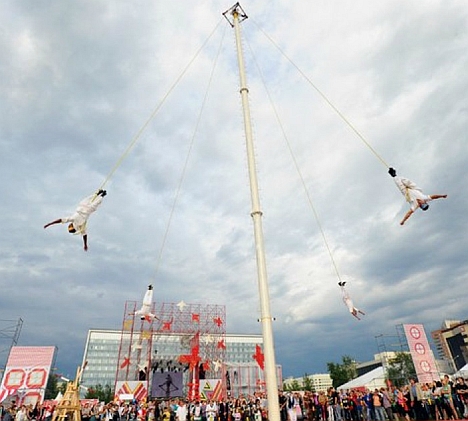 Source: Alexei Zhuravliov
This month-long transformation of the Urals city is taking place for the second year in a row.
"The first time we had Russian reggae, a hip-hop 'Battle of the Three Capitals,' Manu Chao, Juno Reactor, and a tribe of African natives. Now we are focusing on the national character," said festival co-organizer Misha Oger. In addition to the musical events, White Nights features an international festival of street theater, circus week, a graffiti festival, discussion groups and the construction of cities by the association of cardboard lovers, Kartoniya. At night along the bank of the Kama River, the group arranges a great fire show and all visitors get the opportunity to participate in building the ship of the Ushkuyniki (ancient Russian river pirates), which will then be launched into the water.
"If you are planning on coming to the White Nights in Perm, stay with us for an entire month, there is really a lot to see here. You could rent an apartment, and the hotels are also really affordable. And if you get tired of all this, then the mountains are only a stone's throw away," suggested Oger.
Nashestvie [Invasion] (July 8-10, Tver Region)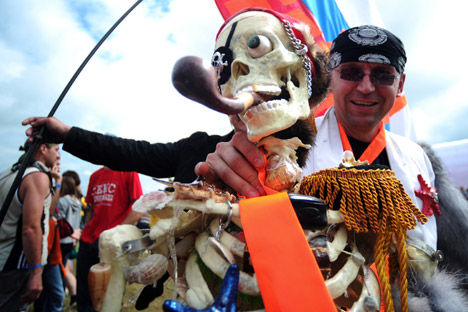 Source: ITAR-TASS
"Since childhood I have been listening to Nashe Radio [which organizes the Nashestvie Festival]. I love music and professional sound. In this sense, 'Nashestvie' is the absolute leader," said Anton, an avid rocker wearing a green bandanna and shows off a tattoo that covers his entire stomach.
At this well known Russian rock festival, the only foreign artists are the Moldovan group Zdob si Zdub, who Russians accept as their own. During the 11 years of its existence, Nashestvie has grown to 180,000 spectators each year, with 145 bands from all over the vast country and 8,000 volunteers involved in the preparation of the festival. This year the veteran Russian rock group DDT, the melancholic Spleen, Boris Grebenshchikov, father of the Russian underground, and Igor Rasteryaev, who went viral last year on Youtube with his song "Kombaynery," will all perform on stage.
"If you are preparing to go to Nashestvie, be prepared for the unexpected. Once I discovered the sleeping body of some unknown punk in my tent, since he mistook my tent for his. I had to wake him up and send him packing, but it wasn't rude, since we, after all, breathe in the same music here," Anton said.
Ferma [Farm] (July 21-24, Tarusa, Kaluga Region)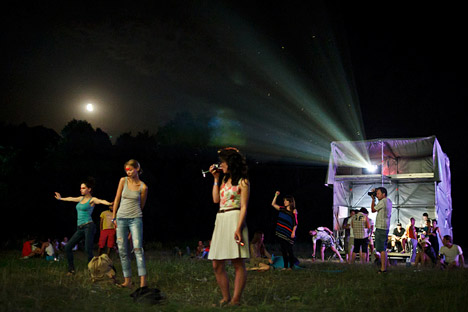 Source: Press Photo
Ferma is a small summer picnic festival with light techno music and of-the-moment Russian bands, whose concert tickets are selling out several times faster than many foreign groups. The festival offers visitors the opportunity to live in designer tents, cook morning porridge in the friendly company of the best Moscow chefs, greet the dawn while wrapped up in blankets and listening to the performances of electro-pop (Pompeya) and indie (Dsh-Dsh!) music, as well as the latest novelties from Russian DJs.
"If you are thinking of joining us at Ferma, do not tell yourself that you are only going for an evening. I thought so the last time, but I was the last to leave," said Vadik, a Ray-ban-wearing habitué of the Moscow hipster club Solyanka.
Arkhstoyanie (July 29-31, Nikola-Lenivets, Kaluga Region)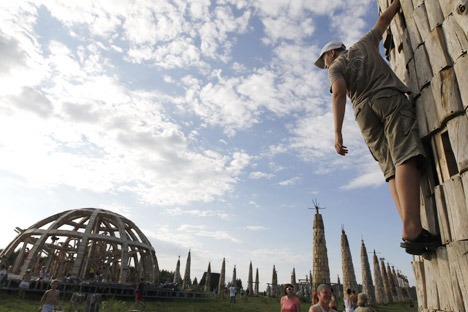 Source: RIA Novosti / Alexei Kudenko
"I am preparing to go to Ferma, and then I will hang out for a couple of days at Arkhstoyanie," said Alisa, a newly minted graduate of the Moscow Architecture Institute. Despite it's name, Arkhstoyanie is not just an event for architects. Land art artist Nikolai Polissky came up with the idea for the festival seven years ago: it is made up of objects of modern intellectual architecture, built in the Russian countryside. Artists, designers, architects and their supporters travel to the village of Nikola-Lenivets for a set period in which they live in conceptual huts or in tents, and build amazing structures on an assigned theme. This year's theme is "The Barn." In 2012, Arkhstoyanie will address the blurred typologies that exist between architecture, performance and research.
"If you go to the festival this year, get ready to fly in a hot-air balloon, since the organizers have arranged a 'weightless meadow' at Arkhstoyanie," Alisa noted.
Gorodetskoye Gulbishche (Aug.13, Sergiev Posad District)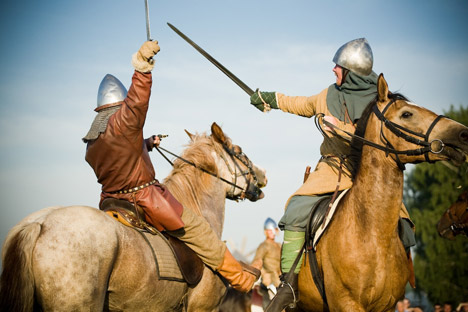 Source: Press Photo
"I am going to dress as a medieval weaver," said Olya, a philology student at Moscow State University, adding, "and my boyfriend has signed up for a fist fight."
Gorodetskoye Gulbishche is a one-day reconstruction of the Slavic Middle Ages. Dressed in ancient clothing, festival participants fence, shoot archery, drink honey and birch sap, trade chain mail, arrange real fistfights, and make birch-bark bracelets and baskets. Gorodetskoye Gulbishche is one of the most spectacular festivals celebrating the history of ancient Rus'. This year it will be possible for visitors to try out the role of a blacksmith, weave cloth on a loom, participate in a tournament of the ancient Russian game Lapta and watch reconstructions of battles between archers and cavalry.
"But if you are planning on coming to the Gulbishche, be careful at the tournaments, you could get hit in the head with a bat," Olya warned.
All rights reserved by Rossiyskaya Gazeta.