Tsoi remembered on his birthday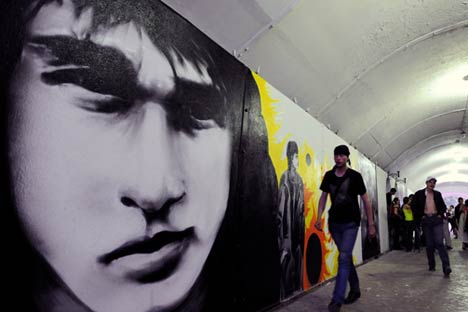 Viktor Tsoi's fans gather in the underpass in Ekaterinburg chosen by a group of local artists to commemorate the musician's birthday. Source: RIA Novosti
Russian rock icon Viktor Tsoi would have turned 50 on June 21.
The band Spleen insists: "the rock-and-roll star must die very soon." And many rock fans are certain that Viktor Tsoi, the symbol of Soviet rock, would not have become a legend if he had lived to a ripe old age – or even the ago of 50, which he would have reached on June 21, 2012.
"Ideally, you should die in this country in order to become ultimately popular," said Zoopark front man Mike Naumenko at the time of Tsoi's death; Naumenko himself died a year later. But it is impossible to confirm that dying young is the only way to leave a footprint in the history of rock-and-roll. No one knows what would have happened to Tsoi had he lived. He might have become an ordinary rock singer and joined the ranks of his friends and colleagues from the Leningrad, Sverdlovsk and Moscow rock clubs? He might have become a rock patriarch like Boris Grebenshchikov, who recently announced the celebration of the 4,000th (actually, the 40th) anniversary of the band Aquarium. Despite all his years, no one would say that Grebenshchikov has lost his spark.
But it is Viktor Tsoi, who died at just 28, who remains the real symbol of the era when Russian rock was at its best. Something inexplicable happened in the Soviet Union during the early days of the Perestroika. Russian rock was a breath of fresh air for a mass culture enchained by ideological censorship, and yet there are only a few truly talented musicians who wrote the songs that millions listened to over and over again.
Tsoi was one of those few talented ones. Additionally, his songs are perfectly comprehensible. They are catchy, emotional and easy to play and sing, which is why young people who learn to play the guitar often choose them as their first songs. The maxim "everything of genius is simple" applies to the songs of Tsoi's band, Kino. It's no wonder the prominent producer Yury Aizenshpis became interested in Tsoi; Kino's music was not pop in the sense that it was primitive and cheesy – it was truly popular.
Viktor Tsoi was no angel and no demon; he was a regular musician who became an icon of Russian rock.
All the Leningrad rockers from the 1980s used to stay at Alexander Lipnitsky's apartment on Karetny Ryad when they came to Moscow. Lipnitsky was a schoolmate of Petr Mamonov and the stepson of Viktor Sukhodrev, the personal interpreter for Nikita Khrushchev and Leonid Brezhnev. His apartment was a typical place for home concerts and standard Soviet kitchen-table talks. "There used to be a narrow, semi-circular couch here – Tsoi's favorite place to sleep when he stayed here," Lipnitsky said. "He was flexible, he fit in there… Tsoi did not like highbrow conversations and never spoke about things he knew nothing about. He talked about food and music. He also liked films and talked about, say, Bruce Lee."
But despite his nationwide fame, Tsoi remains a representative of the counterculture. The authorities were hardly eager to support campaigns to erect monuments to the rock star and are unlikely to rename streets to commemorate Tsoi. His fans restore the Tsoi Wall in Moscow's Arbat Street themselves; they protect the legendary Kamchatka boiler house, where Tsoi and his colleagues had to work in order to avoid being charged with parasitism; they try to raise money to have at least one monument to Tsoi in Russia.
And his fellow rockers have never forgotten him. Commemorative concerts and festivals take place in Moscow, St Petersburg, in the Urals, in big cities and small and towns. This year, the organizers of the Nashestvie festival have announced that the performers will sing one Kino song each.
This article has been abridged from the original, which appeared in Mokovskiye Novosti. The complete text in Russian can be found here.
All rights reserved by Rossiyskaya Gazeta.