US discards a cold-war relic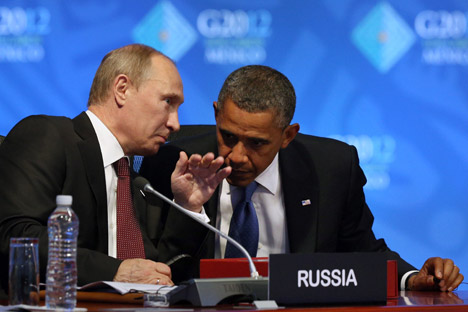 Two things must be noted about US Deputy Secretary of State William Burns' recent statement on Russian-American relations. One, the pragmatism that underlies the American policies is striking. Two, the primacy of the economic dimension in the US foreign policy is apparent.
To me as an Indian student of the troubled Russian-American relationship over four decades, today offered a feast for the mind – and memory – in the nature of the testimony by the United States Deputy Secretary of State William Burns before the Congressional committee in Washington on Wednesday on Russia's Accession to the World Trade Organization and Granting Russia Permanent Normal Trade Relations.
A slice of history is being cut adrift and is moving away, and it is always thrilling to see that happening. Burns' testimony is extraordinary on more than one plane. It attests to the irreversible character of the post-Cold War era – just when gnawing doubts have appeared whether a 'new cold war' might be in the offing, making life dangerous for our children and grandchildren.
Burns' testimony places renewed faith in the raison d'etre of the US-Russia reset. And, it comes at a time when Russian-American relationship is in some visible difficulty – although, the two countries are led by two unusually gifted statesmen – Barack Obama and Vladimir Putin – with a near-messianic zeal over their respective country's sense of destiny and current priorities. (It is always useful to factor in 'Prime Minister' Putin's imprimatur on 'Obama's reset with Russia' during the past 3-year period.)
Burns' testimony is most interesting from an Indian viewpoint. Try to interpolate into it the impulses from India's current relationship with China and the resulting intellectual output could be startling – put plainly, how to transform what used to be an adversarial relationship into a cooperative relationship (where the elements of discord still remain and won't go away anytime soon but should not be allowed to dominate the narrative) between two countries which are in great transition themselves.
Burns makes the following points:


A. The US shouldn't remain transfixed on a relic of the past (Jackson-Vanik Amendment). Time and tide wait for no man.
B. Russia is one of the fastest growing markets in the world and an unprecedented opportunity awaits the US to tap into it with a view to drive its own economic recovery.
C. If the US remains stuck on archaic notions, it will only be putting itself at a competitive disadvantage.
D. The US continues to have "real differences" with Russia in many areas and will not hesitate to voice its concerns, but "a deeper economic relationship represents one of our [US'] greatest opportunities to work to build trust and pursue common interests with Russian."
E. Thus, throwing the Jackson-Vanik into the dustbin of history is "a strategic investment in our long-term relationship."
Two things must be noted here. One, the pragmatism that underlies the American policies is striking. Two, the primacy of the economic dimension in the US foreign policy is apparent. Burns said, "At a time when the economic needs of the American people are great, US foreign policy must help American workers and businesses connect to markets abroad to drive our economic recovery at home."
The Prime Minister Manmohan Singh lamented at the G-20 summit in Mexico on Tuesday that the Eurozone crisis is cutting the flow of capital into India's infrastructure sector. What about drawing infrastructure investment from China? Are we doing all that we can optimally?
Burns noted with satisfaction: "Russians made over 36 million trips abroad last year. More Russians received visas to travel to the US than ever before – twice as many as came just seven years ago." Who is afraid of the KGB?
Indeed, there are going to be ups and downs in the US-Russia relationship. Georgia, Syria, Iran, missile defence, US' interference in Russia's internal politics – these are contentious issues. Also, 'hardliners' and skeptics in both countries remain wedded to mutual suspicions. And Burns acknowledges that terminating Jackson-Vanik is not a concession to Russia but a supreme act in American self-interest. Burns' testimony is here.
All rights reserved by Rossiyskaya Gazeta.