Modern weaponry up close and personal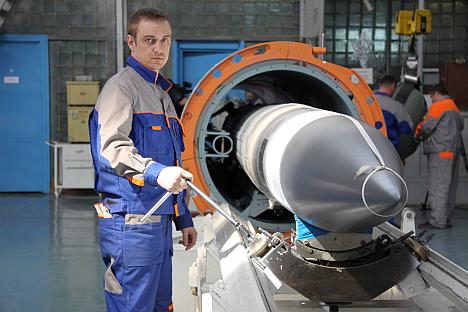 Today the plant is spending 100—120 million rubles ($3 million-$3.6 million) a year on modernization. Source: Víktor Litovkin
A factory in northwestern Moscow produces some of Russia's most sophisticated surface-to-air missiles.
Only a few minutes from the Voykovskaya metro station in northwestern Moscow, in the midst of apartment buildings and business centers, sits a once-classified plant that produces surface-to-air missiles. Today the Avangard factory is part of the defense holding company Almaz-Antey, which maintains as strict a security as it ever did. But the plant's location is no longer a secret – the territory has long been photographed by satellites and studied in every detail by the intelligence of many countries. The press service even sent detailed maps to journalists arriving for a recent tour.
The plant began the 21st century practically in ruins. Production halls had no heating, the water supply was off and in winter, bonfires had to be lit in working areas in order to warm up equipment that would break at low temperatures. Gennady Kozhin, Avagard's director general, attributes this sorry state of affairs to the collapse of the departmental system of management during the 1990s: without orders and with financing from the state budget cut off, the enterprise was dying. But in 2002, the plant was incorporated into Almaz-Antey, and the situation improved. Now there are 46 enterprises united within the new structure: plants, science and production associations, engineering bureaus and research institutes, all engaged in development and production of short, mid and long range air defense systems, basic radar aids for radar reconnaissance and automated control systems. The situation has changed. By volume of production the plant is yet to reach its own level during the Soviet period, but in terms of production capacity, it has nearly recovered.
Kozhin admitted that the plant has its problems, but that rumors of its demise are greatly exaggerated. The media has recently reported a crisis at the factory and some journalists felt that the press tour was organized with the intent of proving the critical reports wrong. In his presentation to the visiting journalists, Kozhin quoted many figures: Avangard will receive almost 2 billion rubles ($60 million) for technical upgrades as part of the Federal Target Program for Defense Industry Reformation in 2011—2020. By 2015, 1.2 billion rubles ($36 million) will be used to purchase equipment, over 600 million rubles ($18 million) will help renovate the infrastructure of the producer of missiles for S-300 and S-400 SAR missile systems. Today the plant is already spending 100—120 million rubles ($3 million-$3.6 million) a year on modernization, Kozhin said.
Last year Avangard signed a long-term contracts with the Ministry of Defense. Within the next several years, the plant will be the sole supplier of munitions for the S-400 Triumf SAR missile system. "This ensures that we have enough orders at least till 2012," Kozhin said. The contracts provide for annual increase of latest missile modifications supply volumes.
Make no mistakes
The production area where missiles are assembled looks modern – it features glassy floors, tidy space and a constantly comfortable winter temperature. Avangard implements a strict quality control system including incoming inspection, stage-by-stage monitoring and final inspection. Every inspection session is put in a protocol. "We also impose penalties on suppliers of components," Kozhin said. "If a product does not pass the inspection, we send out a damage claim and seek a penalty."
The assembled missiles go to the test and control station (TCS). There they are checked to ensure that all circuits and units are connected properly. After that they are packed into canisters, and checked at the TCS once again, this time for air-tightness. A missile launching canister is immersed into a special water-filled tub. If bubbles appear on the surface, it is a sure sign of a defect. In the armory a warhead will be installed on missiles. After that, no maintenance will be required for the products during all their shelf life, which is more than 10 years.
The Russian S-300 and S-400 systems have generated a great deal of interest abroad. Some countries would like to purchase them, others – to learn their secrets and the structural solutions of Russian engineers.
But access to assembly rooms is expressly forbidden to foreigners. China is one of the major consumers of the Russian arms, and air defense systems in particular. In 2010 Almaz-Antey supplied 15 batteries of S-300 Favorit air defense systems to China. A year later, Russia's Federal Security Service charged a Chinese citizen with attempted collection of information "on the engineering and repair documentation for S-300 air defense systems classified as a state secret."
The Russian systems have a number of advantages over their American counterparts, the MIM-104 Patriot. It takes S-300 and S-400 five minutes to assume the fire position, whereas Patriot requires half an hour. It is an essential factor for today's military, as a system's endurance depends greatly on its mobility.
The Russian defense complexes utilize vertical launch and enable target damage with the bearing coverage of a complete 360-degree circle. The American Patriot has a bearing coverage of 0—180 degrees and the 38-degree inclined launch. It requires at least twice as many launch sites to ensure complete defense coverage of a facility or a troop position.
The Avangard's director has denied the claim that there are no long-range missiles for the S-400 systems. "The missiles are already being tested on the Ashuluk proving ground," he said. While the first missiles for the S-300 system had a 75 km (46 miles) action range, today's missile modifications can hit a target 250 km (155 miles) away.
All rights reserved by Rossiyskaya Gazeta.